I have always rued the lack of a forum for us aficionados. A place where we can exchange notes,
share stories about the all-consuming love affair of our lives, discuss our penchant for pens, our
inklings and more. This is just the first faltering step towards that inking.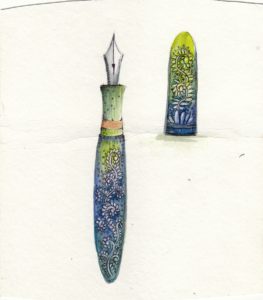 Even without restricting our choice, putting on blinders of Nationality as it were, I would like to put
stress on India crafted fountain pens – just a shade and no more. We do have a rich legacy to live up
to and I feel, our pens will not write about us kindly if we fail to tell their tales to the children of
tomorrow.
And accessories – the papers to write on, the inks in all the shades of sin, the little notebooks that
hold our deepest secrets and are such a pleasure to behold, the pen cases, the pillows for our
companions to rest – wont it be a great idea to bring the best from around the world to give the
flesh of my flesh, the blood of my blood all the little comforts that money can buy?