Calligrapher's True Story of Quintessential Adventure – Gripping, Inspiring & Motivating!
As young boy of 7 years in the late 1960's he was attracted to sketching, painting, sculpting, miniature cars, aero, ship and architectural models. Some of them needed lettering in different styles. He frantically went in search of various printing press literally by foot to find letter styles catalogues (typesetting book) and copy them by hand for reference .
His handwriting was not so good being a victim of the cursive style taught in schools. His passion for different styles of lettering made him reproduce them for his Science, History & Geography records and his handwriting underwent a drastic change. During his early cricketing days in the late 70's he replicated stickers of English brands of cricket bats like Duncan Fearnley, St.Peters, Gray Nicholls etc., as he understood the power of Branding. He was sought after by friends to design posters for exhibitions. The words Calligraphy, Typography & Lettering were unheard of, as only a handful in the world knew them!
In the mid 80's he heard distressed voices of some parents, whose children were academically brilliant, but they were scoring low marks and failing in exams due to bad handwriting, some even committed suicide! The strong wailing voices of "Can somebody help?" was reverberating in his mind!
At this point of time he was going through a self introspection of finding his purpose of life, his inner voice made it clear to him that he needed to work with his natural abilities and strengths to contribute meaningfully to the society and also lead a decent life. He let go of the businesses he was involved in and took a deep dive to revive and resurrect good handwriting, leading him into a self-directed research to find the root cause of problems and develop effective solutions to empower people with good, beautiful and adorable handwriting, at a time when the digital onslaught had started in the western world!.
Considering he did all these many decades before photocopiers had dawned as well as the www era in India, compared to today's digital world where at the click of a button, one can see, buy fonts, download free instruction booklets, pens, inks and everything else you need as well as watch videos on how to do it, tells you about the arduous journey he had embarked upon to be a calligrapher without a guide or a master!
It was difficult to find authentic information or books and the right tools in the 80's in India. He searched various book shops literally turned them upside down to the dismay of those shopkeepers. Finally in the late 80's he got one book on Calligraphy and was excited but he was also frustrated when he could not find the tools at the stationery shops! He was told to buy them from UK, US or Germany! He requested friends going abroad and pleaded to get him these calligraphy tools, and one who obliged made an interesting remark, "That was the most difficult shopping ever in my life, to find them for you!" He realised that to teach good handwriting one needs to be a good demonstrator and one must have proved themselves. He practiced for months to perfect the art form and decided to launch himself as a professional calligrapher and a handwriting researcher trainer.
Mountainous  stumbling blocks in form of socio – economic barriers awaited him at every step. His kith and kin as well as some friends called him mad, quixotic and he was ridiculed and literally ostracised for the choice of profession as a Calligrapher, which was unusual and an uncharted field at that time!
When he went to advertising agencies to offer Calligraphy services, resistance came in the form of following questions "Do you have a degree in fine art?"(he didn't have one) and anyway you don't look like a Calligrapher!" He asked, "How does a calligrapher look?" he was told, "The one in pyjama, jubba, sporting long hair and unkempt beard wearing a tutu futa aiynak!" later he changed to look like one and went to Corporates. He was turned away by the security guard!  He went to Banks for financing these ventures. They considered Calligraphy as a hobby! Even today the Ministry of Finance and Income tax department does not consider this as a profession!
Undeterred by condescending voices all around, he went on to calligraph names of people beautifully to create the first impression as the best impression and delivered lectures on how to improve handwriting to leave a lasting Impression! It earned him appreciation but not remuneration! He endured all the perils of socio – economic stigmas. His first break came in mid 1990 from a management consultant who paid Rs.100 for writing 10 OHP slides, later he went suited to Corporates. Ironically, DIGITAL- a software company gave him certificates to write every week. He was paid 50 paisa per certificate and there was no looking back. Focused on uncompromising quality of calligraphy with innovative approaches, customer service with a personal touch and his sheer performance steadily increased his rates in many folds and business expanded in leaps and bounds to over 180 clients, mostly software companies across the globe! Today he is paid over Rs.100/- per word!
He formulated 12, 24, & 36 hours handwriting training courses which expanded slowly and steadily with continuous research to eventually 140 hours spread over a year. When he went to Schools and Colleges to offer Handwriting improvement programmes he was asked "Do you have a TCH or a BEd., MEd., or a PhD., degree to teach? (he didn't have one) Who authorised you to teach? after much humiliation he answered them in the most fitting manner, "A man- eater does not need a certificate that it is a Tiger, only cats need them, Nature empowered and authorised me to teach." This silenced all his critics! He launched his own brand of training centres. His students have scored state ranks and distinctions and have many other achievements. He co-authored the first ever book on Handwriting in Asia pacific region in 1992. Print and television media discovered him by accident and has been showcasing his unparalleled achievements as he epitomises Cicero's quote: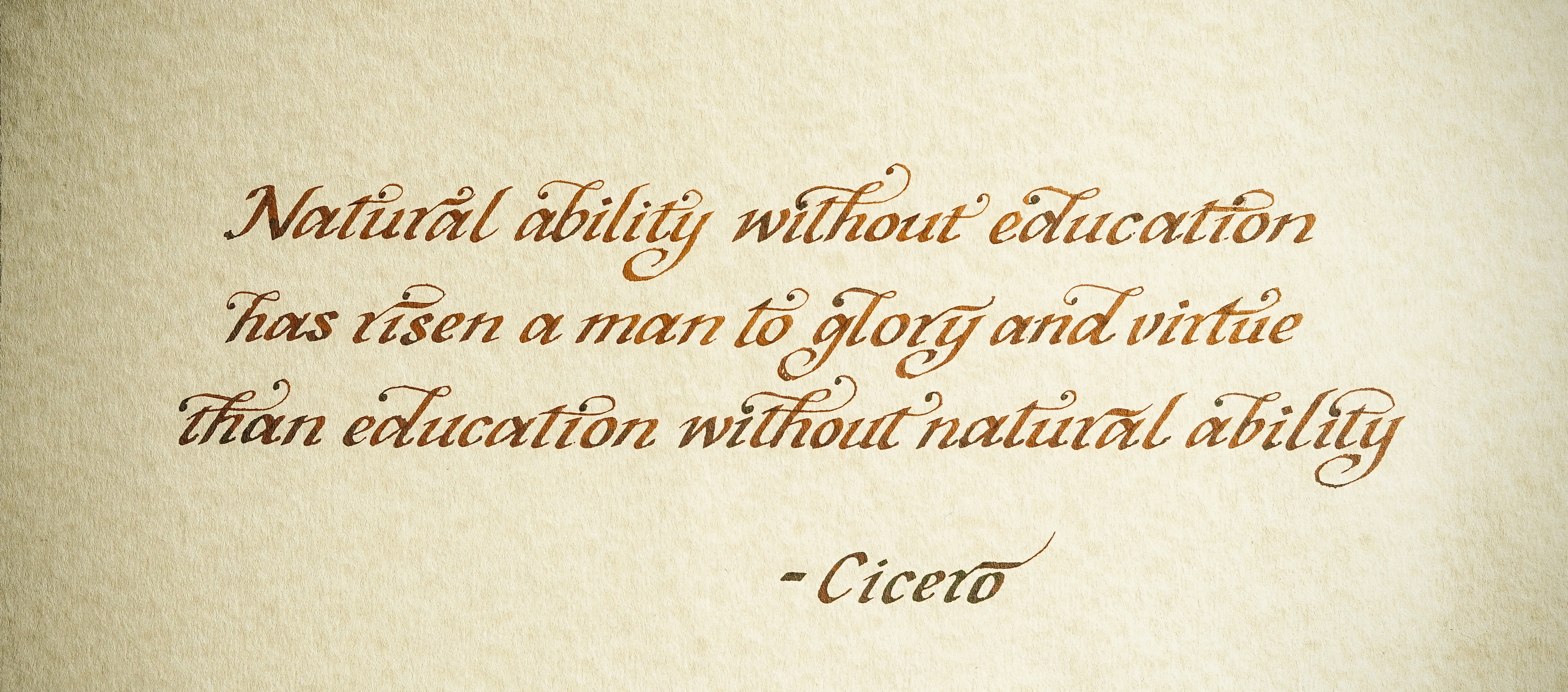 Calligraphy and Handwriting combined with his natural ability in selling, marketing, public relations and branding which was evident from his school days, took him across the globe from America to New Zealand to train Students, Teachers and Parents and he became the first and the only Indian to teach Power handwriting to the British in 2001, at Universities like Oxford and many County Schools. His Passion, Perseverance, Patience coupled with Endurance, Determination and Diligence during the worst challenging times as well as balancing the demands of his students and corporate clients during the busiest challenging times to keep up the deadlines, took him to scale greater and greater heights!
Even today Maestro K.C.Janardhan continues his multitasking & juggling journey with an unshakeable Self-Assurance against all Odds, with an Aura of Certainty! He still feels that he has miles to go before he sleeps!
     The Maestro's Success mantra in his own handwritten words…
For More information visit: www.jsquill.com