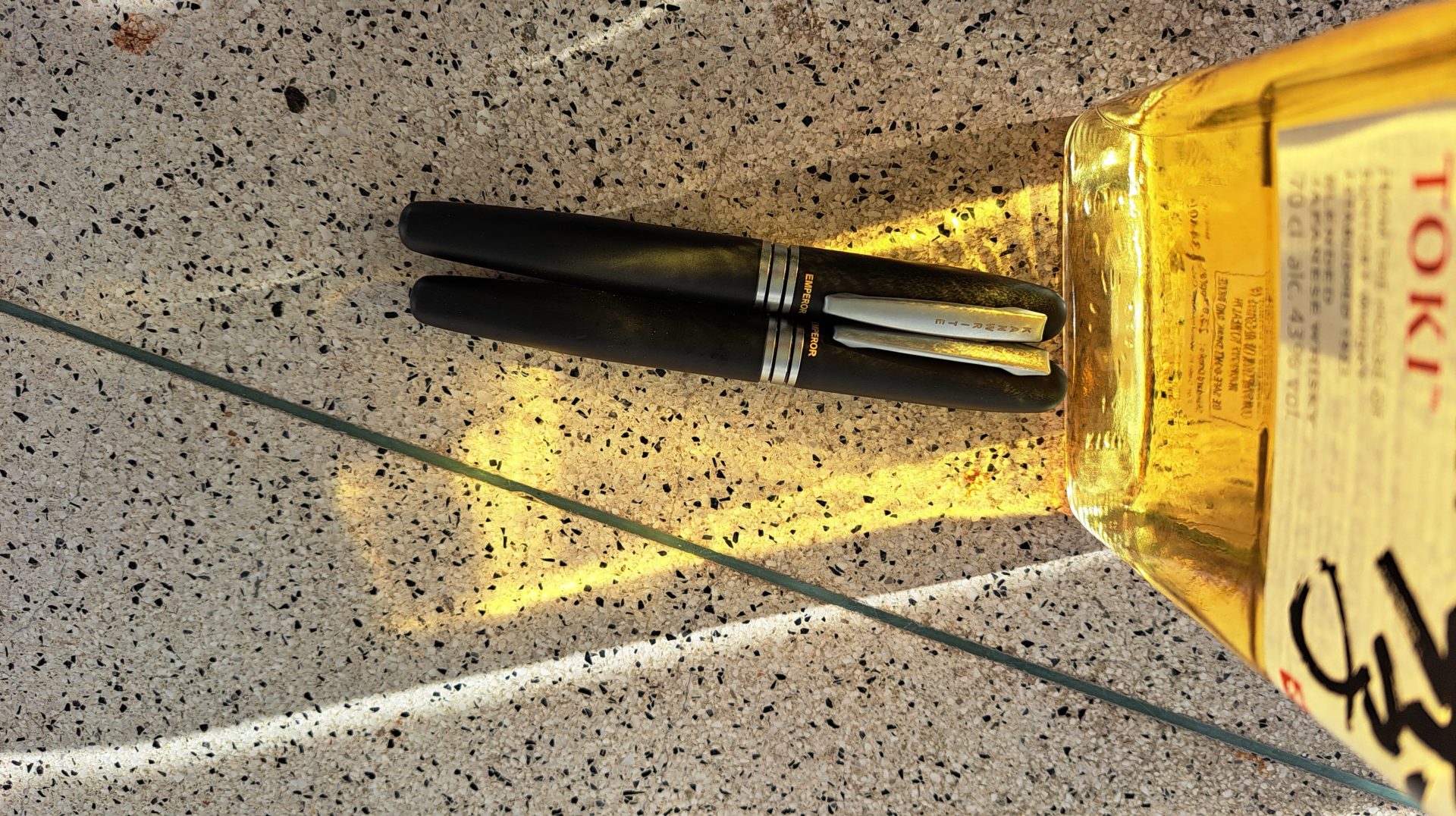 The moment I saw the pen listed in the Kanwrite website, I had to buy it. And I must say that the initial experience was an excellent one. Placing the order was hassle free and the pen arrived exactly two days after the order was placed and the money transferred. Kudos Kanwrite.
The box that the pen arrived in is pretty impressive too. Neat, clean, with a magnetic closure, good printed branding with contact details and the two ml ink carrying cartridge that has been provided with the pen, me thinks, is an excellent add-on.
But first more about the pen. The Emperor (mine is a Black Matt with silver trims, other options are also available) is a metal pen that has been machined inhouse, achieving a level of competence that, shall we simply say, is surprising by Indian standards of fountain pen manufacture. It comes fitted with an international #6 nib, and mine is a Broad, as I thought that it will go well with the overall, fat boy, cigar shaped getup of the pen (it weighs a hefty 38 grams without the inks and with the cap – 28 grams if you remove the cap, which will be the weight I will have to carry when I write, as I normally do not post my caps). The fixed piston-type filling system (converter) with a twist mechanism that can accommodate 1 ml ink, too has clear signs of well thought out and competently executed craftsmanship. Near Full Marks to Kanwrite. Kanwrite also scores on the fact that it has provided in the box a separate ink carrying contraption which is a very thoughtful inclusion as it automatically increases the firepower of the writer without having to carry an often-inconvenient bottle of ink. Like I was saying, near full marks to Kanwrite.
The nib is silk smooth – soft, on the paper: just a shade too muted, effeminate if I may use the term, a kind of a mismatch with the overall getup of the pen and its ambitiously christened name. I would personally have preferred just a hint of a feedback, or even a stiff, macho nib to complement the looks, but that is my personal preference. As an independent reviewer, I must say that the nib is as smooth as it gets and 9 out of 10 users are going to love the feel of its wet, almost resistance free countenance on the paper.
It will not be out of place to mention here that Kanwrite is not only India's biggest and the most celebrated nib maker, it is also one that has, by the dint of consistent adherence to strict quality norms, curved out a distinct niche in the global markets. Kanpur Writers is a name that is not only known, but revered in the world of fountain pen manufacturers globally and I am too insignificant to be commenting on their quality, recognized as they are.
The grip is perhaps a shade too cold and smooth on the hand, but admittedly that is again a personal observation, for which the maker cannot really be blamed.
Now a very important question: What happens when a hugely successful component manufacturer integrates forward to make the complete product, of which it was earlier making only a small part, albeit the most important one? The answer is excitement, for end-users cannot wait to see just how the offering has turned out to be. But more importantly, it opens up a Pandora's Box of questions. Will the end justify the means? Will excellence in component manufacturing, translate into a superior product that will push the end product a few notches up, expanding the market segment in the process? Or, will it end up being another case of an entity going beyond its brief – biting off more than it can chew, if you may – and falling flat on its face? Manufacturing expertise, like reputation is not easily transferable, and excellence in component manufacture cannot guarantee the achievement of an equal level of excellence in an upstream product. And yes, the existing reputation often creates expectations of a level that is hard to achieve, even live up to.
It is a tad bit premature to pass judgement with this pen. All I can say now is that Kanpur Writers is well on the way.
You can watch the video of the unboxing here:
For more information about Kanwrite visit: https://kanpurwriters.com/