Anupam Bharatiya – the fountain pen with the Nawabi Tehzeeb, refinement that was Anupam, yet Bharatiya!
My search for fountain pens that were made in India, the desire to document their history and add some to my collection wherever possible, takes me to myriad places. Sometimes the cache of actual finds that is dug up is impressive. Sometimes even repeated excavations reveal nothing but local lore. Sometimes it is even a curious mix of both. But I continue, my enthusiasm unabated.
Very often, such expeditions into the fountain pen kingdom begins with fellow fountain pen lovers tipping me off about a prospective site. Sometimes, very rarely though, they send samples of what further searches may yield. Naturally, in such cases, armed with the exhibit, I start my quest, my hunt, in real earnest. However, the pandemic has played spoilsport so far, this year, though I will not say that I am disappointed by what I have achieved, the lockdown notwithstanding.
This story begins with Hitesh Dodeja, a celebrated name in the fountain pen loving community. This pen enthusiast, with a heart as big as a Nawab, hails from Lucknow and is well acknowledged for his peerless collection of Parker Vector fountain pens. Thus, when I received his hand-written note with an Azure Blue Parker Vector pen, I was certainly glad. But what took my breath away was the other contents of the packet – two slightly smaller vintage pens with "Anupam Bharatiya" printed on their barrels. Closer inspection revealed the same Anupam Bharatiya imprinted on the nibs, that too, in Hindi. I had certainly not seen such fountain pens in the past, so I inked the eyedropper fillers immediately, and wrote to my heart's content.
By this time, my interest in the brand had piqued considerably and I would have immediately left for Lucknow had I not been restrained by the pandemic. Frenetic calls to Hitesh Dodeja and a thorough search of the net, apart from discreet enquiries within the fountain pen community provided some clues. Yes, it has taken inordinately long to collect the information, the pens to back the story and everything else to present Anupam Bharatiya before you, that too in a manner that leaves more questions answered than they do, but still, considering the situation outside, I am sure that you will forgive me for the lapses.
The story started in 1958 when the Late Amar Nath Tandon – known to the local community as "Dayalu-ji" set up a stationery shop in the Aminabad region of Lucknow. Aminabad was, and it continues to be, as Lucknow residents point out, among the busiest of business centres in the city, which is perpetually thronged by retailers from faraway places seeking to buy in bulk to replenish their stocks. While it was a stationery shop perse, right from the beginning the main focus was fountain pens, which in those days, enjoyed a kind of universal demand that cannot even be comprehended now. Naturally business was brisk for Anupam Stores, the newly established shop, and Amar Nath Tandon's hard work started to pay rich dividends.
It wasn't long afterwards, in 1965 to be specific, that Amar Nath Tandon realised the need to encash the goodwill that the business had already generated by establishing his own brand of fountain pens. There was another reason behind the move – to have a home-grown fountain pen that would compete with the imported pens, provide Indians with a viable option to "be Indian and buy Indian". And thus, was born the Anupam Bharatiya (Anupam = Beyond Compere, Bharatiya = Indian) brand.
Anup Tandon, his son, joined him in the business while he was still in school and has been a witness to those heady days, especially the peak till the early 1980's when the shop would sale as many as two hundred fountain pens a day, on an average. The Anupam Bharatiya pens were, as local old-timers recall, a rage in and around Lucknow those days as Amar Nath Tandon would get them manufactured from places as far as Kanpur, Calcutta, Delhi and Bombay, ensuring excellent quality at extremely affordable prices.
However, the good times did not last long and the ball-point pens soon edged the fountain pen out of serious contention. As a matter of fact, it will not be an exaggeration to say that the first decade and half of the new millennium was an unmitigated disaster so far as fountain pens are considered and Anupam Bharatiya was no exception.
Anup Tandon is optimistic though – demand for the fountain pen in witnessing a resurgence, the kind that was not expected even by the strongest loyalists till the other day. With five decades of experience, he is hopeful about the positive signals – people, especially fountain pen afficionados are queueing up to acquire Anupam Bharatiya pens, his only regret being that Amar Nath Tandon, who breathed his last in 2015, is not there to see the miraculous turnaround of the brand he created with his blood, sweat and tears.
All together I acquired forty-four Anupam Bharatiya pens, which comprise of eight different models, in all the colours that were readily available. At the price points they are offered, they are robust and good value for money. But to me, they represent an era that has long gone by and will never return – they represent examples of Indian entrepreneurship, ingenuity, branding exercises. They represent the trusted implement for writing that must have accompanied countless young boys and girls through school; they represent the aspirations of the common man and woman as they must have gone about their daily chores.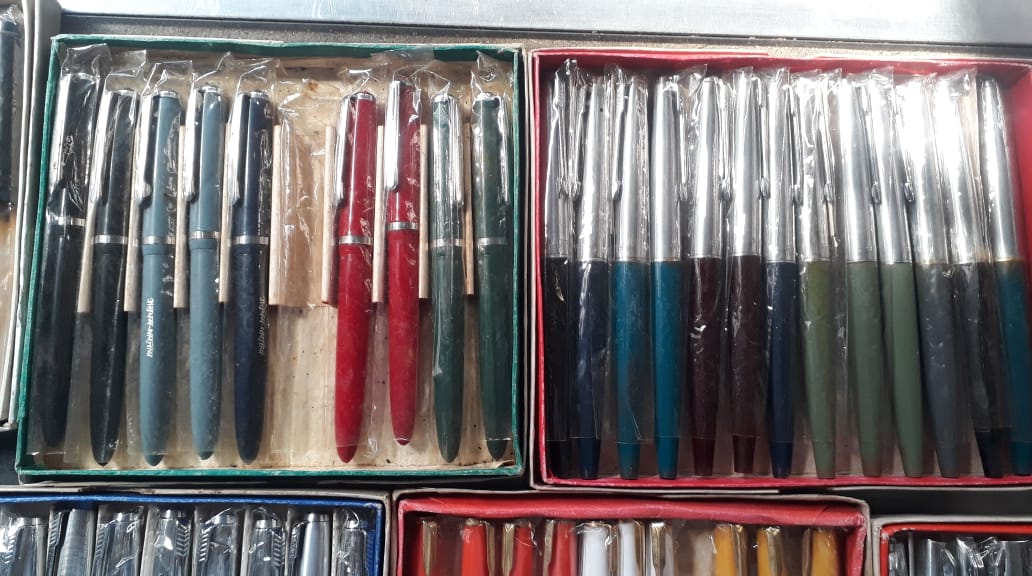 Even if the Anupam Bharatiya brand is revived, these fountain pens, which represent the old stock awaiting liquidation, will never be replicated. Acquire a few for your collection if you are serious about your love for the fountain pen in general and those made in India in particular. If for nothing, get one to honour a man in Lucknow with the gall to name his brand to mean Indian, beyond compere!
Note: You can contact the owner Anup Tandon at 98392 08189. This is also his WhatsApp no. Kindly direct all purchase enquiries to him.