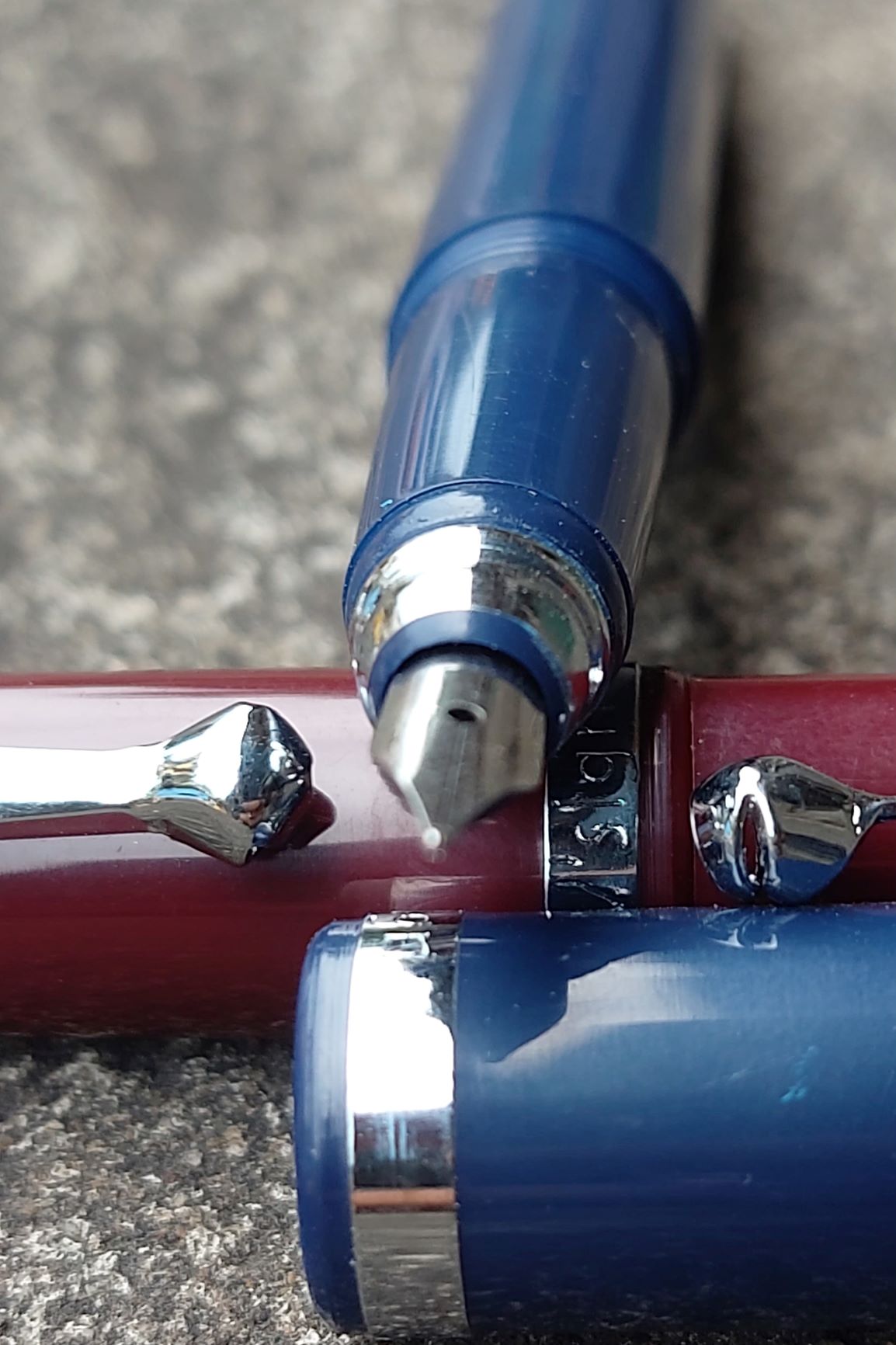 The search for an "all-terrain" fountain pen made in India, by Indians, for Indians, and priced reasonably enough to attract Indian buyers, has been a long and arduous one, with very little hope of resolution. The hand turned Ebonite or Resin pens with imported feed, nib, cartridge and / or converters are neither strictly Indian, nor priced within the reach of the average Indian. About the mass-produced other end of the spectrum, only one word will suffice – China.
And just about when we lovers (and users, yes, there still remain many users) were giving up hope, the Vithalwadi based V'Sign from Insta Write has come up with the answer, christened "Cute". It's a mass-produced, machine moulded plastic pen, "small" as conventional writers go (4.5 inches) and pretty unassuming in its look and feel. But there is more to the Cute than what meets the eye, in fact, much, much more.
For one, the pen is threaded in the bottom which makes it capable of being posted and voila – it becomes 5.5 inches. Posting ensures a better balance and a more comfortable writing experience. Either way, the Cute is an ideal instrument for the young (read small) hands of the students who write long pages, as it is relaxed in the more mature hands of seasoned writers. "Genius, is in the small things" they say, and here too the genius of V'Sign detailing will be obvious – only if one bothers to look. The cap aligns perfectly with the nib of the pen, which explains the perfect balance and the ease of use.
Secondly, the Cute is fitted with a 0.65 German point steel nib which is not only robust enough to be subjected to the torture young people put their pens through, but is also capable of writing on a variety of papers with different surface qualities. As any serious fountain pen user is bound to complain, it is often the unavailability of quality, "fountain pen friendly" paper, that mars the performance of most of their favourite pens and the Cute is a huge winner in the segment, by far.
The third point that makes the Cute an outstanding pen is the mechanism that has been built into it – one that controls the volume of ink and helps avoid an overflow. It is a simple inner tube in the barrel – the kind that makes one exclaim in wonder "why didn't I think of it before", akin to one small step for man, but a giant leap for mankind! With the Cute, there will be no messy fingers and no ink stained uniforms either – enough to make the kinds of me to want to go back to school.
Fourth and finally, the Cute is a hands-down winner as it is priced at Rs. 75 which makes it a real low hanging fruit that can be picked by anyone. Given the right marketing push, I am convinced, that the Cute can be a game-changer.
I spoke to Hiro Motwani, the owner of V'Sign pens, the man behind "Cute". A man who has come back from the cold and is today poised to rewrite the fountain pen crafting story of India. "Comeback" because, a decade back, in 2010 and thereabouts, things were so bad for the industry that he had virtually downed shutters on the manufacturing unit that was set up by his father Satramdas Motwani, who was a highly regarded name in the OEM segment, not only for his deep knowledge about writing instruments but also for the transparent business practices followed by him.
Insta Write was then known as Beena Pens and at its peak, it used to make pens for virtually every brand those days – Chelpark, Ritter, Flair: not to mention others, some of whom are still active in the segment and therefore whose names should not be disclosed. "We are currently making fifty thousand pieces a month as an Original Equipment Manufacturer" says Hiro Motwani, "a fraction of what we used to do those days".
"But is the Cute based on a model that was hugely popular in the 1990's and the 2000's" I ask, "a pen from Camlin, before the company had changed hands and became Kokuyo Camlin"? The question is pertinent, as I happen to have the Camlin pens in my collection and legend has it that they too were made by them. Hiro Motwani does not answer, choosing to be discreet in his silence. The pens that I am referring to, did not come fitted with the ink volume control mechanism that the Cute has – at least, they were missing in the two pieces that are there in my collection. Again, Hiro Motwani would neither affirm or deny, requesting to be excused.
What are his plans for the future? Well, there is a piston filler that is also on offer. This one too is plastic moulded, and with an Indian soul down to the iridium tipped dual-tone nib, but incorporates an imported feed. The pen is priced very attractively at Rs. 150 and will be made available in the dealer's network soon.
But no. Hiro Motwani has no plans of going in for either the hand turned ebonite pens nor does he have plans of producing more expensive pens at least for now. If anything, V'Sign will scale-up and one-day, hopefully, match the Chinese in numbers, enjoy the fruits of economies of large scale. In terms of quality, you can take my word, it is already way ahead apples to apples, pens to comparable pens.
You can find earlier stories on Beena Pens and Hiro Motwani / V'Sign here.
As for a writing sample – here is a masterpiece created with the V'Sign Cute by none other than Samit Dutta, a tribute to Satyajit Ray: