Jim Hinze pours his heart out!
 Inked Happiness: When any why did you take up pen turning? Surely, as hobbies go it is nowhere near "standard", and as a profession, not really one that promises the big bucks at the end of a hard day's work?
Jim Hinze: This question is going to have a somewhat long answer, but will do my best to keep it short.
I taught myself woodworking (furniture making, cabinetry, etc) in the late 1990's. I have been a software engineer for the better part of 35 years… I don't produce anything tangible… it's all vapor. Wood Working gave me a creative outlet that allowed me to produce a tangible item. During that time, I belonged to a club in Michigan (Southeast Michigan Woodworkers). Each month, a member put on a presentation of what they were working on or had just learned.  One member did a presentation on pen turning–it was a kit pen, ballpoint slimline. I'd never worked on a lathe before and found it very interesting. I watched, amazed, and at the end of his presentation he stated that he brought extra kits and if anyone wanted to stay late, they could turn one, so I did! The very next day I bought a lathe and other necessary equipment. I already had some equipment from general woodworking, so it wasn't a huge expense. This was around 2001/2002. I kept turning for the next 8 years or so. I took a break from woodworking and turning entirely around 2010. I didn't get back to it until 2013 and resumed kit pen making.
In mid to late 2014 I watched a series of videos on YouTube entitled masters of the fountain pen. This series highlighted 4 or 5 of the master makers from Japan and their techniques. Again, I was mesmerized and decided to learn to make fully custom fountain pens rather than turning kit-based pens. I spent the next year teaching myself the techniques required to accomplish this goal. There was no one around to teach and videos on YouTube were severely lacking thus I was on my own.  During this time, I met Francisco Lopez. We met at a weekly farmer's market where I sold my kit pen offerings. He was recovering from an automobile accident and writing was prescribed by his therapists to improve hand eye coordination and motor function… it was like fate brought us together. He was very instrumental influencing my transition to a total custom pen maker. He always had faith I could succeed and pushed me relentlessly to be better. He owns the second full custom pen I ever made.
Francisco is now my right hand, and frankly, without his help, guidance, and faith in me, Hinze Pens would not exist. He's always accompanying me to the pen shows I attend… he's the one that talks a lot, I'm a bit of an introvert. Skip to the end of the long story, we did our first national pen show in 2018 in Arkansas. Additionally, I have been teaching custom pen making since 2018, focusing on teaching other kit pen makers to transition to full custom.
Inked Happiness: From your vantage point as a pen turner, how does the market for fountain pens look? Do you see demands rising? Are young people getting enamoured by the romance of writing, especially with a fountain pen? How bright do you perceive, the future will be?
Jim Hinze: The market is vast and deep. As you put it, the "romance of writing" is making a huge comeback, and yes, even with young people. In this increasing digital age, people recognize the deep satisfaction of sitting down and doing something manually. Doing it with a well-designed, well-constructed pen makes it incredibly enjoyable. Our business has more than doubled each year since 2018 with very little marketing or advertising on our behalf, as it has all been word of mouth.
A lot of consumers love the traditional designs and materials, and we have a line of pens just for them, called the Americana.  It's made from ebonite and adorned with a vintage clip, and available in 3 sizes to fit all writing styles. However, colour seems to rule the market. The brighter and bolder the colours, the more people love them. We pour about 50% of our own resins, the other 50% we source from some of the best, small batch, niche resin makers.
Inked Happiness: How as the pandemic and the resultant lockdown impacted the fountain pen industry in general and your segment – that of hand turned, bespoke pens in particular?
Jim Hinze: When the pandemic hit and worldwide lock-down ensued, we had only one pen show under our belt of 10 planned for 2020.  I had a very negative attitude. I really thought that it would kill the market and future growth and had accepted the fact that we were not going to have a good year. My Partner and right hand, Francisco Lopez was much more optimistic, and boy was he right!
We took April, May, and June and conducted our own Virtual Pen Show (yes, we borrowed/stole the idea from the Instagram / Facebook VPS folks) and began posting a "pen of the day" at a reduced price (similar to what we would sell at a pen show). This was the most posting / advertising we had done on social media to-date, and the response was overwhelming. In the summer, the folks from the St. Louis pen show decided to take their annual Pen Show Ink offering and turn it into a virtual event. They invited the custom makers who were scheduled to attend the show to make a limited-edition pen and pair it with the Show Ink of 2020. We were one of 7 makers to participate. Our pen sold out in roughly 72 hours. We had initially offered 12 pens, which sold out in less than 24 hours, and asked the organizers if we could get 12 more bottles of ink to expand to 24, which they provided.
All in all, the pandemic has impressed upon us the need for social media, demonstrated success, when used well, and has kept business at a very brisk pace. We've already exceeded 2019 sales and we have almost 4 months remaining.
Inked Happiness: What are the problems that you face as a turner of fountain pens, as a craftsman? What are the things relating to your calling that you would change, if you could?
Jim Hinze: What an interesting and good question.
First thing that comes to mind is TIME. As of right now, I am not a full-time pen maker, though I dedicate more than 40 hours per week to making pens. I still hold a full-time day job that is quite demanding. My days start around 3am so I can get some shop time before it gets too hot here in the Texas summers, and usually end around 9/9:30 at night. One of our goals is to be able to turn this into a full-time business and every year we get much closer to this becoming reality.
Second would be differentiation. Since I've started teaching, we've seen a huge increase in active custom makers. While I'm not responsible for all of them, I've taught quite a number of them (at least enough to get them started). Maintaining our brand, our look, our designs is challenging. Everyone LOVES resin from the master, Jonathan Brooks, so you see an overwhelming number of makers using his stock, while I have a number of his blanks, I have yet to make a pen from one. Diamond-cast is also the newest, latest love of makers (and lately some of the larger mass producers). I'm proud to say we've been using their material since their early days… This is one of the reasons we pour a number of our own resins, but will selectively use offerings from others.  The point of all this rambling is selectively using materials that fit our brand and brand vision (e.g. bright, bold colours)
In addition to material selection, one of our other differentiators is the use of colourful nibs. FP nibs used to offer a special nib plating that would give you a very colourful nib. We embraced this and paired it with some of our most colourful pens. They stopped producing them in late 2018 / early 2019 due to cost, both material and labour, and issues with peeling when used with certain inks. After doing quite a bit of research, experimentation, and testing, we found a similar, more durable product and invested a small fortune in order to begin producing them ourselves.
Third would be volume. As I stated earlier, I'm a software engineer by profession. As such, the last thing I want to do is go home after work and program up a pen… there's something special about a handmade pen… it has soul. Most commercial pens are glorified kit pens, tens of thousands of components are produced in a factory and either hand assembled or mechanically assembled and hand tested/quality inspected. Making a pen by hand takes quite a bit of time, knowledge, and sometimes blood, sweat, and tears (LOL). While I can keep up with volume now, as we expand our brand, we'll have to take steps to increase output. CNC isn't an option. Having human beings working manual machines is the goal. I have 2 part time workers that assist today. That number will increase as we grow.
To answer the last part of the question, I think the only thing I would have changed is making the leap to full custom sooner than I did.  It is a far more rewarding craft.
Inked Happiness: Do you think, collecting hand-turned pens should get acknowledged as a special category within the bigger hobby of fountain pen collecting? If yes, what are the things that collectors should look for in the hand-turned pens that they collect?
Jim Hinze: Yes! I do believe that they should be acknowledged separately. I have a collection of commercial pens (I love Sailor), and I have a collection of pens from my fellow makers.
What to look for in a custom pen I think is subjective. First, I think you should know a bit about the maker, their process, how long they've been making, etc. A "hand polished pen" is not a handmade pen, generally it means the pen is CNC machined (computer-controlled manufacturing), then sanded, finished and polished by hand.  Be sure you are buying a true hand-made pen.
Second is quality… Unfortunately, you can make a pen look awesome in pictures online, but when in hand, it may not be what was expected or may be lacking in quality (fit & finish). This ties into the reputation of the maker. None of us are perfect and all of us have made mistakes. The willingness of the maker to acknowledge the mistake and make it right is important. I do my best to meet the customers' expectations. I have remade pens multiple times, replaced nibs, and try to do what is necessary for the customer to be happy. I don't always succeed. Bottom line is, know your maker.
Inked Happiness: Do you also collect pens? If yes, apart from the ones that you make, which pens are your favourite? Why?
Jim Hinze: I do collect pens… I love Sailor's, specifically the 1911 series. I just love their nibs. I think they are some of the finest gold nibs around. Also, the dimensions, it's a great pen size, across the board, though the 1911 large is my favourite. I have an Esterbrook Este, a Montegrappa game of thrones (Stark), and a Pelikan M200. I probably pick up a new pen at every show. It helps me understand what's popular and why, and what I personally like and do not like.
I also like to collect from makers. I have a number of pens from Newton, Troy Breeding, Ryan Krusac, and some from the people I've taught over the years.
Inked Happiness: In terms of design, raw materials use and the sheer pleasure of writing, which are the top five among the pens that you have used  / known of?
Jim Hinze: In no particular order:
Sailor 1911 large, zoom nib ground to architect
Pelikan M800
Custom ebonite with bronze engraved wrap, pen from Troy Breeding  (Country Made Pens)
Ryan Krusac – custom Tulipwood (I absolutely love Tulipwood)
Greg Hardy – Hardy Pen Wrights – he makes an outstanding pen!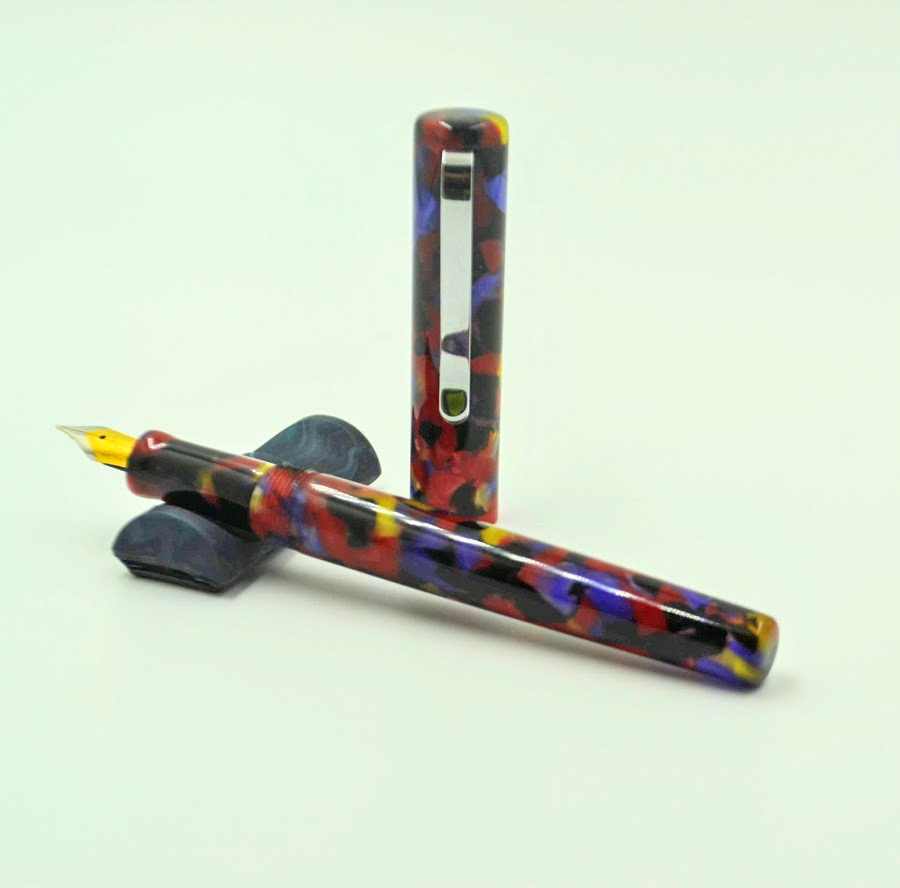 Inked Happiness: Anything that you would like to communicate to our readers.  
Jim Hinze: I absolutely love what I do… I still giggle to myself when I make a pen and it all fits together and writes. I guess it still surprises me that "I made that". What's even more amazing is that people are willing to buy it. This isn't just a job for me, it's a passion. I'm a lot like other pen enthusiasts in that I have an obnoxiously large ink collection. I have more notebooks and stationery than I will ever use. I get excited when my favourite manufactures release a new pen. I just happen to also make them. Funny thing though, I've never made myself a pen. I might have to do that one of these days. I also love teaching. I think back to all of the struggles and issues I had when trying to learn. I like to try and make it easier while passing on the craft, even though I'm creating my own competition.
When you buy a pen from Hinze, your buying years of practice, experimentation, knowledge gained (and lost), and collaboration – you are buying part of what makes me, me and what makes Hinze a brand.
You can catch up with Jim at:
and on Instagram  #hinzepen