There are many interesting fountain pens that may not have been the movers and shakers of the industry, but had made contributions worth recognising in the annals of fountain pen development. As a matter of fact, most of them come replete with histories that make fascinating reading, just as their ability to write beautifully fascinates till date. I come across such rare gems from time to time and my pleasure is multiplied manifold, as I try to share their stories with you.
This Mentmore Diploma is one such pen. It comes in my favourite Burgundy, sports a semi hooded gold nib, is a button filler that works like a squeeze even after all these years and has a shape that is aesthetically rounded in a manner that reeks of a pukka British lineage. If one were to just consider the look and feel of the pen, I would settle for this one in nine out of ten cases. As for writing, it has the stiff upper lip, the nib firm in its resolve as it writes, with no hint of the tines spreading, alluding to even an imaginary flex. It settles snugly into the grip, slips effortlessly into the shirt pocket and does its job with the quiet efficiency of a secret service agent.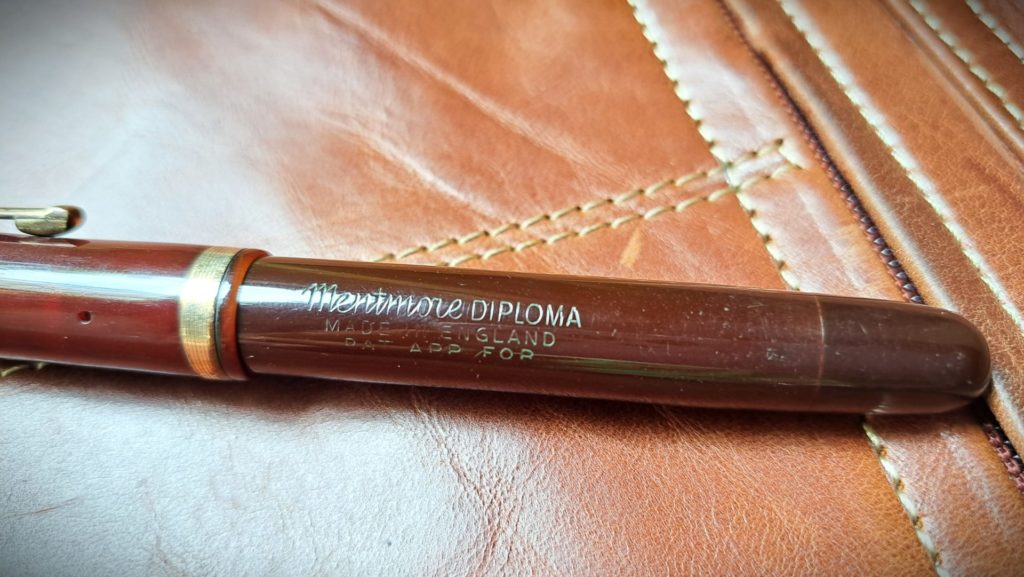 And why not? Legend has it that during the great war, when most industrial entities were asked to contribute expertise to support the war effort, the company was entrusted with the making of pens that could carry maps and compasses, and even pieces for the secret agents which concealed a poisoned dart capable of taking down an enemy in 20 feet! Phew! Talk of a pen being mightier than a sword.
As for Mentmore, known as one of the relatively smaller pen manufacturers of British origin, their contribution however, is much bigger either than the years they spent as pen makers or the sheer numbers that they chalked, or even the number of models that they had introduced in the market. For the records, Mentmore started production in 1922 or thereabouts, their name based on the place of their origin in the Hackney region, a London suburb. Among the first offerings from the company was a pen with a dot on the cap called the "Spot" which was of pretty high quality and is much sought after by collectors.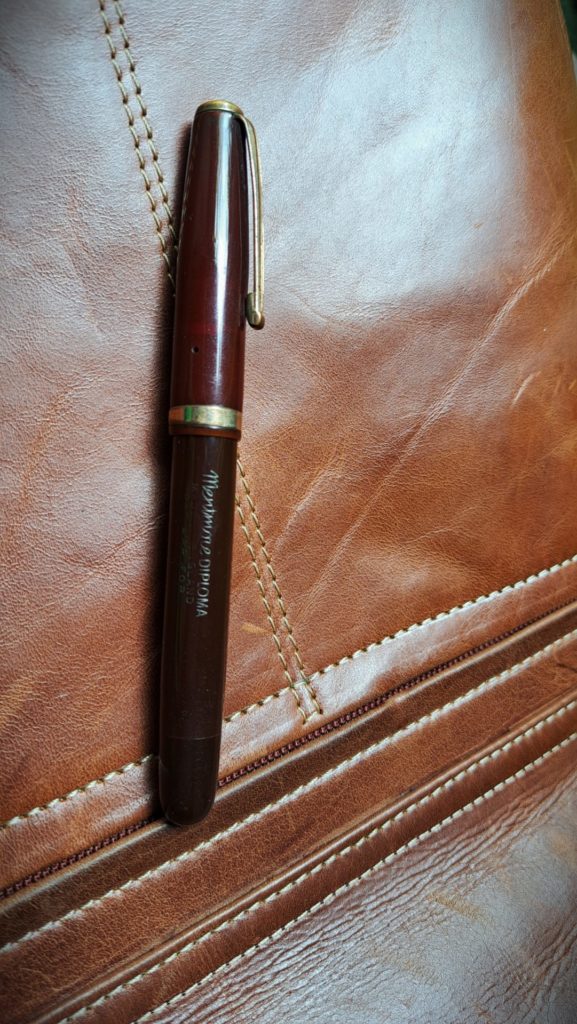 However, the most well-known offerings from the Mentmore stable were the Autoflow range of pens which came in both lever and button filler variants. They were robust pens, with super-efficient filling systems and were generally made of black hard rubber, though patterned celluloid options were also widely available. (And I say this based on the fact that such pens keep surfacing in the market in relatively short intervals). The nibs were said to have been made in-house, were generally 14 carat  gold "Osmi-Iridium", characterised by their heavy tips and their relatively firm dispositions. The Mentmore 45 and the 69 which sported sterling silver caps, and according to many connoisseurs, were a delight to write with, are however less easily available these days and collectors who have them in their collection are considered to be really blessed.
The Mentmore Diploma which is featured in this story was however of later vintage, dating back to the post war period, around the early 1950's and is an injection molded piece which was, then all the rage. The Diploma too, had lived up to the earlier Mentmore tradition of producing writing instruments that were of very high-quality standards and if my pen, despite its weather beaten exterior – it is full of scars from a life well lived – is anything to go by, one can safely vouch about their excellence. As a matter of fact, it is my personal feeling that Mentmores are both undervalued and underpriced.
The unique feature of the Mentmore was the fact that it operated in different segments of the market, quiet successfully at that – having established the Platignum brand as early in its life as 1927, to cater primarily to the inexpensive school-student segment. Most Platignums, at least initially, sported white metal or plated nibs, though gold nibbed models were also there. These pens were technically innovative and were aesthetic in design, aimed as they were, to the fancy of the young, all the while operating under strict pricing constraints. Why, for some time, they had even got into ball point pens, the retraceable version being their main battle tank. The period was also marked by Platignum getting into the ink cartridge segment. What needs to be highlighted however, was though the Mentmore or Platignum histories span a brief period in the fountain pen chronology, within it they had made many innovations, some backed, even by patents.
But to us fountain pen fanatics, the Mentmore will always be like a frozen frame from the past that rekindles our memories of near and dear ones, transporting us back to an age when the men (or women) and the fountain pens that they wielded were larger than life!