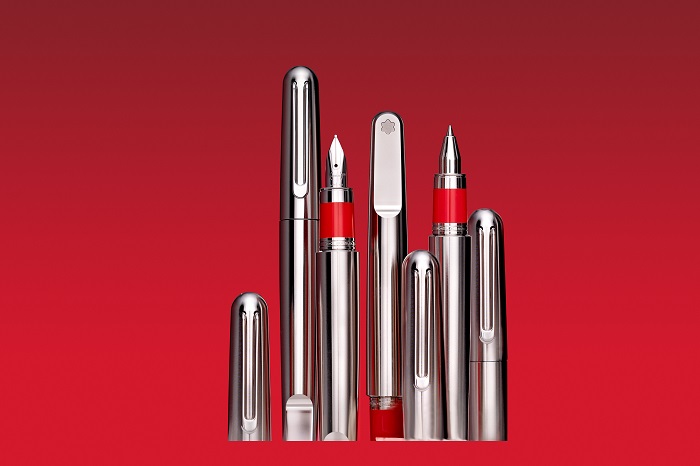 Montblanc reaffirms its commitment to the fight against AIDS with the extension of its (MONTBLANC M)RED line in October with new pieces set to launch to coincide with the sixth Global Fund Replenishment conference in Lyon
Montblanc is committed to making its own mark through cultural, social, educational and environmental initiatives, helping others make a difference in the world. With its origins in the culture of writing, Montblanc is driven by the belief that everyone can leave their mark on the world, crafting quality products and pioneering breakthrough innovations that help people fulfil their goals. With the same passion and determination it applies to its craftsmanship.
Through its partnership with (RED), Montblanc raises awareness for the fight against HIV/AIDS, and gives people an opportunity to make a real impact by donating five euros – enough to provide more than 25 days of life-saving medication – with every purchase of a (MONTBLANC M)REDproduct. The money goes directly to the Global Fund to support HIV/AIDS programmes in sub-Saharan Africa. Since 2006, (RED)-supported Global Fund grants have impacted more than 140 million people with lifesaving HIV/AIDS programs, including prevention, treatment, counselling, HIV testing and care services.
Following the launch of the (MONTBLANC M)REDline in 2018, the collaboration is expanding with the introduction of a trolley and a new writing instrument line. The expanded (MONTBLANC M)RED linelaunchesin October 2019, coinciding with the sixth Global Fund Replenishment conference in Lyon, France, hosted by President Emmanuel Macron. The event will bring together governments, corporations, NGOs and private donors to pledge financial support for the fight to end AIDS, Tuberculosis and Malaria, with the goal of securing USD $14 billion in order to save 16 million lives over the coming three years.
"This special partnership with (RED) is more than just about raising funds for prevention and medication, it's about educating others to understand that, as a community of global citizens, we can be more effective in ending epidemics like AIDS when we work together. Montblanc's mission is to create products for individuals who seek to leave their mark, whether achieving their own ambitions, taking action for good or striving to make a positive impact on their communities and on the world." explains Nicolas Baretzki, Montblanc CEO.
Introducing the New Additions to (MONTBLANC M)RED : Trolley and Signature Writing Instruments
Based on the design of its signature #MY4810 line, the trolley is a lightweight and durable companion for leisure and business travel featuring:
A bold red polycarbonate shell
Red leather on the handles and on the corners of the trolley
Central leather band and matching luggage tags in black and red
The inside features an elegant lining that features inspiration quotes in red 
Reprising the pure design of the original (MONTBLANC M)RED writing instrument, the new writing instrument balances form and function with fluidity. Signature design details include:
A cap and barrel with a brushed palladium nickel coating
Red-coloured lacquer on the forepart of the pen
Special (Montblanc)RED engraving on the nib and red ink feeder cover
Montblanc emblem ultrasonically welded onto the cap top and distinctive "plateau"
Platinum-plated clip mounted invisibly into the cap to not interrupt the design flow
Magnet allows the closing of the cap and barrel with alignment of the clip, with an additional snap mechanism to smoothen the closure and ensure the cap remains firmly in place
"In this pivotal year in the fight against AIDS, we are enormously proud to see (RED)'s partnership with Montblanc grow and evolve with the launch of the beautiful (RED) Trolley Cabin and new signature writing instruments. Iconic brands like Montblanc demonstrate the important role the private sector plays by not only generating money for the Global Fund, but by campaigning to keep this disease – and our ability to end it – on the public agenda. We thank them enormously for their continued support," said Jennifer Lotito, COO, (RED).
For every (MONTBLANC M) RED writing instrument, trolley or accessory purchased, 5 euros will go to the Global Fund to support HIV/AIDS programmes; that's enough to provide over 25 days of life-saving HIV medication.  For more information, visit www.montblanc.com/MontblancxRED.
About (RED)
(RED) was founded in 2006 to engage businesses and people in the fight against AIDS. (RED) partners with the world's most iconic brands that contribute proceeds from (RED)-branded goods and services to the Global Fund. (RED) Partners include: AirAsia, Alessi, Amazon, Andaz, Apple, Bank of America, Beats by Dr. Dre, Belvedere, Calm, Claro, Durex, eos, Fatboy USA, Girl Skateboards, MCM, Montblanc, Mophie, quip, Salesforce, SAP, Starbucks, Telcel, Vespa, Vilebrequin and Wanderlust.
To date, (RED) has generated more than $600 million for the Global Fund to fight AIDS, Tuberculosis and Malaria, to support HIV/AIDS grants in Ghana, Kenya, Lesotho, Rwanda, South Africa, Swaziland, Tanzania and Zambia. 100 percent of that money goes to work on the ground – no overhead is taken. Global Fund grants that (RED) supports have impacted over 140 million people with prevention, treatment, counseling, HIV testing and care services.
About Montblanc
Synonymous with excellence in craftsmanship and design, Montblanc has been pushing the boundaries of innovation ever since the Maison first revolutionized the culture of writing in 1906. Ingenuity and imagination continue to be driving forces for the Maison today as it advances its expression of fine craftsmanship across product categories: luxury writing instruments, watches, leather goods, new technologies and accessories.  Reflecting upon its ongoing mission to create fine lifetime companions born from bold ideas and expertly crafted through the skills of the Maison's artisans, the iconic Montblanc Emblem has become the ultimate seal of performance, quality and an expression of sophisticated style. With its origins deeply rooted in the culture of handwriting, Montblanc continues to assert its cultural commitment around the world honouring modern day patrons who support the advancement of the arts, as well as wide-ranging initiatives that promote arts and culture.