WHEN THE SWORD WAS MIGHTIER THAN THE PEN
Heralding a new series of pens from Italy's oldest manufacturer of fine writing instruments is Samurai, the first model in the Warriors collection, aimed at the most passionate of pen enthusiasts. Conceived to recognise the most noble combatants throughout history, those who fought to change the course of human events, Warriors will feature the most significant and intriguing soldiers the world has seen.
AVAILABLE FOR DEGREES OF WRITING
F, M and B
FEATURES
Material: sterling silver
Nib: 18k gold
Packaging: special
Filling system: piston power push
Trim: burnished sterling silver
The Samurai Pen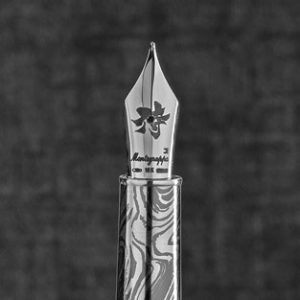 milestone in pen manufacturing, Montegrappa's Samurai presents a design challenge like none seen before. Limited to only 177 pens in sterling silver, each one unique, and a further seven in solid gold, the Samurai exists only as a push-system, piston-filled fountain pen, fitted with an 18k gold nib. It resides in a luxurious black lacquered box, with the ancient, original Chinese character for "Samurai" printed on top.
Inside one will find the Samurai "doll" pen, accompanied by a bottle of ink and a Katana-sword accessory that acts as a fully-functional paper-cutting knife. The pen itself is a masterpiece of burnished sterling silver, a "truthful" model of an ancient samurai suit of armour made by cutting-edge developments of the ancient lost-wax technique, with certain design elements further embellished with rose gold-plated details.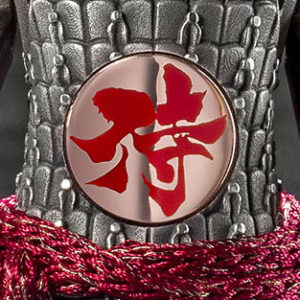 Continued examination of this work of art will reward the observer with a plethora of minuscule delights. Montegrappa's artisans have reproduced the traditional "kuwagata" helmet, the "sode" shoulder and "kote" sleeve armour and the "tekko" arm and "suneate" thigh guards with the utmost accuracy and precision. The warrior's "kusazuri" skirt is reproduced in multi-layered, embroidered fabric.
A rare combination of writing instrument and decorative figurine, the Samurai's cap forms the head, breast and arms of the soldier. The pen barrel comprises the figure's lower limbs and the writing component's juncture. Adding to the unparalleled intricacy, the hands and waist armour are hinged, so they are detachable, as are the limbs, for moving respectively.
Both a thing of beauty and a functional object with the sophisticated appeal of a working miniature, the Samurai pen will prove as captivating as the noble warrior that inspired it.
For More Information: