Fountain pens – memories and inks that survived the holocaust!
There are times when even hardcore lovers of fountain pens fail to screw our eyes to read the fine print on the nib or even the nearly worn stamp of the manufacturer on the barrel of the pen. We fail because our eyes are moist, the pens invariably flooding our memories of near and dear ones. Now imagine a stranger bearing a pen from your past – a pen that was confiscated moments after the owner was herded into a concentration camp. I guess, the name of the model or the maker will be redundant for nothing matters in times like these – and the fountain pens, our companions for life tale no tales, however moving they may be.
"I can't tell you how much it means to me to have this pen." Yaron Roksa is emotional as Floriane Azoulay, Director of the International Tracing Service (ITS), hands him the ink pen belonging to his father, István Rokza. The pen had been taken from István Rokza when he arrived at the Neuengamme concentration camp in September 1944 at the age of 16. With the help of journalist Renee Ghert-Zand, the ITS was able to track down his family in Israel as part of the #StolenMemory project.
István Rokza was born in Budapest and deported by the Nazis along with other Hungarian Jews in May 1944. He first had to perform forced labor in a Hungarian camp before being sent to Neuengamme. "My father was missing the fingers on his right hand. He explained that he lost them because he was pushed into a saw when he was forced to work in a carpenter's workshop."
Yaron Roksa's father was a great storyteller, but he refused to say anything more about his experiences during the war. His father always went by the name "Yosef." But copies of the documents preserved by the ITS revealed his father's birth name, as well as the names of his grandparents, Hedwig Miriam and Anton Shlomo.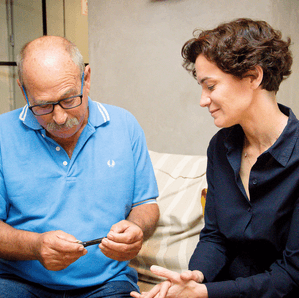 Because István Rokza called himself Yosef Roksa after he emigrated, it was more difficult to search for him. From Neuengamme he was sent to Bergen-Belsen, where he was liberated by the Allies on April 15, 1945. Three months later he was able to leave the hospital that had been set up there for survivors. He spent a few years in Sweden, but he had other plans for his life. In June 1949, István Rokza trained as a farmer in the Beit Bialik DP camp in Salzburg, a transit camp for emigrants on their way to Israel. The last trace of him in the ITS archive is a note from an international refugee organization in Austria from 1949 saying that István Rokza was going to stop receiving support. The reason: "ISR" – a clue that he really had emigrated Israel.
"I was shocked when you called," Yaron Roksa says. But now he is happy to share the information about his father with his 90-year-old mother, Sarah, a Holocaust survivor from Romania, and the rest of his family. István Yosef Rokza had five children, 19 grandchildren and 23 great-grandchildren – so far. But the family might continue to grow: Yaron Roksa has asked the ITS to search for István's brother Gyorgy and his descendants.
The pen will be entrusted to István Rokza's 21-year-old grandson, Ravid Kabilo, who was also present when it was returned to the family. He wants to frame it and hang it on the wall so that the memory of his grandfather's fate is kept alive for future generations.
The International Tracing Service (ITS) is an international centre dedicated to tracing and documenting the fate of victims of Nazi persecution. It boasts the world's most comprehensive archive on the victims of National Socialism, numbering some thirty million original documents, which have been included in the UNESCO Memory of the World registry since 2013.
As a key information centre, the ITS answers some 16,000 enquiries per year and provides information on the fates of victims of Nazi persecution. For today's society, the ITS is a unique source of knowledge about ostracism, persecution, the Holocaust and migration after 1945. As an "idea generator" for research and education, the ITS works with memorial sites, archives and research institutions the world over. To make its documents freely accessible, the ITS has begun uploading its collections to its online archive.
For More Information: