Dilip Basak – meet the man with the Midas Touch
Dilip Basak, the eldest of his four siblings was about eleven years old, when moved by his father's struggle to run the family, he decided to drop out of school and help his father in his business as a pen mender, a mechanic. That was about forty-five years back and today he is certainly one of the most revered names in the world of pen restoration, one who has not only moved way above the hights attained by his father, but is one who has constantly set the high-water marks, by his sheer grit and tenacity.
One example would suffice. "Those days, the biggest name in pen restoration was Bhobesh babu" Dilip Basak reminiscences, "he had his own workshop – the Chowringee Pen Service – and employed some of the best craftsmen in the trade. Once when my father had approached him with a particularly critical job, he was turned down which had extremely hurt my father's self-respect. I took the vow that one day I will become a better mechanic that everyone else in the market and it is a matter of personal pride that towards the end, Bhobesh babu used to depend on me for most of his important jobs".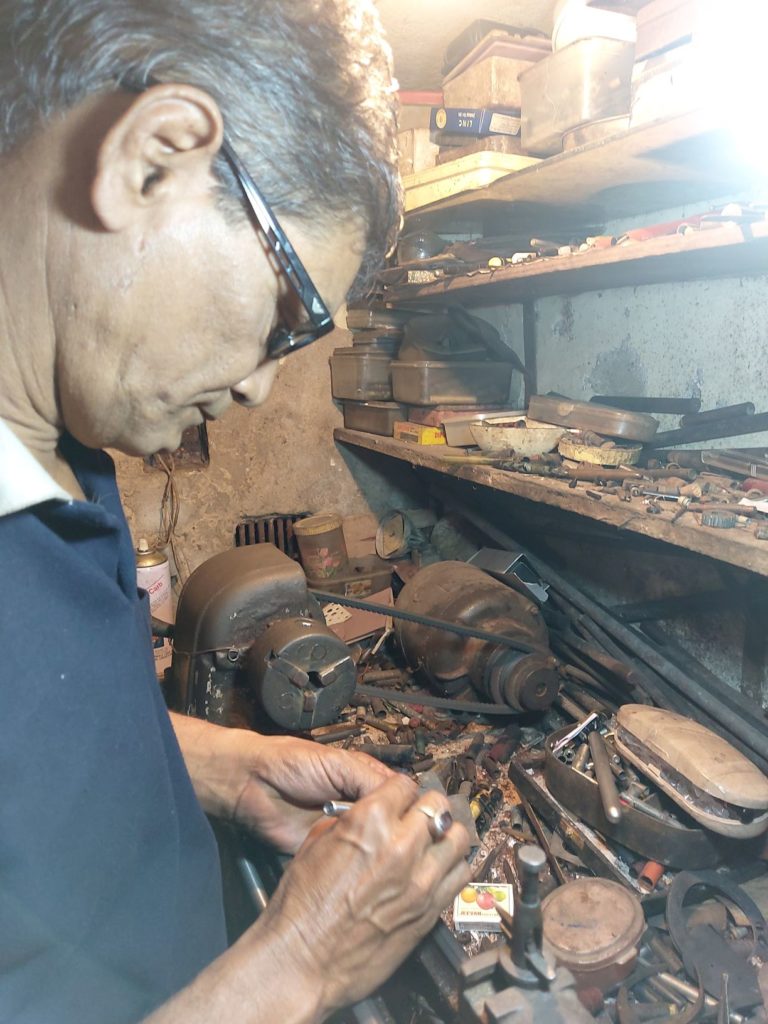 It is this pride in his work – call it a passionate love that transcends all – is what makes Dilip Basak one of the finest craftsmen in the trade today. I had the pleasure of sitting next to the master as he, before my incredulous eyes, restored a Montblanc 149 from scratch. He repaired the filling system, replaced the destroyed body and fitted everything to perfection – using his antediluvian lathe machine and depending only on eye measurements! The eleven long hours that the entire operation took, was spent in a kind of a haze, as the man worked possessed, not even taking a break to drink water. The pen which had come to him in three broken pieces was restored to its pristine glory – a value addition from zilch to priceless! And believe me you, had I not witnessed the complete process, I wouldn't have even suspected that the pen was repaired, retrieved from the condemned state it was in. Like they say, when experience meets passion, the result is magic.
And magic Dilip Basak certainly knows. On a very conservative estimate, he must have mended more than fifty thousand pens (even five pieces per day, 300 days a year for 45 years gives a figure of 67,500!) in his career. While most of the pens that come for mending are either Parkers or Sheaffers, rare Indian makes, as well as masterpieces from global giants are also mended with tender loving care. And yes, for the sceptics, Dilip Basak has repaired all the way up to a Montblanc Safety Senior (He made the missing cap for the piece).
It is not for nothing that collectors of vintage and antique writing instruments, not to mention dealers around the world, swear by him. It will not be out of place to mention here that Dilip Basak is also the curator of a number of collections, whose value is beyond my comprehension – pens lovingly maintained by successive generations in memory of the forefathers who collected and used them.
Dilip Basak has seen it all – the glory days of fountain pen repairing in the late seventies and the eighties, the beginning of the slump in the nineties, the apocalypse that followed and now, the revival of sorts with a completely different set of youngsters showing interest in the fountain pens. How do things look from his vantage point?
"There is a marked difference in the level of seriousness between the collectors then and the so-called collectors now" said Dilip Basak, warming up to the topic. "The internet has suddenly exposed a lot of youngsters to fountain pen and mechanical pencil collection and they are showing keen interest. But how long such interest will be sustained and to what ends they will go to quench their thirst remains to be seen. I don't even know whether these youngsters are genuine collectors or are seekers of a fast buck, for many ask me about pens that will appreciate in value the fastest. I guess these smart internet kids have figured out that the supply of quality fountain pens is becoming scarce and with demand going up, the prices are bound to shoot up, which is what is prompting them to want to hoard for a killing. I can't recollect any collector from yore discuss the valuation of their collections, ever! It was anathema, sacrilege even, for they loved their pens, often more than their own lives and love is all that mattered. I cannot say the same about the young collectors, though I wish I could".
When Dilip Basak started, a complete overhaul of any standard Parker or Sheaffer model would cost all of Rs 8. Today, close to five decades and more than 50,000 pens later, what he charges does nor even cover the factored-in inflationary spiral or the demand-supply gap in the service he provides. Little wonder, people come looking for him from around the world, some after decades, having heard of him from their fathers. "Keep using your pens" says Dilip Basak, "that's the best way of taking care of them, as the sweat from your palms will keep the resin of most pens healthy. Besides, when in use, the inks don't dry up to leave sediments which happens to be a matter of grave concern. And when lock them up you must, make sure you give them a water bath periodically – you can even keep them filled with water to ensure the longevity of the inner tubes".
If he were given a chance to change one thing about his life, what would that be, I ask, winding up the interview? "Not a thing" says Dilip Basak. "I will again spend my life mending the pens, writing with which has eluded me. They may come to me for service, but serve the illustrious and the learned they are destined to. I have no regrets, for I love this profession more than I love my own Mother – how many people are there in the world who can claim to be the bearer of the knowledge that lets them give life to the dead and decaying pens?"
He is the last of the Mohicans. If you love your fountain pens, join me as I pray to the Almighty for his long life. Your Parkers and Sheaffers and Montblancs and Ratnams will bless you.
You can seek Dilip Basak out in Facebook : https://www.facebook.com/dilip.basak.963