Dr Sougata Halder writes a witty and informative travelogue – Panchmishali Africa launched.
We all have childhood dreams we cherish. As we leave childhood behind, the rigours of adult life teach us how ephemeral most of these dreams are.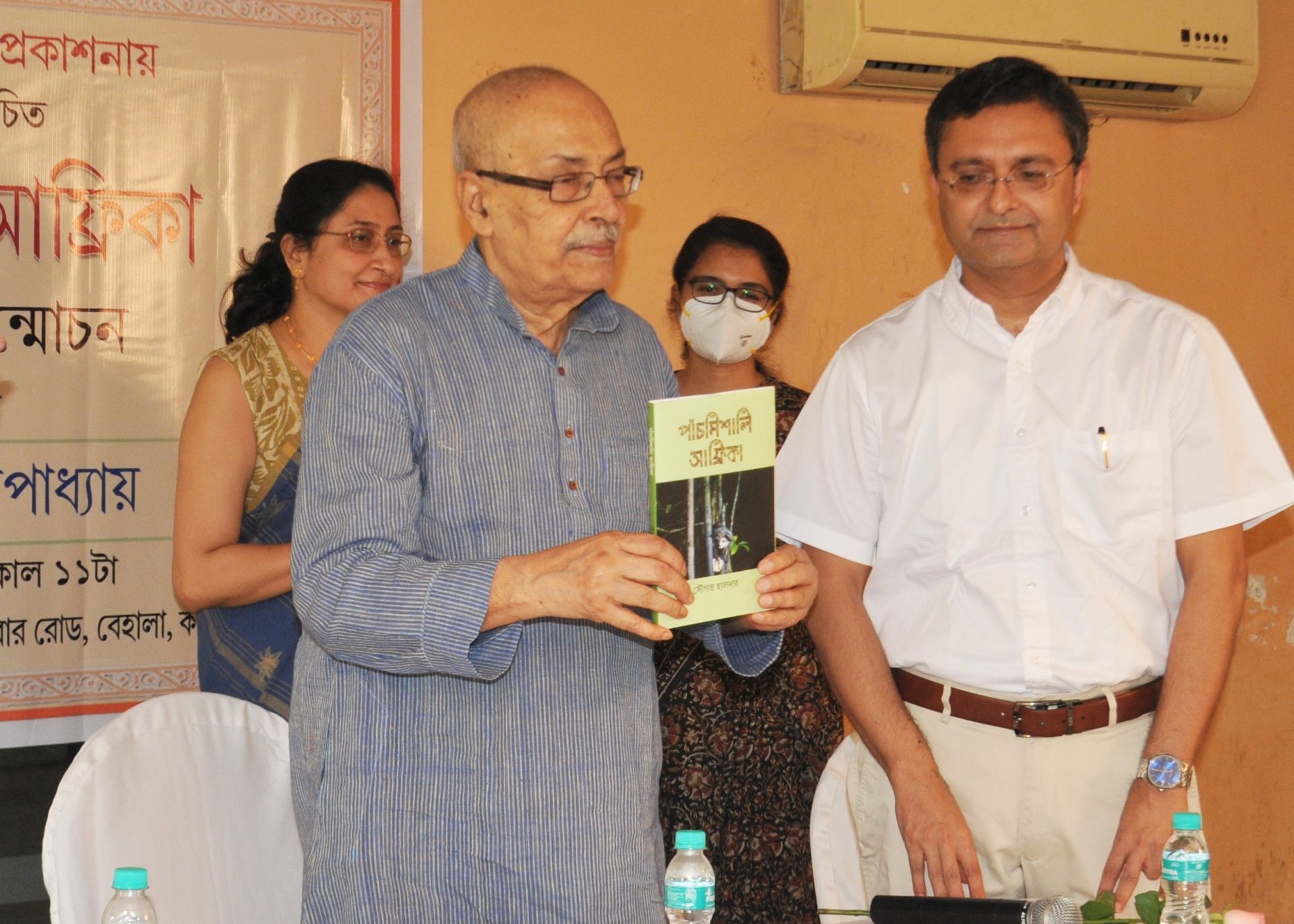 I have observed a childhood dream come true at very close quarters. As a schoolboy, my father Dr Sougata Halder's dream of visiting Africa had budded and blossomed. From a much-cherished sticker to a much-loved book, his dream had grown; and with his usual willpower and tenacity of spirit, he had held on to it.
On the 15th of April 2021, the book Panchmishali Africa was officially launched – Baba's tribute to his land of dreams. Detailing our travels in five countries of Africa (Kenya, Tanzania, Madagascar, Zimbabwe and Botswana), it is Dr Sougata Halder's labour of supreme affection, respect and wonder for the continent.
In these troubled times when the world is reeling from the ongoing effects of a pandemic, the immortalisation of a childhood dream took place. A brief book launching ceremony was held, with the chief guest being eminent Bengali writer Shirshendu Mukhopadhyay, probably the quintessential custodian of Bengali literary intellect. Speeches given by the chief guest, Rathin Chakraborty, and the dreamer himself – Dr Sougata Halder – along with a recitation and musical performance by friends and family made the event dear to our hearts.

Even with full safety precautions in place, the event did not seem unnatural or very different from what it would have been otherwise. It was a small gathering of people who appreciate literature and know of Baba's passion for Africa, which is very closely accompanied by his passion for writing (with fountain pens, of course).
Not all dreams end on waking. Some live on, in the soft crackle of pages being turned, in the certainty of black-and-white, in the vivid colours of memories captured and never forgotten.
"So long as men can breathe or eyes can see,
So long lives this, and this gives life to thee."
Shromona Halder, has been the author – celebrated medical practitioner and ace fountain pen collector Dr Sougata Halder's girl Friday right from the age of 8, in all the trips to Africa. She is now a first-year English (Hons.) student in St Xavier's College, Kolkata. Her passion for birding, conservation and writing is seldom concealed by her undemonstrative nature.