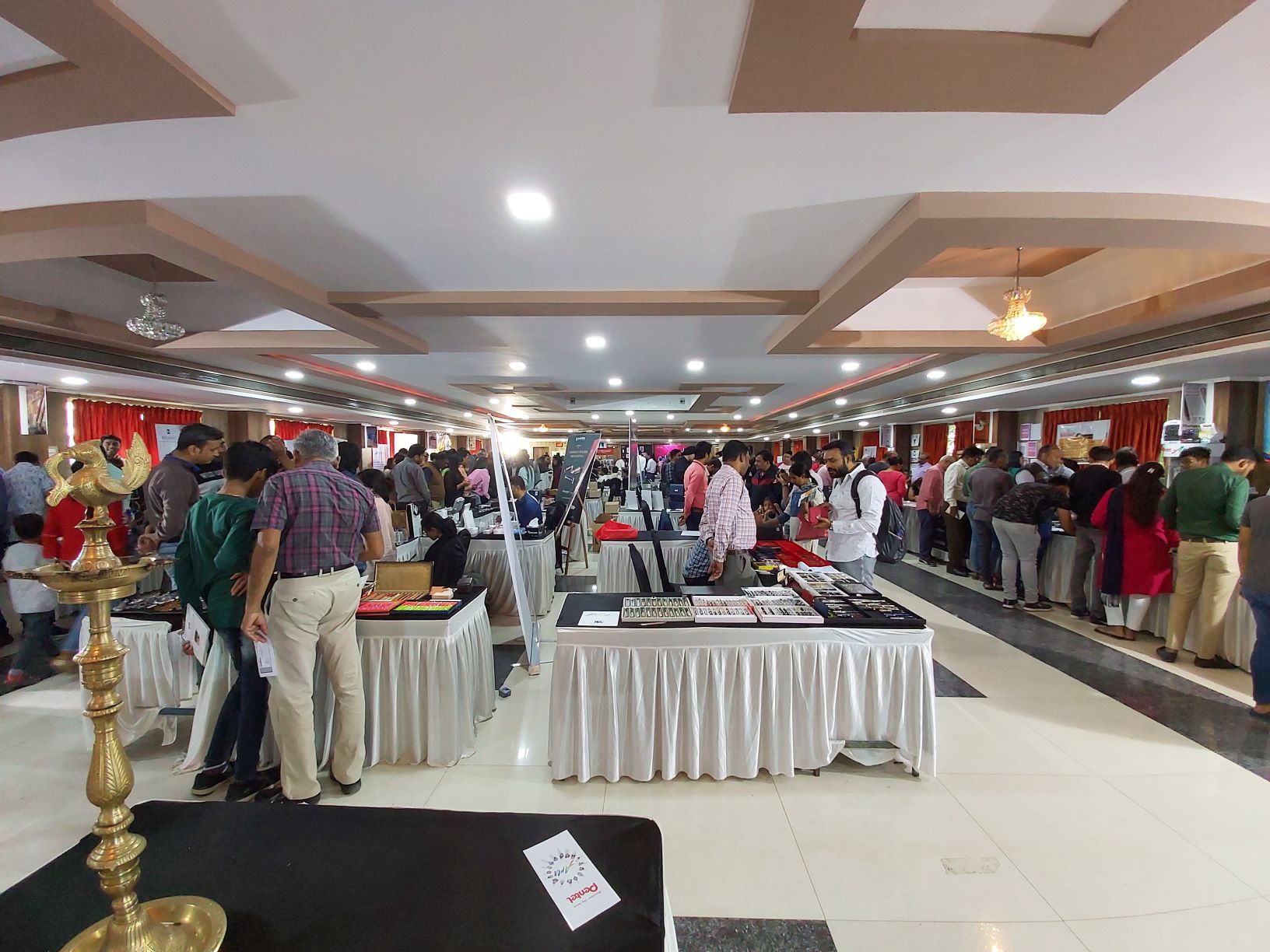 Global Pen Expo Ahmedabad – and quiet flows the Don!
It was an emotional moment for Sunilbhai Kothari*. The three Sheaffer Fountain pens which his grandfather had used and had later bequeathed to his father, who in turn had passed on to him, were again writing in their pristine glory. That too, after lying forgotten for close to a decade. His voice choking, he grasped the hands of Dilip Basak who got the pens going, in gratitude, who too was overwhelmed. "It was like the gentleman establishing contact with his long-lost father and grandfather through the pens … suddenly it seemed that the four decades I have spent mending and restoring pens have not gone in vain… it is moments like these, that make it all worth the while!"
Dilip Basak, ace pen restorer, had travelled from Kolkata to make his skills available to the community at the Global Pen Expo 2020 in Ahmedabad – the first of its kind Pen Show in Gujarat.
As one walked into the Seema hall, where the Expo was organised, the first booth on the right was manned by none other than Sudhir Kalyanikar, moving spirit behind FPAI, lion-heart pen lover and perhaps the finest exponent of the art of nib tuning and grinding in India. With Sudhir Kalyanikar setting the tines, that too right up front, it was naturally a wet, smooth flow for the rest of the show. Global Pen Expo 2020, Ahmedabad, got it right, right in the beginning!
Ahmedabad's most renowned name in the pen trade – Vasani's Pen Gallery was there with an impressive spread starting from Pelikan representing one end of the spectrum, all the way to Platinum at the other extreme. As the sponsoring partner of the Global Pen Expo 2020, Ahmedabad, the restrained manner in which they participated was certainly commendable. In the same vein, full credit must be given also to Tushar Vaghela and his team for not only organising a show of such a scale without the ink ever drying up or burping.
Speaking of Gujarat, sons of the soil manufacturer Magna Carta was there – all three generations, manning their counter of some of India's most ostentatiously machined writing instruments, each vying with the other for the attention of the beholder. Magna Carta pens are manufactured exclusively in their inhouse facility in Jamnagar and are wow-ing global buyers in the segment that they are aimed at.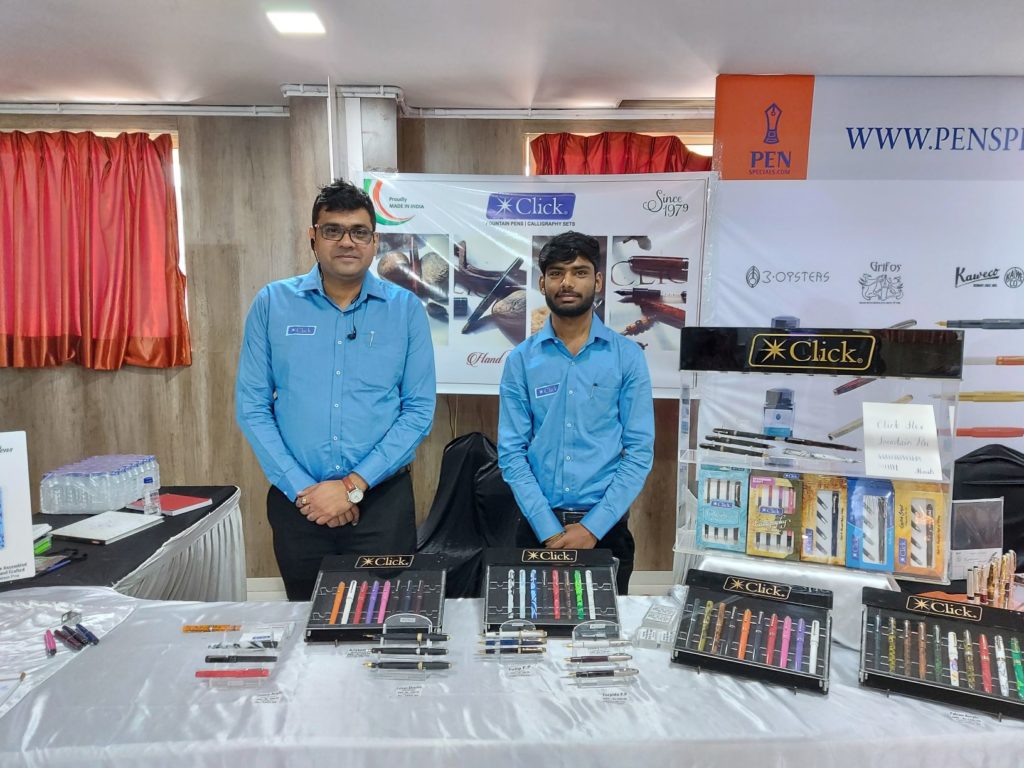 Harsh Gagwani of Click Pens, straddling the no-nonsense segment of the market since 1978 was there at the Global Pen Expo 2020 Ahmedabad, ever affable and ready to address every fountain pen related query. Click used the event to launch new lines – pens destined to become any lover's prized possessions that are priced just right! It has now become a ritual for me to begin any pen show where Click is present by buying their pens and suffice to say, Ahmedabad was no exception.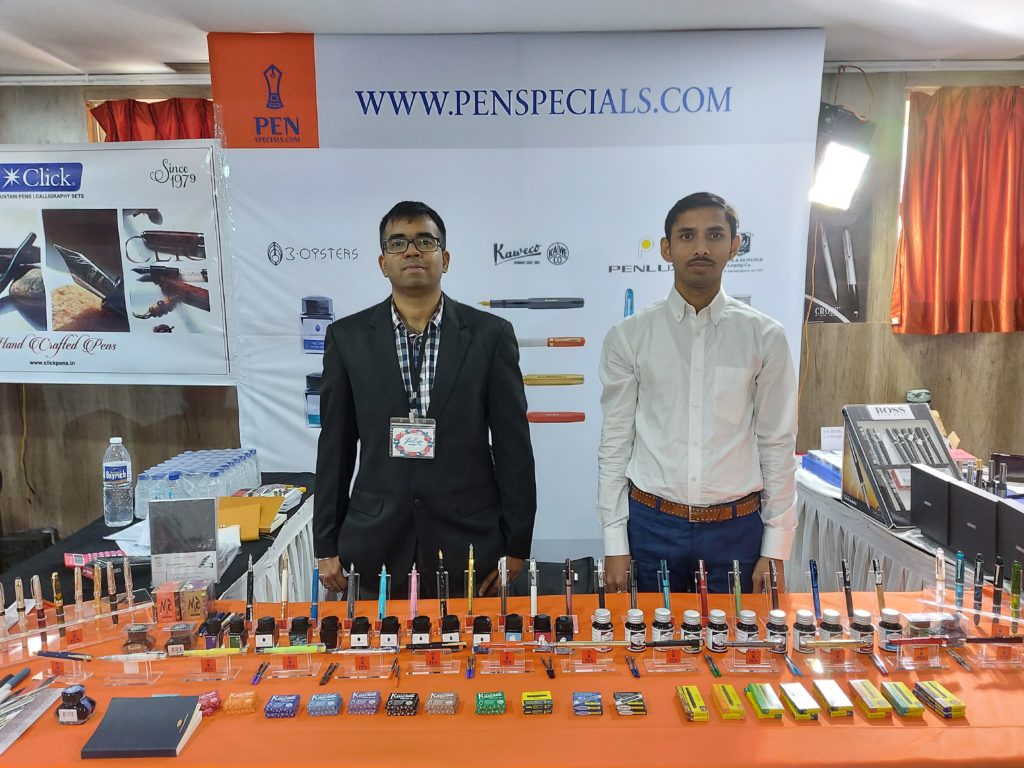 Next to Click was Kaweco, and considering my stated obsession with Kaweco products, I will desist from ranting on and on about them. What was very interesting however, were some of the designer inks they had put up on display – 3 Oysters from Korea and the fabled Mo from Penlux, which was made exclusively for Sailor. Diplomat was there, right next to Kaweco with their full range of eye-candies that are champions in terms of built quality and engineering perfection. Anish Todarwal, the head of the Diplomatic mission in India, was present in person to show off the objects of desire and explain the reasons that make Diplomat pens what they are. Just a few tables away was Vikram Singh Rajput representing Montegrappa of Italia, which neither needs introduction nor superlatives for description – always taking the breath away of anyone whose eyes dwell on them! Waldmann – the high priests of jewellery grade writing instruments from Germany was also there – displaying some unusual finishes that bore not only the tell-tale marks of German manufacturing ingenuity, but were also testaments of the hundred plus years that Waldmann has been at it, in search of perfection. Madhu and Pramod Goenka of Penn-e-Regali with their impressive spread of name-brand fountain pens was another huge attraction, especially to the younger generations visiting the Global Pen Expo 2020, Ahmedabad.
The husband wife duo of Vishal and Nisha Singhi, the people behind Constellations 88 were also there with their full range, including the collector's edition on Kaifi Azmi which was a tribute created for Tips 2019.  
Arun Singhi of Lotus, who is undoubtedly one of the best pen turners that the Nation have had was also present with his trademark creations winning friends and converting pen lovers to fanatics.
Tetsuro Shinoda, the Managing Director of Pentel Stationary India was also there in person at the Global Pen Expo 2020, Ahmedabad. Pentel, a name synonymous with quality stationary products from Japan for more than seven decades now, is well known among the aficionados. What is not immediately known is the fact that Pentel has a fully operational manufacturing unit in Valsad, that too from 1999 and has drawn up some very exciting plans for the near future. Watch this space, we will come up with more on Pentel.
Dhruva Jain from Mumbai was reason enough for the lovers of vintage and antique writing instruments to be at the Global Pen Expo 2020, Ahmedabad. What was remarkable about the young man is that I am still at a quandary to decide what impressed me more at his counter – the enviable collection that he had on display or the sheer amount of knowledge he has about the writing instruments of yore! Vinish Claims the internet sensation behind Penkart was also there from Mumbai, with the kind of pens that dreams are made of – as understated in his demeanour as extravagantly desirable his pens were. The third constituent of this Holy Trinity was Rahul Gupta from Kolkata with a king's ransom in fountain pens whose mere sight hit one in the solar plexus. Rahul had everything that any collector would gladly give an arm and a leg for – from antique silver and gold dip pens to vintage Namikis and Montblancs.
Sukla Roy and Samit Dutta, the life-breath of fountain pen collection in Kolkata had travelled all the way to provide moral support to the event. They addressed every fountain pen related query, encouraged the new converts and generally spread cheer, helping the event transcend to a completely different level. The story will not be complete without mentioning the tremendous efforts put in by local Calligraphers – Neha Patel and Ami, without whom, Global Pen Expo Ahmedabad would not have attained the critically cursive acclaim it did!
Now for the coup de grace. Vivek Kulkarni of Urushi Studio showcased his creations – Urushi lacquered objet d'arts. I am not writing any more about either the pens or the man behind them here, as I propose to do a full-length story shortly, for they deserve nothing less. Another story that I am saving for the future is about an innovative disruptor – a young lady called Diya Vadodaria and her brand called Acriv. But I will certainly say this for her: Diya has what it takes to rewrite the rules of the game and we lovers of fountain pens are lucky to have someone like her – a breath of pure fresh air – blowing in. Watch this space for, the answer, my friend, is blowin' in the wind / The answer is blowin' in the wind!                  
*Name changed on request