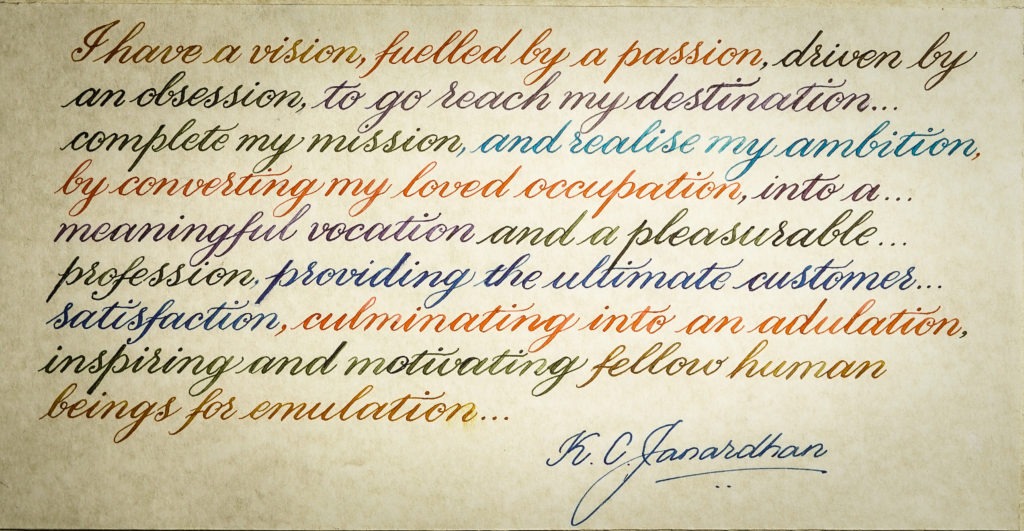 Prof K C Janardhan tells us on how best to celebrate the Handwriting Day.
I would like to congratulate each one of you who celebrates the National Handwriting Day in United States of America and those who have been influenced by it across the globe. I am happy that it promotes the habit of writing with chalk or pencil or pen in this digital age.
It is a fairly recent western development in world history, as educators in USA began to feel that the art of handwriting is gradually being lost to computers, tablets and phones to email, sms and Whats App to text their thoughts. It is a shame because handwriting is unique to a person which establishes the identity of the person like his or her fingerprint!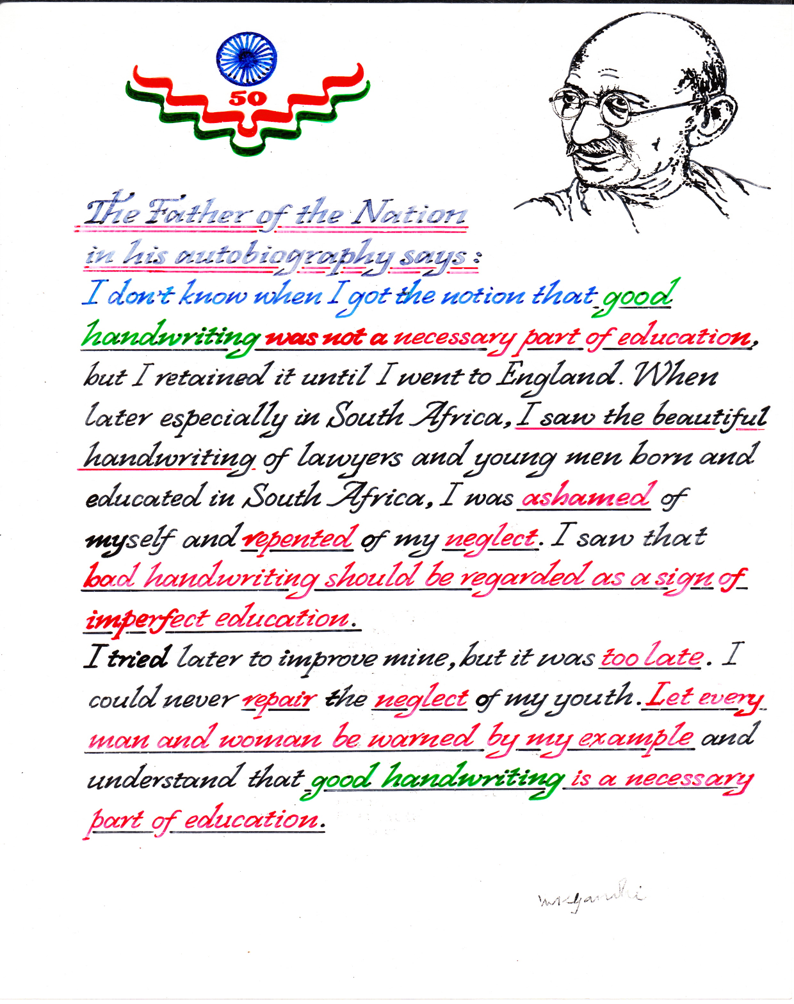 John Hancock was a prominent merchant, a patriot of the American Revolution, statesman and even the third Governor of the Commonwealth of Massachusetts, he is best known for being the first person to sign the Declaration of Independence. To commemorate this man, the Writing Instrument Manufacturer's Association (WIMA) decided to act on it in 1977 and they chose January 23rd because John Hancock was born in 1737 on this day.
I take this opportunity to clarify a few facts in history. In India for many centuries we have been following an auspicious and traditional ritual of "Aksharabhyasam" which is much much older practice than what is practised in the western world. Aksharabhyasam is a traditional religious function of Hindus. 'Akshara' means letters (alphabets) in Sanskrit and 'abhyasam' means practice.
It is also known as 'Vidya arambham' which literally means starting of education. In this function the child is made to hold a plate full of rice grains spread on it or a slate. The person who initiates the child, holds its hand (normally right hand) and makes him / her write the first letters which are either 'AUM' or 'Om Namah Sivaya' in various regional languages, with the fingers to initiate the movements to create the letter shapes. With this function the child is ready to receive formal education in a school. The function is performed in different ways in different regions of India on Vasant Panchami, Vijayadhasami, Saraswathipuja, Gurupurnima etc.
The most appropriate one is on Vijayadhasami day in South India, during Saraswathy Puja as it refers to the Goddess of knowledge . We must be proud that it comes from our country which had one of the first University in the world called Nalanda University.
In the olden days, aksharabhyasam was performed when the child was 5 years old which was perfect. In India we understood that a child develops the ability has to absorb, understand and apply the knowledge in skills like handwriting at the age of 5 years and above. Unfortunately because of the western influence, today education at Kindergarten level starts at 2 or 3 years of age. Parents perform this ceremony when the child is in his or her 3rd year as they are forced to in this recent system and it has proved to be detrimental to handwriting. Many youngsters in the last 25 plus years are suffering from bad handwriting!
Paradoxically research in the western world shows that a child's fine motor skills are developed between Five and Five and a half years of age and formal handwriting should be taught only after that age. What a lovely coincidence that the tried and tested eastern practice and the research in the western world have come to a common conclusion and they compliment each other. In fact writing in a Rice tablet or a sand tablet ( a tray in which it is spread out) stimulates the fine motor skill development with its touch and feel. Therefore it is my humble request not to go against the natural biological development and follow this practice of formal writing after 5 years of age.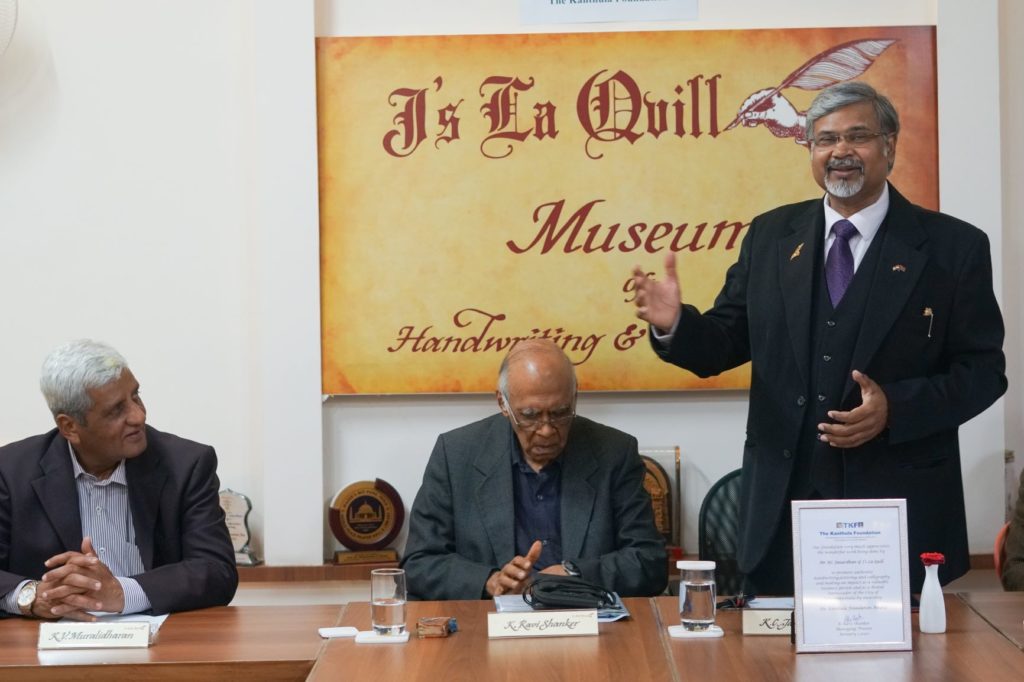 My dear fellow Indians, I would like to give a clarion call to proudly celebrate our National Handwriting Day on Vijayadhasami every year. I appeal to Handwriting enthusiasts across the globe to join us in this endeavour as we celebrate handwriting, to express ourselves with clarity across political borders through handwritten letters, uniting humanity with a personal touch of emotions and comforting warmth, in the current impersonal digital world!
Here is what you can do as an adult to celebrate the day:
Please take out your old fountain pens, clean them and fill them with ink and write something important like some positive, motivational and inspiring thoughts or your future plans.
If you do not have a fountain pen please buy a good one to celebrate the joy of good handwriting.
Gift a nice Balapam (Indian slim chalk) and slate or a good triangular shaped pencil with 3B soft lead to the 5 plus year children and initiate them into formal writing. Gift a good fountain pen to a 12-year old to experience the buttery feel of a fountain pen and enjoy it for posterity.
If you are a pen collector, inspire others. When the realisation dawns that you are only a temporary owner of your collections, who enjoys it only until you leave this planet, start identifying safe hands as custodians of your collections to carry on the legacy with utmost care and appreciation as you will continue to live in form of your collections which store your emotions!
So, let us all celebrate the act of writing which has actually never faded or gone out of fashion or relegated as a thing of the past as believed in the last 30 plus years since the advent of digitisation. Recently, some IT professionals confessed to me that they have developed keyboard fatigue and are bored with it. They are returning to the beautiful act of handwriting as it is relaxing with many advantages of power of expression with better vocabulary, memory and sharpening one's cognitive skills. It is evident from the modern digital tablets and the smartphones coming up with an electronic stylus to write on them.
This reinforces what I have been professing for over 30 years that the act of handwriting will never go out of fashion. Human beings started scratching on the walls of caves with stones and animal bones and moved to writing on clay tablets with bamboo reed to quills and papyrus to dip and write steel nibs and the most beautiful writing instrument ever, the fountain pen. And now evolving digital tablets with styluses are proof enough that the surfaces and the writing instruments have changed…but the act of handwriting remains supreme!
For More follow up studies in handwriting and calligraphy: https://www.jsquill.com/