Hari Balakrishna on Fountain pen collecting
Hari Balakrishna is one of the foremost authorities on India made fountain pens. An penthusiast who has carefully nurtured his all consuming love for everything fountain over the last three decades, painstakingly creating, in the process a collection that is unmatched both in quality and variety, he remains an enigma revered but anonymous.  He is, according to him,  at his happiest best, when he is busy restoring vintage pens. Based out of Mumbai, he is publicity averse to a fault and prefers the fountain pens that he collects more than the fame that he deserves as their lover, a collector. In a rare interview, he talks exclusively to inkedhappiness.com. Excerpts:
Q From your vantage point does it seem that the fountain pen is about to make a glorious comeback? Or is the current enthusiasm just a flash in the pan?
Hari Balakrishna: It is unlikely that the Fountain Pen will regain its place as the mainstream writing instrument. I don't see it as a flash in the pan either. There will be a small group of people who will continue to appreciate what a Fountain Pen has to offer in terms of putting thoughts to paper. Youngsters will come in contact with such people and the cycle of appreciation for finer things in life will continue and the Fountain Pen will survive as have dip pens etc. 
Today the Fountain Pen is a niche product and surprisingly within this a very large amount of choice is available. Especially with respect to nib choices, filling mechanisms, pen materials and finishes.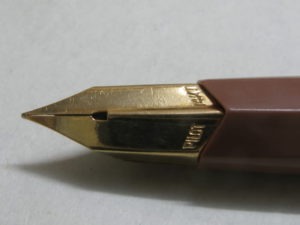 Q What is your message for fountain pen lovers? How should they go about collecting pens? Which pens should they specifically try to add to their collection?
Hari Balakrishna: there is no specific method. You will find your interest or your niche or focus. Keep your eyes and ears open and be open to exploring various makes over the years. Once you have experience and the initial Fountain Pen honeymoon is over and if you still remain enthusiastic, you will know where your interests lie. 
Q What is your advice to our young? Why should they consider fountain pen collection as a serious hobby?
Hari Balakrishna: my advice to the young is to take up the use of Fountain Pens as a daily use implement since after all they are the people who are going to be doing some serious amount of handwriting. Clearly, the advantages of a Fountain Pen over other writing implements is tremendous. Now this may or may not develop into a pen collecting hobby, but it will certainly instil a sense of appreciation for an instrument that is finer and requires more care and responsibility in its use. 
Q. Kindly enlighten us about your collection? How long have you been collecting pens?
Hari Balakrishna: I have been accumulating pens for maybe the last 30 years. I was fortunate to be given some really nice Fountain Pens as a child so I did not develop an aversion to the Fountain Pen which might have developed had my earliest nibs been too scratchy or pens leaky. 
I have pens from most international and domestic Fountain Pen manufacturers,vintage, classic and recent. 
During the last 15 years or so I became interested in and have tried to seek out Indian pens, both current and bygone and document them online so that other enthusiasts have some reference. I was lucky to be based out of Mumbai (which was a major hub of Fountain Pen manufacture) and I was also lucky to have developed an excellent rapport with the old timers in the trade. 
NOTE: All Images are of pens from the personal collection of  Hari Balakrishna