In Flanders Fields, written by Canadian physician Lieutenant-Colonel John McCrae, to be paid tribute to through a LE Onoto pen.
World War I battlefields in Belgium and France are often called "Flanders Fields" in English. Red poppies, that grew wild on the graves of fallen soldiers, have since become one of the most poignant memorial symbols for soldiers who die in conflict. Associated with Veteran's Day and Memorial Day in the United States; in Canada it is considered to be one of the Nation's most famed literary works; while it is revered throughout the Commonwealth of Nations, along with red poppies, prominent Remembrance Day symbols, such has been the ruthful power of this poem.
Yes, we are talking of the immortal war poem "In Flanders Fields" written by Canadian physician Lieutenant-Colonel John McCrae. The poem was written on May 3rd, 1915 after the funeral of the poet's friend and fellow soldier Lieutenant Alexis Helmer who, who had sacrificed his life in the Second Battle of Ypres.
In Flanders Fields
In Flanders Fields, the poppies blow
Between the crosses, row on row,
That mark our place; and in the sky
The larks, still bravely singing, fly
Scarce heard amid the guns below.
We are the dead. Short days ago
We lived, felt dawn, saw sunset glow,
Loved and were loved, and now we lie,
In Flanders fields.
Take up our quarrel with the foe:
To you from failing hands we throw
The torch; be yours to hold it high.
If ye break faith with us who die
We shall not sleep, though poppies grow
In Flanders fields.
In Joint Venture with TMB Art Metal, Onoto has introduced The Flanders Pen a fitting tribute, not only to the immortal poem, but also to all the young lives that were snatched away in their primes, young men and women who sacrificed their lives In Flanders fields around the world.
The cap band and cap button are crafted from copper retrieved from British artillery shell drive bands discovered in the fields of the Somme region of France, and Ypres in Belgium. The poppy incised cap button gets its colour from red enamel mixed with earth gathered from Essex Farm, Ypres. The same location that Lieutenant-Colonel John McCrae of the Canadian Army Medical Corps penned his world-famous poem, 'In Flanders Fields', on 3rd May 1915.
This beautifully crafted pen uniquely incorporates two elements of World War One history – metal and earth.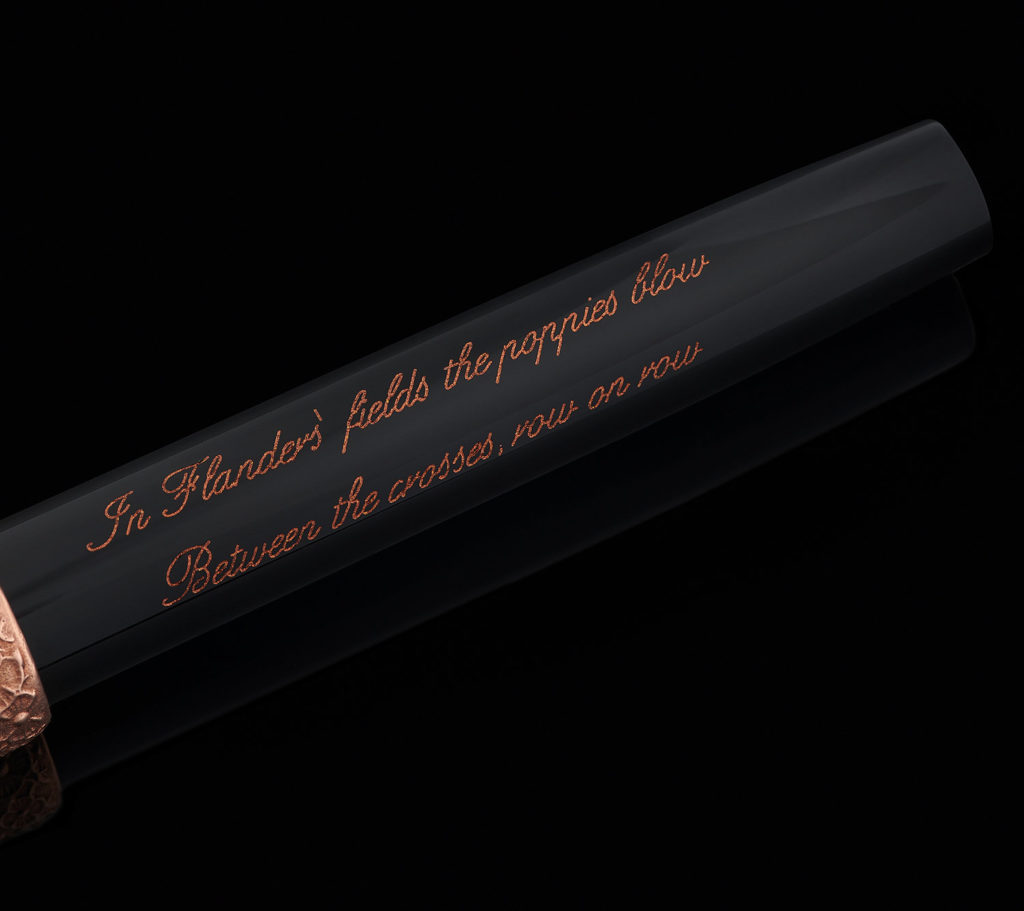 The Flanders Pen is available in a limited edition of 200, with a Gold-Plated Steel Nib as standard, and is available from August 2021.
The Flanders pen is based on the style and shape of one of the most famous fountain pens ever made – the Onoto Magna of 1937 which is still acclaimed by many as the best fountain pen ever made. This stunning fountain pen is crafted from highly polished black acrylic and is complemented by copper cap band and button with a bronze Onoto Chevron clip.
PEN SPECIFICATIONS
Material: High-density acrylic with bronze and copper fittings
Nib: Onoto size 7 in gold-plated stainless steel
Cap fittings: Poppy Engraved Cap Band – copper
Button – copper and enamel
Clip – bronze with Onoto cipher
Barrel fittings: Copper button
Dimensions: Capped (closed): 140mm
Uncapped including nib: 127mm
Posted including nib: 166mm
Barrel diameter: 11 – 13.2mm
Cap diameter: 14 – 15.8mm
Cap length: 67mm
Weight: 25gms or 32gms
Nib Options: Gold-plated stainless steel or 18ct carat gold
Fine, medium or broad nib as standard
Customised stub, italic or other styles available to order
Ink feed: Converter (provided) or standard European cartridge
Upgrade to Plunger-Filler available.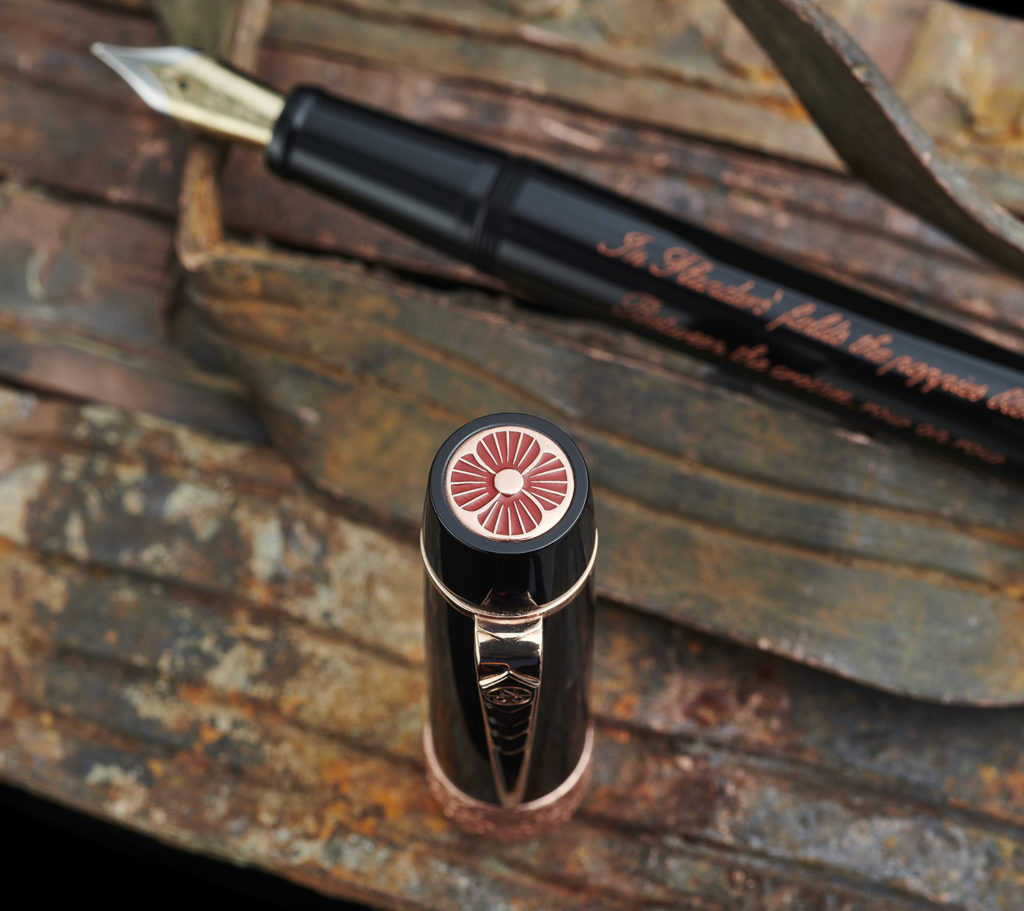 For More information: The Flanders Pen – Luxury, Handcrafted, British Fountain Pens | Onoto