Waldmann fountain pens – the purest precious metals, the height of craftsmanship and a search for excellence that is eternal!
Dear friends of the fountain pen fraternity, obsessed with precious resins and ebonites as you are, allow me to take you on a trip down sterling silver lane – the abode of 925 sterling silver to be precise. The moniker "925", for the uninitiated, is another way of saying that sterling silver is an alloy of 925 parts pure silver and 75 parts (out of 1000) of zinc, copper or nickel, by the way.
Our travels will take us to Pforzheim, a city in the south-west of Germany, traditionally known for its jewellery and watch making industry. Known, to such an extent, that the city is often termed as "Goldstadt" ("Golden City"). Here, in the Black Forest region of Germany, more than a hundred years ago, in 1918 to be precise, an entity was established, one destined to fire the imagination of successive generations of connoisseurs, even as it would take the art of pen turning in silver and gold to levels hitherto unknown.
Yes, we are talking about Waldmann – originally established to create high quality gold and silver mechanical pencils, later expanded to include fountain pens and ball point pens made of metals such as brass, silver and 18 carat gold. The point that needs to be highlighted here is the extreme lengths to which Waldmann goes to ensure perfection in all its products – handcrafted by skilled craftsmen using traditional techniques, painstakingly and lovingly. And yes, Waldmann still makes all its products in Germany and is the proud carrier of signature the "Made in Germany" tag.
It will not be an exaggeration to say that Waldmann's filigree work is a class of its own, often considered to be beyond comparison. But filigree is not the only ace up the Waldmann sleeve – the critically acclaimed and much sought after "Viennese Pattern", a highly specialised type of engraving that not many can replicate, continues to be made, individually, one masterpiece at a time by Waldmann artists.

As a matter of fact, such is the sheer technical brilliance of Waldmann experts that the entity is the owner of the Worldwide patent for the special rotary mechanism with two and four colour instruments. The first Award for this was given way back in 1937 at the Paris World Exhibition, where Waldmann was awarded a silver medal for a four-colour mechanical pencil. Mention must also be made of legendary two-in-one from 1972 – a retractable ballpoint pen with a ballpoint refill on one end of the barrel with the other end being a fully functional fountain pen!
However, to many, the most revered Waldmann creation is the "Edelfeder". Roughly translated to "precious feather", this Waldmann creation has been a kind of an Olive Wreath, a Kotinos to journalists, honoured for their ability to wield the pen to produce pieces that defy time. Such is the veneration of the Edelfeder, even outside the community of journalists, that in 2010 it led to a collaboration between Waldmann and the renowned German daily Süddeutsche Zeitung. The Edelfeder series has been a fundamental part of the Waldmann collection since 2011 and continues to be related with excellence in journalism, almost becoming a generic term over the years.
A writing instrument of equal fame is the hundred-year Anniversary pen, one that had been a best seller even when its original version was introduced originally in 1918. This pen, sporting the guilloché artwork, is in fact, a highly sought-after piece among the collectors: its timeless elegance, enthralling the lovers of art and the fraternity of fountain pen fanatics in equal measures. That only a limited number of pieces were made to commemorate the momentous occasion only goes to add value to the desirability of the instrument.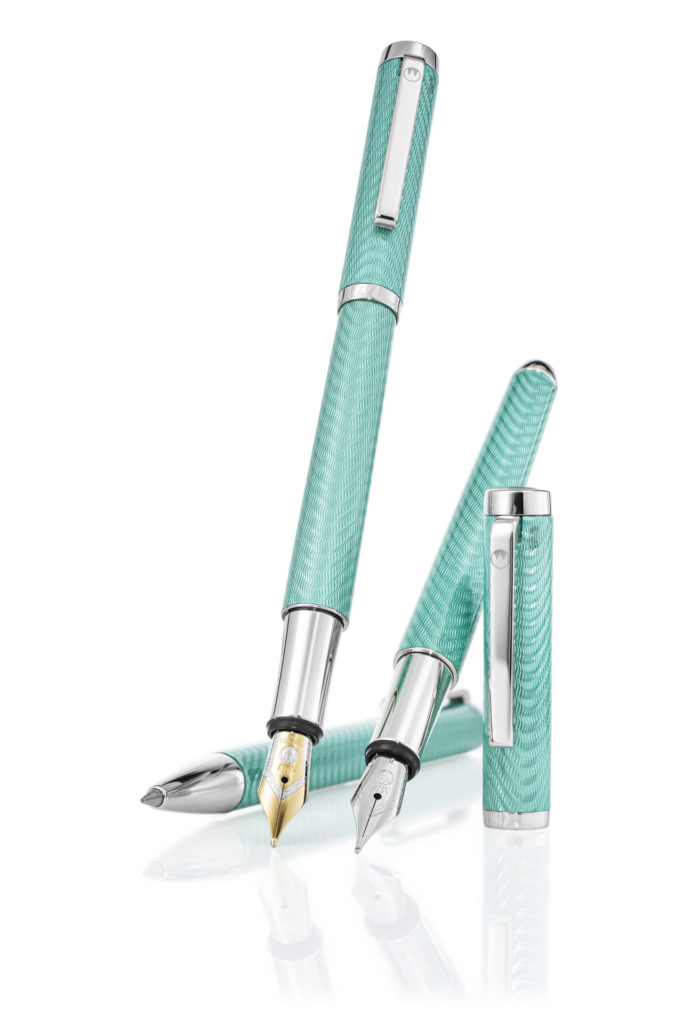 Waldmann offers a variety of nib choices – both stainless steel and gold. Fountain pen afficionados are unanimous in their blind support to the sheer functionality and pleasure of writing that Walmann pens accord and I guess, it is a bit rash to even extend a comment on a manufacturing warhorse that has been consistently winning all battles against perception for more than a hundred years now. The same holds true for the built, character and construction of the instruments. If any "one" aspect has to singled out for special praise, from among the champions that is, then mention must be made of the Waldmann piston fillers, which some say are simply out of this world.
In the end, I would like to point out only one fact – Michael Schumacher was nominated as a "legend of sports 2012" and the host presented to the then seven-time Formula 1 World Champion a diamond-studded fountain pen made from solid sterling silver 925, with a piston filling system, made by Waldmann.
I guess, that sums it all up.
For More information: https://www.waldmannpen.com/
Check out the video here:
Waldmann is represented in India by:
Livtek India Pvt Ltd
3B Amarchand Mansion (2nd Floor)
16 Madame Cama Road
Fort, Mumbai – 400001
Tel: +9122 66227015/16/19
Email: livtekmumbai@livtekindia.com