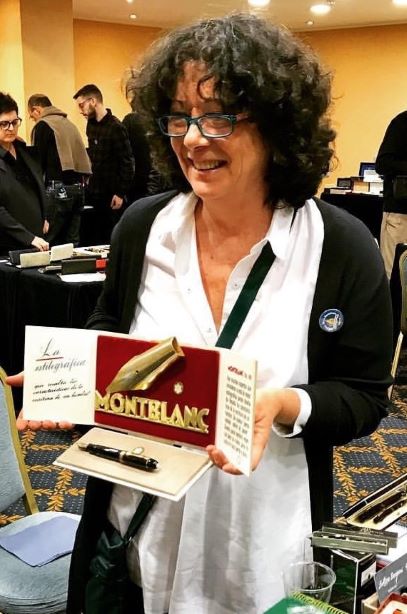 Letizia Iacopini – writer, collector, consultant of Pens past talks her passion about Italian pens!
Letizia Iacopini started getting involved with pens and pen people in 1990. She was a young translator, very curious of the world with a passion for writing. She spoke English, German and French and could get in touch with pen collectors all over the world, which, at the time, helped her a lot to widen her knowledge of pens and pen people.
She worked for the Italian Fountain Pen Collectors Club for 8 years, taking care of the Club's activities, organizing meetings for members, pen shows, stages on repair and restoration and running the Club's quarterly publication. At the same time, her interest for Italian fountain pens led her to gather as much information as possible about their history.
Her first pen book was published in 1996. After that she has written several other books, all focussed on the history of fountain pens in Italy plus a number of articles on pens and pen collecting published by pen magazines in Italy and in Europe. The scenario of fountain pen production in Italy and its history is so wide and rich that she never gets tired of developing research and writing about it.
Since 1999 she has started her activity as a pen dealer, too. She has attended pens shows in Italy, in Europe, in the USA and, lately, in the far east, too.
She also works as a pen consultant for collectors who want to catalogue, improve upon or upgrade their collection.
Letizia is presently working on another book, which will be devoted to the Omas company and its past and modern production. Here she talks exclusively to Inked Happiness. Excerpts:
Q1. How would you, as one of the foremost experts on the subject, place the contribution of Italian Fountain pen makers in the world of writing instruments?
Letizia Iacopini: I think that Italian fountain pen makers have always been able to express a special and unique creativity which is not so common elsewhere.
If we look at Italian fountain pens of the past, we have lots of examples of extraordinary pens which are unrivalled both in terms of aesthetics and technical aspects. Double-nibbed pens like Itala, Zerollo and Colorado, or elaborate models like Asterope by Aurora, are examples of high technical ability combined with a special, refined taste for elegance.
In addition, in Italy we have had the most fascinating interpretation of the art of pen overlays. Italian gold-filled overlays represent in my opinion, a unique chapter in the history of the fountain pen.
I think that the main point about Italian pen production as a whole is definitely the perfect balance between technical aspects, innovation and an elaborate sense of beauty.
Q2. Among collectables, how according to you, do Italian Fountain Pens rank? What are the top five Italian pens that any collector of fountain pens should aim to enrich his / her collection with?
Letizia Iacopini: This is a very difficult question. There are several Italian pens which would be worth having in a collection, but a lot depends on each collector's taste and the focus of the collection itself. If we talk about technical pens, as I said above, Colorado, Zerollo, Itala and Asterope are the most desirable pens ever but they are very rare and super expensive.
Another good choice would be a selection examples of high-quality Italian celluloids by major makers, as for instance Extra Lucens models by Omas, International or Duplex models by Aurora, Maxima or Dama models by Ancora, Trasparente by Tibaldi.
A collection of Italian fountain pens would not be complete without examples of Italian overlays, be it on Italian pens or on Waterman pens.
I would in any case suggest to stick to major and most qualitative makers like Aurora, Omas, Ancora, Tibaldi, Tabo, Montegrappa and The King.
Within this range we can find the most beautiful celluloids, the most refined aesthetic combinations and the highest expression of style and elegance.
Q3. From your vantage point, do you see a revival in the interest about fountain pens – both as instruments of writing and as objects of desire, as collectables?
Letizia Iacopini: Yes, I would say that a revival is developing both in the field of collecting and in the realm of handwriting. The world of collecting is a variegated universe with many facets which changes and moves constantly but never stops; the spectrum goes from old time collectors who may just look for special pieces to young newcomers eager for knowledge and full of enthusiasm. But the interest is there and it is very strong.
Plus, more and more young people are discovering fountain pens not so much as collectable items but as writing instruments with which they can enjoy the pleasure of handwriting and calligraphy. They seem to represent a sort of "magic tool" to rescue a precious part of the human soul which is being more and more jeopardised by the diffusion of digital writing. And in this sense, I am sure that fountain pens are playing and will be playing a major cultural role in our modern world.
Q4. What should be done to ensure that more and more young people write with fountain pens? Is the current interest of the younger generations genuine, or is just another fad that will subside with time? Why should more young people be encouraged to take up the fountain pen?
Letizia Iacopini: Reliable scientific researches have demonstrated the importance of handwriting for the development of coordination and of certain areas of the human brains. Losing our ability to write would mean losing a portion of our ability to express ourselves. Young generations are going to be 100% digital thus losing a critical aspect of individuality and heading towards flat anonymity.
We should never forget that our handwriting is an expression of our uniqueness of individuals, it is the equivalent of the sound of our voice.
Young generations live in a bi-dimensional, very fast world, where nothing lasts long but where everybody makes everything possible to show off and be constantly connected. The precious sphere of intimacy, the subtle pleasure of slow activities like handwriting seem not to find a place in this world. We should be able to rescue them as a value and offer young people the opportunity to enjoy an inked nib which moves onto a white page as a magic moment of individual discovery.
Q5. How is collecting fountain pens, especially vintage and antique ones, as a hobby? Is it worth collecting fountain pens purely as an investment option? Do fountain pens appreciate enough in value over time to sustain such an "expensive" hobby?
Letizia Iacopini: It is hard to define collecting as a hobby for me. I see pen collecting more as a passion. As regards investment, I think that this is a different aspect of the matter. Real collectors do not care so much for investment. They just buy what they like and pay what they consider appropriate. And then they are happy for what they have and want to have more.
Buying pens for investment implies an analysis of the market and a research for the best possible price. It is a rational process, without passion.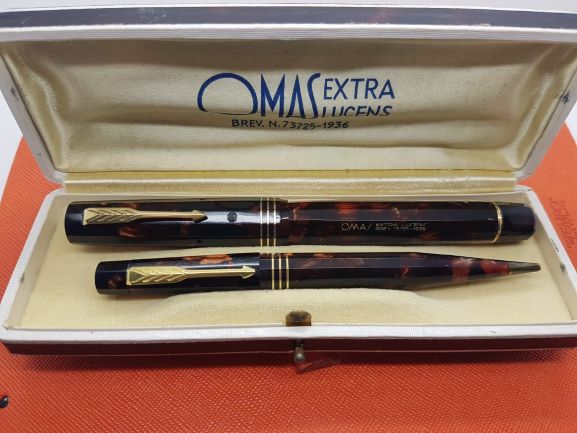 That said, I think that not every pen will experience an appreciation but certain surely will. The world of pens is very similar to the stock market. If you approach pens as an investment, you must know when to buy and when to sell to buy something else.
Finally, this "hobby" is not more expensive than many others. People spend tons of money for their hobbies, be it skiing, travelling, flying planes of making puzzles but they approach them an investment of their time and money to feel fine and do something they like. People do not expect to get their money back or even get a profit from their hobbies.
Why should pens be different?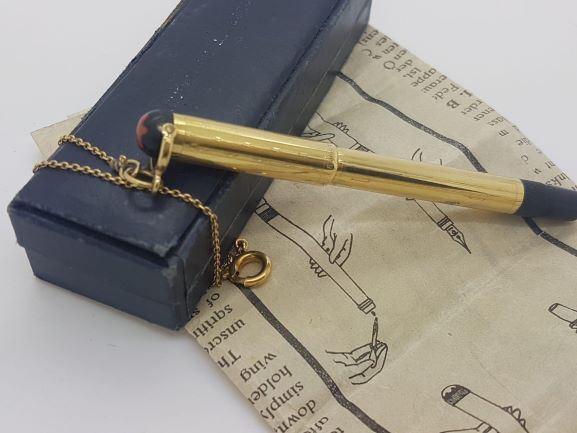 Q6. What are the top five (read most loved) fountain pens in your collection? Why?
Letizia Iacopini: I must say that I do not really collect anymore as I used to do in the past. I started collecting inexpensive doll pens long, long time ago. I refused to buy anything longer than 10 cm and looked for unusual colours, shapes and finish. Those were at the time the only pens I could afford as a student. Later on, I started piling up ebonite pens because I loved the material. Nowadays I pretend not to buy almost anything for myself but I cannot resist small pens and I rarely leave a pen show without a tiny pen…
I must however admit that becoming a dealer has really helped me a lot to satisfy my desire of possession. I can have all the pens I want for a while and then let them go to buy more pens. Paradoxically enough, pen dealing has become for me the extreme version of pen collecting.
Q7. Anything that you would like to communicate to our readers.
Letizia Iacopini: Pens are not only pens. They are more than collectible items and much more than writing instruments. They are a means to connect with people. The pen community is a universe of different individuals who would probably have nothing to do with one another were it not for pens, but pens become a kind of common ground. They overcome boundaries and languages and create a bond. If you are a pen collector you are never alone, wherever you go, whatever you do. As long as you have a pen to write with or to talk about, a pen to sell, a pen to buy, a pen to trade or to restore, you are part of that international community of like-minded people: and this is a very nice feeling.
Pens have enriched my life so much that I will never be able to thank them enough!
For More Information visit Letizia Iacopini's website: http://letiziaiacopini.com/