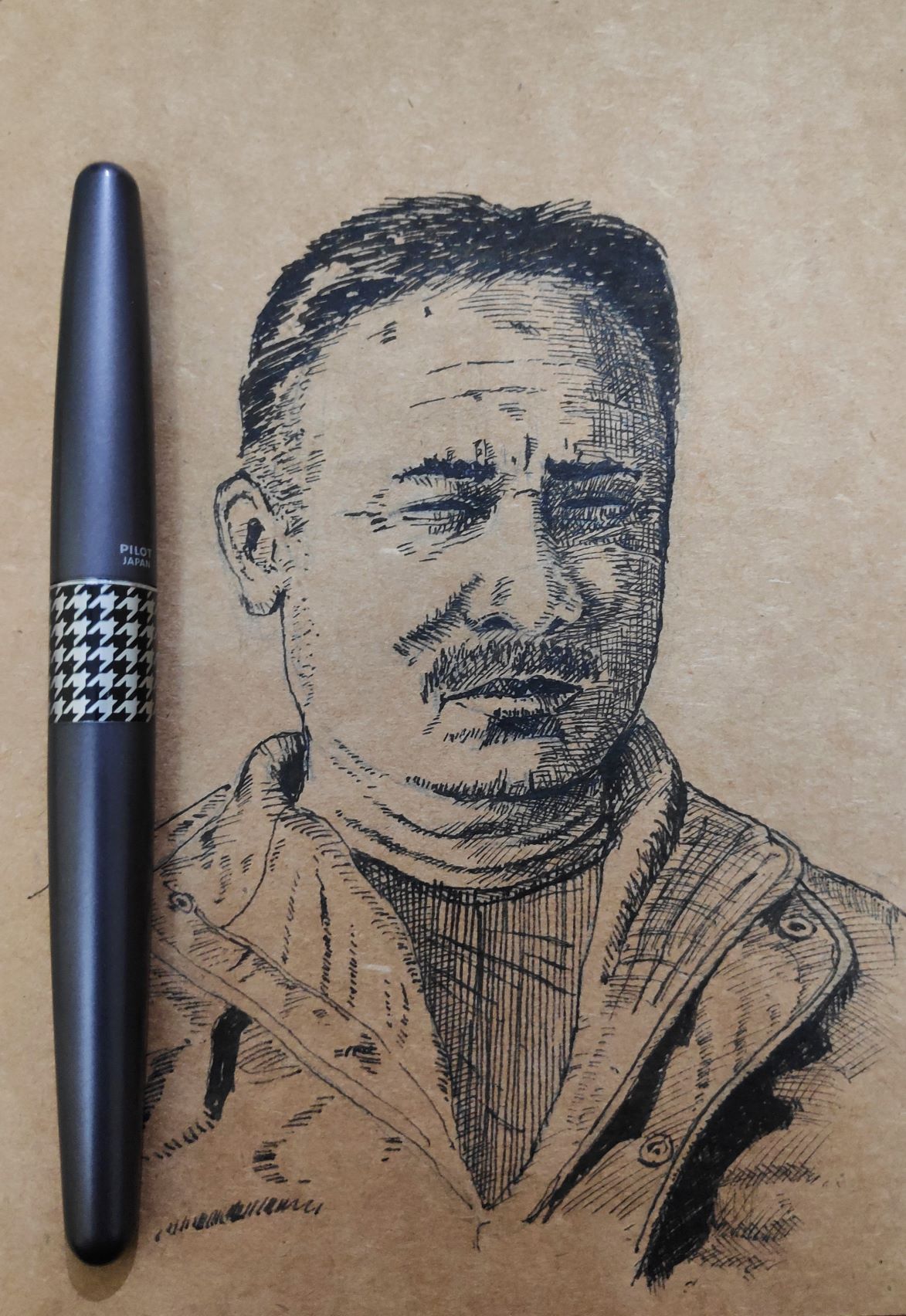 Nib Grinding – the master's touch and quiet flows the Don!
Jaspreet Singh Gill. A Mechanical Engineer, working as an Internal Audit professional in Delhi is certainly one of the top Nibmeisters in India whose expertise is matched only by his reluctance bask in his glory as a professional and a passion player following the inner creative call. Jaspreet has always loved art and stationery which explains his love for fountain pens and drawing with them. Inked happiness has been after him for long, so that fountain pen lovers may know more about the man and his passion. Finally, the master concurred and we produce here, the very mail that we received: 
Good Evening Dada.
I apologise for the delay. I also apologise for the fact that I am writing about fountain pens using a keyboard. It is not justified, however, even though I would have loved to write a letter to you, I am sure the delay would not have been justified either. I will write about all the things which come to my mind.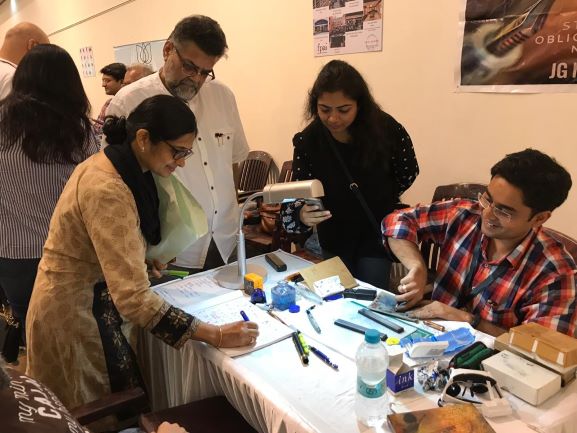 How I started:
I have been using fountain pens since school days. However, as I entered college, somehow, computers took over and fountain pens disappeared. But back in 2016, I saw a senior colleague of mine using a fountain pen. An ST Dupont which wrote so smooth that I instantly fell in love with fountain pens once again.  Once again, I wanted to use a fountain pen and right away, I ordered a Lamy Safari. I ordered a black one but somehow I received a yellow one instead. At first, I was a bit worried about using it in public, but with time I fell in love with the yellow colour of the pen and now it is one of my most favourite pens. Not only because it is the first pen I owned since I started working, but also because I gave that pen to my father and he used it so much in one year that I admire the pen even more now. After this I kept on getting one pen after another and entered the hobby with open arms.
Then came a phase in 2018 when 3-4 of my new pens had issues. One of those pens I had arranged with the help of a friend who was coming from US to India. My entire excitement just disappeared when that pen did not write perfectly out of the box. I tried to fix the pen but everything I did ended up spoiling the pen even more. Eventually I decided that I would learn how to fix pens. And with this, my quest to become a nib specialist started. Though I am sure I have so much more to learn. I ordered few spare nibs and used a grinding stone which I found at home. Some nail buffers and a loupe. Except the loupe, remaining materials have since changed.
I started going to Pen meets in Delhi. With this new passion to grind nibs, I started checking out the nibs at these pen meets. I wrote with all of them, I looked at all of them using my loupe and also memorised the shapes of the grinds so that I could produce results similar to those which were done by famous Nibmeisters from different parts of the world.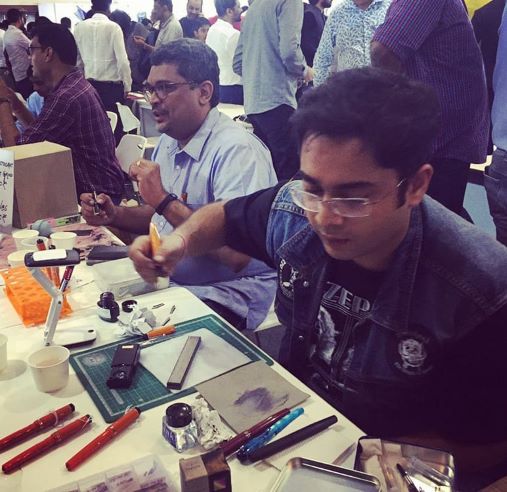 After a few meets, I started bringing my own nibs to the meet and I received good response. Everyone in Delhi pen group encouraged me a lot. I want to mention specifically the names of Suman Saraf – the first person to get his nibs ground  from me; Vaibhav Mehndiratta for encouraging me to push my limits; Rishminder for bringing all different nibs to the meets so that I could learn;  Puneet Malhotra for his unlimited encouragement.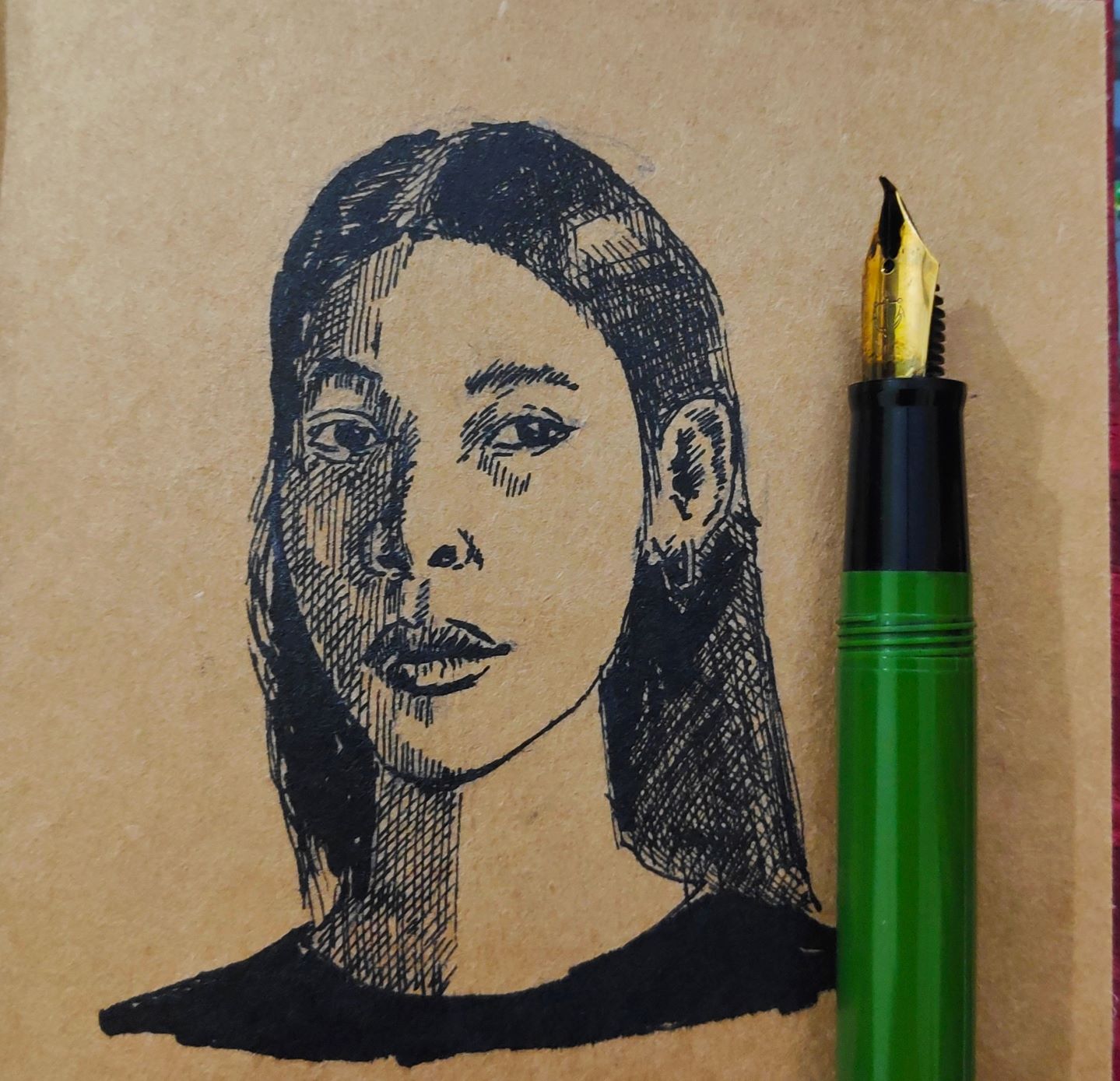 After this, I started grinding a lot of nibs and started posting pictures of my nibs on WhatsApp, Facebook and Instagram. I bought around 100 nibs of different widths to practice. I gave an hour at least on daily basis to work on nibs so that I could produce consistent grinds. I thank my wife for being extremely supportive. She has gone to pen meets, pen shows and stationery shops with me every time. Many people encouraged, though, I feel it also must have irritated a few, as I was posting nibs after nibs and many had the same architect grind. I have an affinity towards architect grind, as somehow it suits me the most.
After this came a time when I read that FPAI (Fountain Pen Association of India) was organizing a Pen Show in Mumbai. It was the first pen show in Mumbai and I was super excited. A few days after that Pradeep Dubbula from FPAI messaged me and asked me if I was interested in grinding nibs at the FountainHead pen show. I was a little apprehensive at first as I had never done any such thing before. But with their support, I took a chance and went to Mumbai for the Fountainhead pen show.
The day started on a funny as well as scary note when one person asked "ye kya hai aapka stall. Kya karte ho aap?". It was a bit painful to explain to almost everyone about what nib grinding is all about but thankfully I had enough testers to explain to people and also everyone who knew about nib grinding helped me out by explaining to those who didn't know. But the end of the day I had done around 30 grinds. From 10 to 6 pm it was non-stop action. I hadn't even had time to have lunch. I am really thankful to FPAI team for being there when I needed help and also for giving me the chance. I made lots of new friends. I have to thank Harsh Gagwani from Click Pens and Subramaniam for letting me use Click pens. The orange ones were remarkable and I sold all of them.
This is how I became the first person in India to do nib grinds live at a pen show. It helped everyone understand that how quality grinding can be done in India and we don't need to send our pens to USA or Europe anymore. MAKE IN INDIA happened on October 08, 2018. I made it happen. Thank You.
Next was TIPS 2019. A big pen show. This was being organized by Vishal Singhi. He also gave me an opportunity to grind nibs at the show. This time I teamed up with Sudhir Kalyanikar. His years of experience in fixing pens and grinding nibs really made us as a superb team. For two days we both ground nibs, fixed pens back to back and it was definitely something out of the world again. A great experience. And this year in TIPS 2020, I again went to Mumbai for the pen show.
Indian pens/nibs:
To learn nib grinding, I used Kanwrite nibs. They are not expensive and are easily available in different nib widths. I also got a Kanwrite Desire fountain pen, which I ended up breaking, due to prolonged usage for grinding nibs. Sandeep Awasthi was kind enough to send me a replacement.
I slowly started teaming up with ASA pens, Lotus Pens, Ravi of Penspoint, Sanay Shah of Syahi pens and few others who sent me nibs for grinding. Ranga Pens also referred many for sending their pens to me if there was a problem with them. I have been very fortunate to see that so many have helped me in expanding my work. Definitely the volume of nib grinding is not very high but it has improved a lot. People now understand that this is something which can be done in India. There are still few who believe that these things have to be done only from US or Europe, but we cannot change how they think. I have so far not received any negative feedback and this alone is enough to prove that services in India are by no means inferior to the services offered by Nibmeisters in Europe or US.
People who supported me in my passion for Nib Grinding:
There are many who supported me in this journey and I want to thank them. People in the Delhi pen group have been very helpful. FPAI team has always been there to help me out at all the pen shows. I have made friends who have become more than friends – Shubhranshu Das, Tarun Durga, Rachit Mardia from Chennai, Samit Datta, Dr. Harpreet Kochar, Adit Kamath, Dr. Nirjhar Mondal, Prasad V… the list is endless and growing!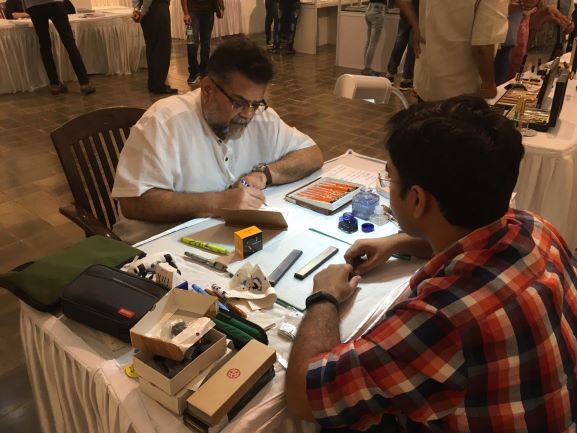 How I use pens:
I love to sketch with my pens. Some of the grinds I do are really great for sketching. Maybe this is the reason I have been in love with the architect grind. I started urban sketching and sketched many places in Mumbai and Delhi. Also I started learning portraits and started a #100headschallenge which can be seen on my Instagram page – @jazzorilla. I love using TR sheets. I really think that Endless recorder notebooks are the best if anyone really wants to enjoy fountain pens and inks. It may be expensive compared to many other but it gives that joy and satisfaction which one doesn't receive by using other notebooks. Plus, it is also MADE IN INDIA.
It has been a wonderful journey so far. I have learned a lot and I'm sure i will learn a lot more in years to come. I will continue to provide pleasurable writing experience and ensure that the art of writing with fountain pens stays alive.
Thank You.