Meet Dave – the person behind the name Penultimate Dave. Dave has a collection of fountain pens and inks that he has acquired over many years, many of which people would call "grail pens" and reviews the fountain pens in his collection both by posting daily photos on his Instagram channel http://instagram.com/penultimatedave and video reviews on his YouTube channel http://youtube.com/c/penultimatedave. Here he is talking his heart out, exclusively with www.inkedhappiness.com. Excerpts: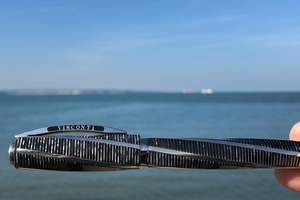 Q1. How did you begin as a collector of fountain pens? Why?
A1. I think my start in fountain pens is very similar to a lot of people that collect or use fountain pens. Firstly, I would say that I don't consider myself a collector of fountain pens, I do however have a collection of fountain pens. Many people see a collection and think that a person is a collector. With fountain pens, to me a collector is someone that will collect fountain pens, keep the pens mint in their original boxes, like collectors in many other hobbies. I simply cannot keep a pen in mint condition, not inked, in a box. Although many pens can be a work of art, I truly believe a pen is meant to be written with first and foremost, just like a car is meant to be driven, so I consider myself a user of fountain pens that has a collection. Every person is different, there are many people that have a collection that will consider themselves a collector, some may consider themselves an acquirer or accumulator.
For me, my journey started around the age of 10 when I received my first fountain pen. At the time I was getting really frustrated with ballpoint pens, having to press hard, getting a lot of hand fatigue when writing and it just felt to me like scraping nails down a chalk board. Once I started using fountain pens I started to love them and I used them for about 6 years. I didn't know anyone at the time that had any fountain pens, anyone that had used them had done so infrequently and at that age I didn't know I had to clean them, especially when changing ink colours. I kept finding that the fountain pens would clog with fibres from cheap school paper, dried ink and would leak, after 6 years of both loving them and hating them, I finally decided to put them away and give them up for the foreseeable future.
Most of my adult life has been a shift to more digital life with the occasional use of a rollerball pen. About 3 decades later I remembered both the positives and negatives of fountain pens and thought that they probably had improved over this period of time, so I decided to get a couple and see if they were any better. Every pen that I bought I just wasn't fully satisfied with and felt there must be something better out there. Surely, there is that ideal pen that looks good, is a perfect weight, and writes perfectly? So I went on my own exploration into the fountain pen world to find that best or ultimate pen, the pen that I would be happy with. As many of us will attest to, that ultimate pen doesn't exist, hence why it's called the holy grail or grail pen, but many pens come very close and for that very reason are considered grail pens. I decided to watch all the videos on fountain pens that I could consume. Two years later I have, a sizeable collection of fountain pens and inks, going from cheap Chinese pens all the way up to what is considered a grail pen from the likes of Visconti, Omas, Classic Pens, Montblanc and more.
Q2. When you started, did you have any inkling that you would acquire such a cult status? What does being a legend mean to you?
A2. Well, I don't consider myself a legend or having a cult status, I consider myself as a regular person that is passionate about fountain pens and the community, enjoys writing and loves the luxurious feel along with some of the exotic materials and nibs that are used to create fountain pens. The journey for me so far has been an interesting one, I frequent many online fountain pen forums and I decided early on about sharing the love of fountain pens, I have done blogging for many years outside of fountain pens but I wanted something that was quick and easy, so I setup an Instagram account – http://instagram.com/penultimatedave and post daily photos of my fountain pens there.
In 2018 I had a discussion with Brian (Goulet), Brian was trying to convince me to use the vast amount of knowledge I had gained and suggested I should consider sharing that back to the community and start creating video reviews. I wasn't fully convinced, but I decided to test the water with some Instagram Live videos, they seemed to be liked by many of my followers. I ran a couple of polls and asked how many people would like to see regular videos from me instead of just daily photos, and I had an overwhelming 99% response saying they would like to see videos. So after talking with Brian and others a little more, I started to create video reviews which can now be found on my YouTube channel – http://youtube.com/c/penultimatedave.
Probably the combination of my Instagram and YouTube channels has certainly brought me more into the spotlight of the fountain pen community. The term legend I think means something different to everyone. It's either someone that is extremely famous or notorious. I wouldn't consider myself famous, there are many other people out there in the fountain pen world that are a lot more famous than myself and what I would personally class as legends. There are people that know me and look up to me and aspire to my collection though.
Q3. From your vantage point, how does the fountain pen industry look like? What about the state of fountain pen collectors?
A3. Well I can't speak for the vintage part of the fountain pen industry as all of my fountain pens are modern, 1980's onward. The current state of the fountain pen industry is both sad and great. Sad because over the last 40-50 years it has been one of decline, but thankfully more recently it has started to see more of a resurgence in both making and buying fountain pens. It's now a small niche compared to other markets but various studies show that fountain pen sales are on the increase year on year. There are more custom pen makers starting to turn pens every month, new nibmeisters and new fountain pen online stores setting up and I think long term in the next 10 or 20 years we will continue to see good growth in this sector. I don't yet see it as reaching saturation point although it is certainly getting closer with the amount of new fountain pen models being made and released every month along with many new ink.
Fountain pen collectors or people that have fountain pen collections are a strange bunch. Many of us are introverts and not extroverts, but over time we may become more extrovert and will show off our collections online more. Anyone can have a collection whether you have 10 pens or 100 pens. A collection means something different to everyone. Some feel a collection is one of every model of pen from a company, another is every colour of pen in a range from a company, for others its just what attracts them. Some collectors call themselves accumulators for that very reason, although I feel that accumulator has negative connotations because it really means hoarder, but then that is something that many of us do whether it's pens or ink.
Q4. What according to you are the ten pens that every collector should aim at – grail pens – as you put it?
A4. This is a very difficult question to answer. Many people ask me daily, which are my favourite 3 pens or which pen out of these 3 would I buy? I think the great thing about collecting pens is that it means something different for everyone. I have friends that will collect every colour of a TWSBI or Lamy, and for them that's the ten pens they should have in their collection and never buy a grail pen. For others it's every pen from a manufacturer or every Arco material pen. For me there are no restrictions, I buy what I like and what interests me and that may be different for everyone else. Some people will say Montblanc is a must have grail pen to have in a collection and others will simply dismiss that, and that's their decision. For me personally, a pen must appeal and look nice, but equally it must write nice. Some of my favourite grail pens are Visconti, Omas, Armando Simoni Club, Pelikan, Classic Pens, Conway Stewart just to name a few manufacturers. For me as it stands today (and my opinions may change over time) some of the pens in my collection that are special to me from Visconti are the Homo Sapiens London Fog, Homo Sapiens Bronze Swirl, Opera Master Crimson Tide, Medici Il Magnifico, Luxor, Speakeasy and the stacked coin celluloids like the Corsani 90, Octa90nal, WallStreet and Divina Metropolitans. Likewise Omas Arco's or Armando Simoni Club Arco's and my Classic Pens are pens that are very special to me. Those are the pens that currently interest me the most, but each person is different. My tastes change over time and what I felt I liked 1 or 2 years ago is vastly different to what I like now. Ultimately I would say, whatever fountain pen interests you and that you like should be added to your collection, whether it's a grail pen or a regular pen, don't just add a fountain pen for the sake of adding it.
Q5. Your advice to new / would be collectors?
A5. Enjoy the journey and enjoy the experience, speak to others in the fountain pen community. It's hard to know what you will like until you get to try it. What I would say is that bricks and mortar stores are on the decline in the fountain pen world, and the ones that do exist we should try to support. Most of us buy our fountain pens online because we have no local store and there comes the risk of the pen arriving and not being how we envisaged it or how we thought it would write. For me I probably could have saved a lot of money by going to fountain pen clubs or fountain pen shows sooner. The great thing about fountain pen clubs are people bring their own fountain pens along, you can get to test the fountain pens inked up, see, touch and hold them in your hand and write with them and then decide if that's really something you would like to purchase in the future. Some will even sell their less used fountain pens at the fountain pen clubs or gift pens to new members. A fountain pen show can also be a great place to browse hundreds of thousands of fountain pens in one location. It can also be a dangerous place for your wallet too, go with a mindset and a budget and try not to overspend if you can. Get to try as many pens as you can before you buy them, you can save yourself a lot of money whether it's on pens or inks. Many people in the fountain pen community are kind, considerate and more than willing to help others that are starting out in the community.
Q6. How do we, fledgling fountain pen lovers from India, go mainstream? Are memberships in the top pen clubs open to us overseas collectors? What are the prospects of opening local chapters in India, even bringing one of the top pen shows here?
A6. As far as I know, most fountain pen clubs are free. At least the ones where you meet up on a regular basis at a bar, pub, restaurant and also most online forums or online clubs, so it should be cheap and easy to join them. There are of course membership clubs like WES (Writing Equipment Society) in the UK that offer worldwide memberships where they will require an annual fee to become a member and you receive various benefits like a free magazine once or twice a year through the mail and for UK users discounted entry to pen shows.
Fountain pen clubs can be a great place to hang out, meet new people and make new friends. Many people that have tried my fountain pens at clubs have told me a day or two later that they've gone out and purchased the pen I let them try because they liked it so much. Think of a pen club like being able to go into a pen store but a relaxed atmosphere where you do not feel pressured into buy anything, and you can test peoples pens out whilst you are there and gain good free advice. There are many fountain pen clubs around the world, in the UK the only one that I was aware of was the London UK club that I visit frequently. Many people I have invited have said it's too far to attend so I decided to setup a couple of club meets in other areas, and now the UK has a couple of other locations you can meet up and talk about fountain pens. Many fountain pen clubs will meet up at a coffee house, pub, bar or restaurant, or even at a fountain pen store if the owner will permit it. If a fountain pen club doesn't exist near you, try to create one. You may only start out with a few people attending but it may grow over time and can be a good way of getting to know other people in the hobby and getting to try out different pens and inks. The best way to start is to go online into fountain pen forums and ask if there are any clubs local to you and if not, would anyone be willing to meet up locally. There are many virtual fountain pen clubs online whether it's on Facebook, Reddit or a chat service called Discord where people can chat via text or voice chat and have running conversations if you can't find a local pen club or don't want to go to the hassle of setting one up. Get to know more people and in turn your fountain pen knowledge will quickly grow. Be passionate about what you like, be friendly and people will be friendly back.
Q7. What do you value more – a pre-owned antique or a swank new creation – if the price were the same for both?
A7. Well I don't do vintage, at least not yet, that is another larger rabbit hole to go down that I'm trying to avoid. I do buy NOS (New Old Stock) fountain pens as well as brand new creations. It's very hard to say which I would buy. If I handed you an Apple and an Orange and ask you to choose, which would you choose? Some would choose an apple and some would choose an orange. I think when it comes down to fountain pens, you have to go with how you feel at the time. Does a fountain pen speak to you because of it's looks? If not, but you can get to write with one, does the writing experience speak to you? I have some very plain black pens that although don't interest me at all in terms of design have specialty nibs that make the pen so much more interesting and appealing and a joy to write with. Ultimately though I think many of us are driven by the looks foremost. I think also it depends on your own current experience with a particular brand of fountain pens, for me I have a lot of Visconti's and have had an overly good experience with them, so if someone was to offer me a choice between a Visconti Homo Sapiens London Fog and a plain black Montblanc 149, I'd go with the Visconti hands down. However if they offered me a say a Montblanc Writers Edition or an Arco Celluloid pen, I might be swayed differently. Some people like plain looking pens and don't like to draw attention to something sparkly or exotic looking, and others like more attractive pens.
Q8. Anything that you would like to communicate to our readers
A8. Please feel free to check out and follow my Instagram – http://instagram.com/penultimatedave and subscribe to my YouTube channel – http://youtube.com/c/penultimatedave and my website at http://penultimatedave.com. Enjoy the time you have with fountain pens and don't be afraid to ask more knowledgeable people what you might perceive to be a silly question. We are all very down to earth people and usually more than happy to answer any questions you have, no matter how silly they might sound to you. Try to get yourself into a pen club or off to visit a pen show, even if it's only once to see if you enjoyed it. I have made many new fountain pen friends and pen pals from online fountain pen clubs as well as from physical fountain pen clubs and shows. A great source of fountain pen video how to's have been posted by Stephen (SBRE) Brown and Brian Goulet over at Goulet Pens. I wouldn't be anywhere near as knowledgeable as I am today if it weren't for both of these very kind individuals wanting to share their love for fountain pens with everyone. One day if you feel like you have the passion to give something back, try to. Whether it's helping out new users in the hobby or creating fountain pen reviews or blogs or video reviews. The fountain pen community will only continue to grow with like minded kind people that are passionate about the community and of course the fountain pens and inks.