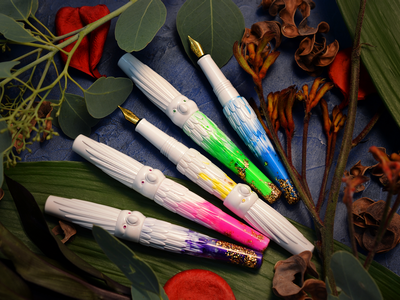 BENU Parrot, the unboxing!
It is nothing like anything that you have seen before. And, at first glance, you will not be at fault if you were, like me, led to think "how can a writing instrument be so radically different from our expectations and still be so beautiful"? Those of you who are familiar with the BENU name know that this highly creative brand from Russia, hand-crafts writing instruments and desk accessories in its custom production facilities in Moscow and that its in-house team of designers and artisans create highly unusual instruments that have a unique character and come replete with a look that is instantly recognisable. Approach it armed with the knowledge and it still remains – nothing like anything you have ever seen before!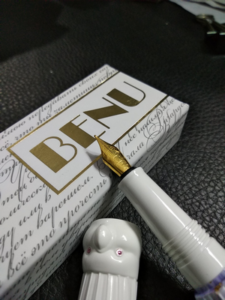 Yes, we are taking about the Parrot – a tribute to the most amusing and beloved of the tropical birds by BENU. The collection features five stunningly beautiful pieces of craftsmanship that invokes the spirit of coquettish parrot in arresting colours that are artistically accentuated by sparkling crystals and are skilfully crafted to resemble the shape of the bird. Novelty notwithstanding, the pens are surprisingly user friendly.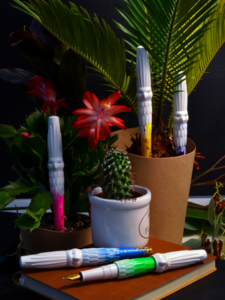 The pens are made of acrylic resins are weigh only 20 grams which makes them ideal, even for extended periods of writing. Styled without compromising the user's comfort, they have a very pleasant and smooth feel in the hand, are balanced just right and are a pleasure to write with. What is another plus is that the screw on caps can be posted. The pens sport a Schmidt stainless steel nib and are available in a broad spectrum of sizes from EF to B, through F and M. It is designed to take the standard large international size converter or ink cartridges. Naturally, neither needs to be commented upon, being the defacto choice for the stringent quality norms of the manufacturer. As for writing, it resembles the parrot's flight path – shooting through the paper it is put on in the same manner that the bird blurs into the depths of the sky.
There is always a moment between the end of the performance and the beginning of the applause. For the performer that interlude seems like an eternity. The White and Purple Parrot that I am now a proud owner of, takes me to that moment, every time I take it out in public – the silence is deafening when I take it out, and then the deluge begins as everyone wants to see, feel and write with it, at once, before congratulating me for the performance of my BENU!
BENU creations are known for their daring concepts, bold texture combinations and the thoughtfully generous use of vivid colours. It is in the very forefront of the entities that are stretching the horizons of artistic possibilities and it is a matter of great personal pleasure, as a lover of fountain pens, that they have decided to pleasingly stun us all with their creations. Yes, talents like these can flower anywhere they choose to bloom, it is our good fortune that they have decided to bloom in the garden of our passion.
They have already shattered the illusion that a fountain pen should be serious and intimidating by sheer creativity and may their tribe increase. For, we realise and offer our tribute to the obvious mastery of the art that is required to beak the shackles of conformity, to destroy what is ordinary. Cosmos was also created in the same manner!
Body colour: white and purple
Body material: acrylic resin
Ring material: acrylic resin
Inserts: rose crystals
Length Capped: 13.8 cm / 5.4 inches
Weight: 20 gr
Cap: Screw On, the cap can be posted
Nib: Schmidt, stainless steel, available nib width – EF,F,M,B
Refill: Standard large international size converter or ink cartridge (72 mm / 2.8 inches ).
BENU pens are now available in India:
For more information visit: