One question people never tire of asking me is "What is the best fountain pen for beginners"?
The Answer is not as simple as straightforward the question is. Point is, a fountain pen which has the potential of becoming an extension of your soul, should be selected properly and after due consideration. After all, a fountain pen, unlike a marriage, is not made in Heaven. Or, is it?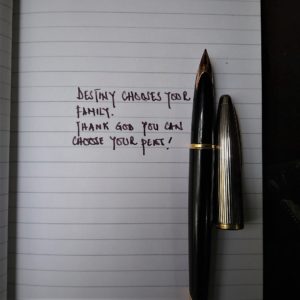 Even before you begin, perish the thought of acquiring a status symbol. Some of them are so expensive that they may force you to break your bank. Besides, being priced the way they are, they will force you to use them sparingly, leading to the Elephant's Teeth Syndrome – where you have one set for the show, while you use a separate set of teeth to do the actual eating.
Feel the pen for its weight, the girth and the sensation in your hand – check the way it balances itself as you hold it. Do you like the way it looks? The colour is just "not you", perhaps? What is the ink-filling system that it sports? Is it a converter? A cartridge? A piston mechanism? Or, is it an eyedropper? If you are truly a beginner, stick to the cartridge, the piston filler or the converter – the converter, piston fillers and the eye-droppers will call for further investment in the ink of your choice – and that is another kink that you can nurture. Cartridges are relatively straight forward and you can always experiment as your passion grows.
As for the nib, go for the simple stainless steel one. They are robust and inexpensive – enough value for money if you write and not that much a pain if you decide to go back to your stylus. Select the M (medium) – they are safe as the F (fine) ones may be drawing a line that is too thin for your liking. And remember, the Japanese nibs are a shade thinner than the ones fitted by the European or the American manufacturers.
A word of caution. Don't get taken in by all the talk about nib swapping that you read in the various fountain pen forums here. These things are not for us ordinary mortals.
Platinum Preppy
The Preppy should be your choice if its plastic body does not tick you off. It scores where it should – the nib and is a wonderful writer. Considering its price, it is a steal and if you are the type that swears by the written word, this should be the choice for your writing.
Pilot Metropolitan
This is absolutely the recommendation choice of the connoisseurs. Strong body, smooth nib and a matching foiling system. There is no way you can go wrong with this one, especially in view of the fact that the pricing is almost revolutionary.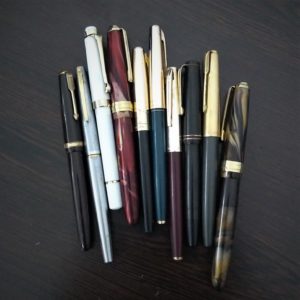 Lamy Safari
Before it was dislodged as the entry level preferred one, it was, with its futuristic design, solid state performance, virtually indestructible built (its made of the same stuff that Lego makes their bricks with) and choice of colours, a package that was hard to beat. It still is and has become a favourite with the collectors to boot.
Chinese Pens
I have nothing against Chinese pens – but will not encourage a beginner to start what may well become a lifelong association, with one either. No collector worth his ink stains can do without a few – I have several of them too – but that is for more mature (serious?) collectors. As for replicas – that is totally so another story!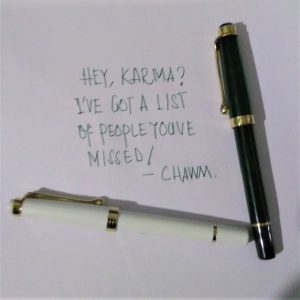 Indian hand tuned Ebonite pens
If it is a Saare Jahan Se Accha pen that you want, go for the Indian Ebonite pens. For one they are made from ebonite, that too by hand. They are generally 3 in one's, that is, can be used as an eyedropper or with a cartridge or a converter. The nib and converter are both overwhelmingly made by Schmidt or Bock which is reason enough. Besides, they come at very reasonable prices.
Feel Free to Ask and I will tell you more.