The world of fountain lovers who are "out of the closet" is a small one. Here, most aficionados know each other, as do the companies and other service providers catering to their inky whims. We follow the influencers, like, comment and share their blog posts, shower insane smileys on their Instagram entries and generally work ourselves up to a frenzy over barrels, nibs, ink textures and the spacing of dots on field journals.  Naturally, when most members of this small group of initiates start talking about any one thing, breaking out in a simultaneous song as it were, one sits up to take notice.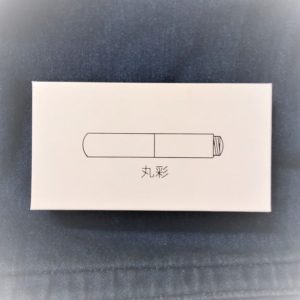 And a simultaneous song it was that accompanied the launch by the Shanghai Jingdian in-house label Wancai. The Wancai – it comes in multiple colour variants (Coke-bottle green, transparent, dark green and one with mint colour swirls all around), sports a gold-plated iridium nib, which writes fairly well for the price point at which the pen is offered (though I must admit that I have not used it extensively enough to pass definitive judgement).
It was the one with the mint swirls that I had to possess. There is a kind of an old-capitalism draw of the Coke green colour and the swirls added just the right amount of oomph, making the lack of its possession push me into an acrylic abyss, into an existential crisis of a pen-ful kind.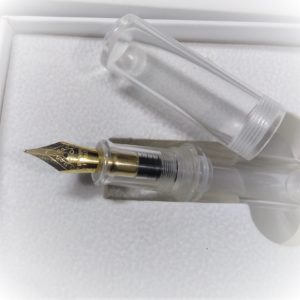 And there was reason behind my madness – the form factor of the Wancai. A transparent barrel that is only 3.6 inches, end to end, that too, when capped. That made it an extremely small pen, capable of sporting both the cartridges and being used as an eyedropper, in which case, it has a capacity that is large enough considering its size and girth.
But alas! The last Wancai Swirl flew off the home page of the penworld.com before I could swipe my card and I had to opt for the transparent one instead. Payment, delivery, servicing was standard but what caught my attention was how neatly it was all packaged. The white cardboard box, though devoid of accoutrements of any type (just like the pen itself was free from any embellishments) had class written all over it, which continued inside the box as well, with the stress busting envelope and the equally neat incision that housed the pen.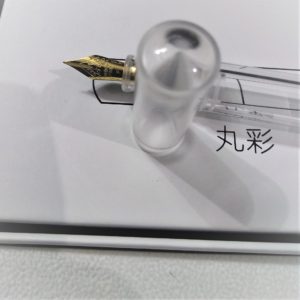 Two ink droppers (pipettes) that comprised a part of the loot were a definite eye sore, such, that even the cartridges at the very bottom of the pack failed to address. The pen however was worth all the ga-ga one had heard about. The cap threads on to the rear of the pen to give it enough length to be used, though for first time users, especially those with big palms and those used to bigger pens, it is sure to pose hick-ups. The grip section too, is just big enough for "normal" hands and I am not really sure how big bulky fingers will rest on it. As I said before, it is a small pen and its bold lines and tempting curves make a heady cocktail, not enough to get one intoxicated, but certainly enough to reach the feel-good zone. (And in my case, wait for the seller to restock so that I can lay my hands on the Coke-bottle green enchantress with the mint swirls!)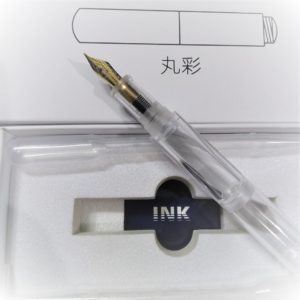 I was pretty impressed with the design – more so when I had learnt that it is a patented one. The Chinese pen makers were finally coming off-age and making the long over-due strides towards attaining their real, true potential, I had thought. But I will reserve my exhilaration as there are reports that the pen is a copy of an earlier model by a Japanese pen maker called Helico. Oh Hell!
As always, the pen was purchased and paid for and these are mere rantings of a genuine fountain pen lover who has not otherwise been influenced by the pen makers or other assorted anarchists. I am not a part of any sinister plot to destabilise the existing world order by recommending writing instruments, nor am I a member of any clan that plans world domination by pushing faulty fountain pens.
If you like what you read, do give me a like and post a comment. My pens keep complaining that they are not getting the attention that they deserve.