Venvstas winner is a pen that creates and stores Kinetic energy, burns the impression on paper!
Venvstas is a lifestyle brand that was started by the vision of a designer. It was founded in Paris but is now based in Italy, where it also produces. Venvstas manufactures a line of writing instruments but will be soon adding a complete line of notebooks, inks and accessories with Venvstas' unique design, which is already a signature of the house.
Venvstas believes in timelessness, of design for today and tomorrow. Venvstas products won't age: they'll be always fresh for you as design can be timeless if it is the result of the right kind of meditation. For in the end, designing is just another intellectual exercise, a quest, a search. The brand's core products are the writing / drawing collections, tools that were thought up for creation.
At Venvstas new materials and out of the box manufacturing techniques are blended with handcrafting and a never-seen-before design philosophy for such products. The core communication emanating from Venvstas is simple – real luxury is not shining gold nor impossible prices, it is really about uniqueness, it is what is rare, not by being scarce but because it is "different" in an interesting way, in an intelligent way. Venvstas products are therefore consciously different, they stand out from the pack, as a rule, as opposed to being exceptions.
Inked happiness caught up with Alan Tarnikowski, who was kind enough to provide answers to all our queries:
Future of Stationery Competition
Why does Venvstas, a company founded by a designer (who's also young) need more designs? The reason was simple, to foster new talents and to explore the possibilities of a theme (the future of stationery) where good design is hard to find, where logical products, shall we say, "all around meditated products", are just rare. Competitions are where new talents emerge and Venvstas seeks to be prepared from the beginning to be a company that won't depend just on one person's vision – it wants to see itself as a democratic platform, where what matters are products that have not been conceived out of speculation. The very best of what we can use and see comes from passion, not marketing and for money speculation, so Venvstas consciously decided that it will also seek to be a platform, an incubator for new ideas, ideas not restricted by time and space. Thus, the next competition will be on a totally different theme, one that may not even be related to writing/drawing processes at all.
Competition Details
There were over 200 entries from more than 25 countries, where actually a big number (including the first prize) came from India. From 27 projects that were selected (including the prizes of course) 6 came from India, it's a huge proportion and it is silently screaming something about India's design scene. Something, today nobody may be speaking about, but it is a sure sign that we'll see more of it in the future.  To us in these cold climes, it is something like the software boom from India that had taken everyone by surprise:  I think we are about to again witness something that we'll be talking about in the years to come.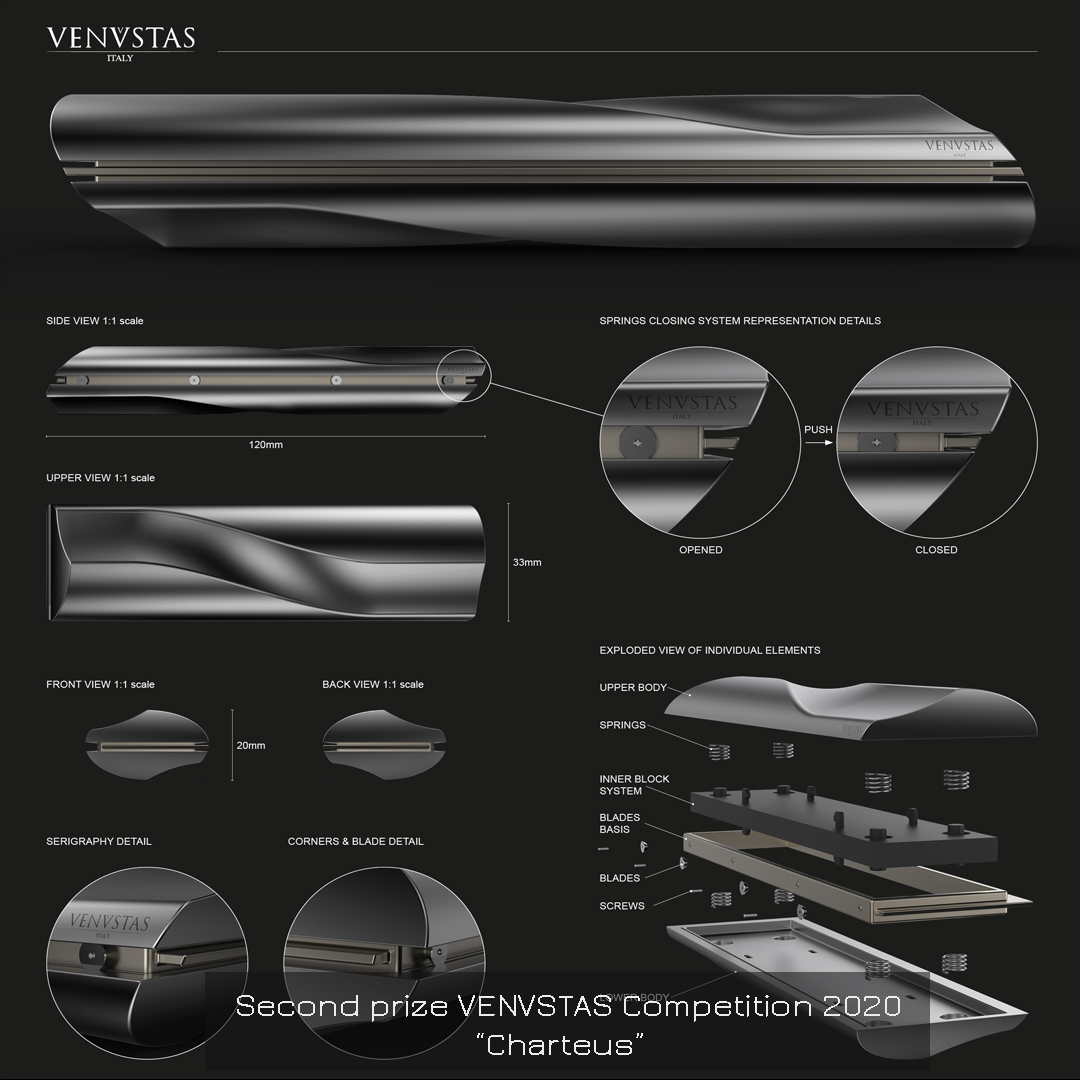 The Jury
Prof. Architect Attilio Terragni – Milano, Italy.
Prof. Architect Alexander Kalachev – UNStudio associate – Amsterdam, Netherlands
Architect Filippo Carmignani Tirelli – CEO Venvstas Italy.
Prof. Architect Lucio Rossi – Founder of Venvstas, designer of the brand.
The Judging criteria
1- Originality of the concept.
2 – Functionality. (not a decorative object)
3 – Environmental impact. Materials used.
4 – Feasibility/cost.
The winning entry went to a young designer, a lady named Archana Chenthil Kumar from India. She proposed something that we think cannot be done at the moment: but a pen that generates and stores kinetic energy, one that basically burns the paper surely deserved the winner's slot. It's an interesting concept, like a miniaturised electric torch pen…. but, the project digs into a right-now idea for a pen, this is, if we use a pen is because we want to, not because we need to.
The Jury's comments
The jury was surprised by the fact that a large amount of entries did exactly the opposite from what was asked as a starter, that is, lots of very conservative approaches were found, so they had to look on what was different or seemed to have something that had a less conservative take. The jury understood that the first prize was not feasible, at least in the near future, as it would require a huge investment, but appreciated the fact that the designer understood the challenge and nevertheless proposed something, which though on the fringe, is exactly where innovation and invention are born.  An idea that seems unfeasible is what leads us to invent things, for we try to make possible the impossible.
The Last Word
Yes, one little last thing, I think we are the only company in the business to do something like what we just did, which, for our size and take on the market is huge, and we'll keep doing it year after year, with different themes, prizes and jury of course. Only by innovation and invention we can make this world better, so deeper quests are to come in what's now a brand but also becoming a platform that fosters design.
Remember, everything is designed, even you.
Congratulations India!
For More information:
https://www.venvstas.com/competition