Fountain pen & Ink – the story of Calcutta's intricate connection with their development, especially in the first half of the twentieth century, is a fascinating one that demands to be told, again, to the lovers of fountain pens. Nearly a hundred years on, most sources are as dry as the feeds of the pens that represent the era; some critical links, like the parts of the pens that we collect, are missing; and some vignettes have long been discarded, again, just like the fountain pens that have been thrown out with the trash.
As is wont in situations like these, the biggest challenge is to separate the facts from the fiction, for fiction, often spun with a view towards meeting commercial ends, are naturally more attractive than the facts. Besides, with very little authentic sources to rely upon, shifting the grains from the chaff, is as difficult as inking an eyedropper without getting the fingers soiled. The most detailed narrative, is more often than not, the most glossed over, successive raconteurs having added their contributions to make the story as palatable as possible. I have therefore, got this story vetted by subject authority Dr Sovan Roy, Chandranath Chatterjee, Apurba Kumar Panda and Sabyasachi Bhattacharjee. The inconsistencies, if any, are mine and I do not claim that this is, in any way, the last word on the subject. Quite on the contrary, this is the starting point and I hope that many a scholar will come forward to share their views on the subject so that we may continue to add further, finer details into the narrative, to make the true picture stand out.
This fountain pen and ink story starts, not in Calcutta, but about fifty kilometres from the city in Chinsurah, from where a young Doctor called Radhika Nath Saha got his invention, a "wireless stylo pen", patented in the year 1900. That was just the beginning, for this serial inventor would ultimately own as many as fourteen patents spread across Germany, the United States, England and India, apart from establishing India's first commercial factory for the manufacture of writing implements (both stylo and fountain pens) in erstwhile Baneras in 1905, leading to the establishment of Luxmi pens. It will not be out of place to mention the fact that the first prototype pen, based on Radhika Nath Saha's design was completed in 1903 by Nilmoni Karmokar in Chandannagor, near Calcutta. To put things in the right perspective, 1905 was the year Conway Stewart was established in England.
This was also the year that another young man, this time from Middleton Street, Calcutta, returned home from England, having acquainted himself with the latest in trade industry and commerce in the west, to set up, in a shed in his outhouse, a factory for the manufacture of wooden dip pens. The name of the man was Fanindra Nath Gooptu and the entity he established would be known to the world as Gooptu's.
Gooptu's would soon outgrow the shed in which it was founded, move to a swank facility in Beliaghata, that not only had imported machinery but also employed Europeans, and go on to produce, first dip pens and pencils and then some of the best fountain pens – pens that were of comparable quality with those imported from Europe and America. FN Gooptu's fountain pens were available in the market from 1911. This was also the year in which Dr R N Saha published his seminal work "Romance of Pen Industries" – a complete manual for the manufacture of writing implements, their history, progress and effects on human advancements, with special reference to the economics and prosperity problems of India. The book was published by the Baptist Mission Press, Calcutta. Yes, that was the year Kyugoro Sakata, an engineer from Hiroshima, was introduced to a fountain pen brought from England by a sailor friend, which led to the establishment of Sailor pens in Japan.
In terms of sheer antiquity however, P M Bagchi and Company, established in 1883, predated both Luxmi and Gooptu's. The entity which is synonymous with Almanacs, is still going strong (and may its tribe increase), in its earliest avatar, was an ink maker – perhaps the most celebrated, if not the only "native" enterprise engaged in the business, in the early years of the century. "Aniline Liquid writing ink", it is said was pioneered by P M Bagchi, though there are some who contest the claim, stating that aniline is a dye and was primarily used for printing and not writing.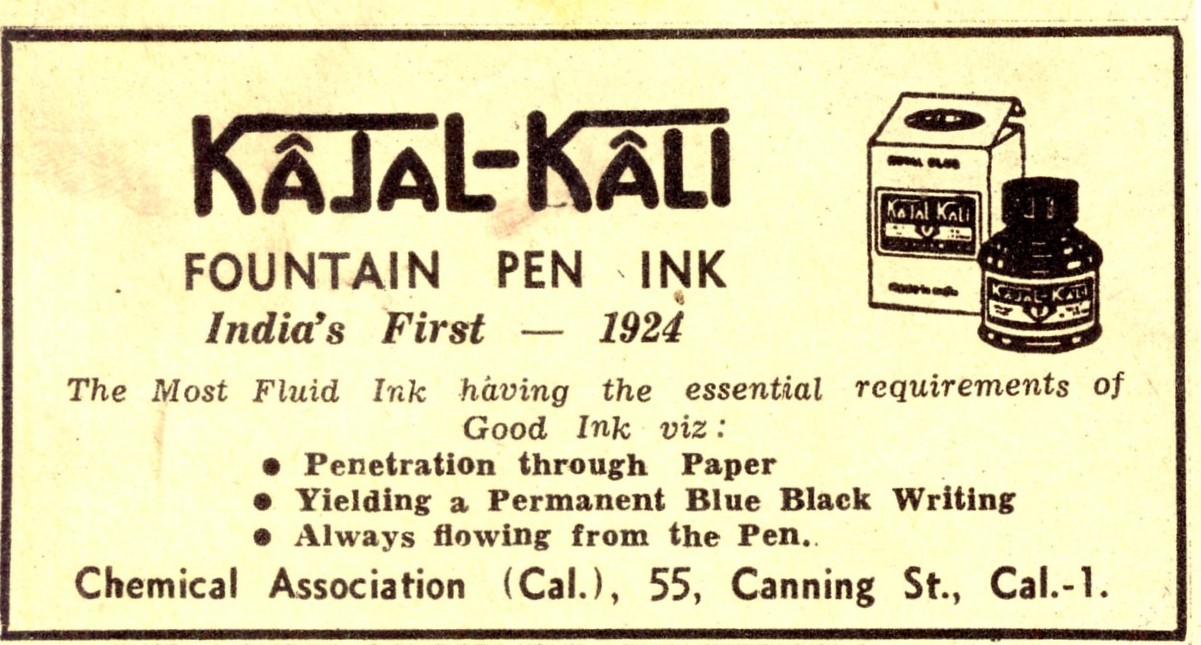 It would be decades later, in 1924 to be precise, that three enterprising students from Shantiniketan – Hiten Nandi, Tarun Roy and Sisir Sen would get into the manufacture of inks, establishing Kajal Kali, that had the blessings of none other than the poet laureate Rabindra Nath Tagore, who is known to have expressed his satisfaction having used the ink and had gone on record to state that the dark sheen of Kajal was no less than those of imported inks. As a matter of fact, many experts are of the opinion that this was the first commercial effort to produce writing ink as we know it, in Bengal. That Kajal Kali was immensely successful is unequivocal. It will not be fair, however, if we do not mention the fact that in the same year Krishnabeni inks were also started in Madras. It is also a fact that even Luxmi had its own ink which was commercially available much before Kajal Kali was made. the story of Swadeshi Fountain Pen & Ink is indeed full of such interesting turns.
In the meantime, on the fountain pen front, Gooptu's was having a free run and such was their success that many were attracted to the Fountain Pen & Ink making business. The most notable among them was A P Seal, who, along with his childhood friend B C Dutta and financial assistance from his father-in-law G C Law started a venture with even name at Maniktala. The year was 1931. The key man behind this show was an ex-Gooptu mechanic, Probodh Mistri, who had, by 1932 made the first pen in the new premises. On February 23rd, 1933, none other than Rabindra Nath Tagore unveiled GC Law's pen commercially, and named it "Bharati".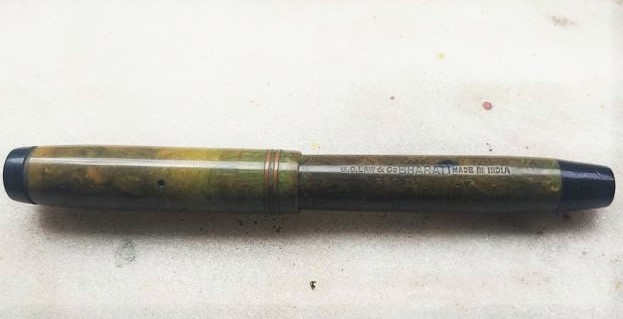 Far away in Rajshahi (now Bangladesh) the seeds were being planted for another Bengali enterprise, one that would one day, dare to aim for global domination and add a completely new dimension to our Fountain Pen & Ink story. However, I will fail in my duties if I do not start this part of the narrative with a specific qualifier – while all the other enterprises were primarily established with achieving success commercially, as the end, the one that I will talk about now, was set up expressly by hard-core Nationalists, more in the quest for self-sufficiency, in the spirit of  boycotting British products, than anything else. Yes, we are talking about Sulekha inks.
On Gandhiji's request, who hated using imported inks, one of his dedicated followers Satish Dasgupta, who was also a chemist, created what he called the Krishnadhara ink. It was initially sold through the Khadi chain of shops. Satish Dasgupta subsequently handed over the formula to Shankaracharya and Nanigopal Mitra, dedicated Gandhians and Satyagrahis, who had just been freed from the colonial prison, instructing them to name the ink Sulekha. The year was 1934. How Shankaracharya and Nanigopal's father, Ambikacharan Mitra had given away his life's savings to fund the "Swadeshi" enterprise of his sons for the sake of the Nation, how the ladies of the family had joined hands to make the first inks and how Sulekha had inked its way to the Nation's heart is another story.
Gandhiji's letter to K V Brahmam and Brothers, based on which it is claimed that the first Swadeshi Pens were made by Ratnam is dated 16/07/1935. The date is important, as is the fact that this was the time, when paying heed to Gandhiji's clarion call, many a young person had taken the leap to manufacture Fountain Pen & Inks. As a matter of fact, the Sealdah area in Calcutta had such well-established outlets like Dhar Brothers (who manufactured the Ruby pen c 1951*); Das,Boral &Co., Bharati Stores, while in the Esplanade, Pen Hospital was already beginning to create a name for itself, who were all stalwarts in the field of Fountain Pen & Ink.
Those were tumultuous days and Swadeshi was definitely the common thread, overt in some cases while covert in others. I say this because this is the period that not only witnessed two World Wars with all their attending economic fallout, but was also the time when the freedom movement was gathering momentum, which had ultimately led to the transfer of power, within this period only.
Dr Radhika Nath Saha's creations – patented in four countries and manufactured using machines which too were of his own design and manufacture, were thus, more "Swadeshi" than the term is normally meant to denote. There is documentary evidence of both Rabindra Nath Tagore and Mahatma Gandhi using Luxmi pens, which make them, beyond all reasonable doubt, the first Swadeshi pens in India. It is a fact that Radhika Nath Saha was initially close enough to the Imperial Government to have been invited and attend the Coronation Durbar in Delhi, but it is also said that there was a perceptible shift towards nationalism later on in his life.
F N Gooptu, who started his entrepreneurial journey in 1905, when the agitation against the proposed Partition of Bengal was at its height, is said to have sought to contribute to the movement by seeking self-sufficiency in industry. His creations – though they used imported machinery and employed the "Goras" – were import substitutes and therefore no less "Nationalistic" or "Swadeshi" than any other fountain pen that was ever made in the land. Just because FN Gooptu's pens were qualitatively way superior to what would decades later be hand turned, cannot make them less Swadeshi, as is often argued by those seeking to buttress their feeble argument. Besides, it was in 1908 itself that FN  Gooptu had formed the Bengal Initiative with staunch nationalists like Acharya Prafulla Chandra Ray and Dadabhai Naoroji, which is why, it was no big surprise when Gandhiji visited the Beliaghata factory in 1925 and went on record saying "…I was delighted to be informed some of the machines were designed and made in this factory. I wish this national enterprise every success…"
Radhika Nath Saha passed away in 1933. Gooptu's, Bharati and Ruby did not make it to the 1960's. PM Bagchi's inks are now history. Ratnam which was a house divided, is still breathing, but barely so.   Sulekha, having spent the last two decades in lock-down, is now making a comeback. The question that begs an answer is, why did these entities, once the leaders of their packs, falter and fail? Wont that be one hell of an interesting reading? Instead of focusing our attention and continue bickering about who made the first Swadeshi pen, will it not make sense to draw from these success stories and focus on reclaiming our rightful legacy as fountain pen and ink manufacturers, especially now that being "Atmanirbhar" is the new flavour of the day?
PostScript:
Sabyasachi Bhattacharyya, who was extremely close to Madan Mohan Dhar quotes him to state that Ruby pens were made much earlier than 1951 as we have stated. As a matter of fact, initially the pen bodies were imported from Germany, with "Ruby" imprinted on them, only to be assembled here, which was Indigenized over a period of time.
Acknowledgement:
I have drawn heavily from the following sources to write this piece:
Radhika Nath Saha – Unsung hero of Indian Fountain Pen by Dr Sovan Roy ISBN 978-93-89209-31-0.
Lokkhir Kripalabh o Bangalir Sadhona – Bisshokorma. Prokashika Shreemati Dutta, 1969; Distributed by Ananda Publishers.
Banglar Kolkarkhana o Karigori Biddar Itihash shomogro – Rajkrishna Pustakaloi