Dhar Brothers and the story of Calcutta's brush with fountain pen making excellence – fact, fiction or folklore?
Imagine that you are so well known for your skills that the Commissioner of Calcutta Police sends his prized fountain pen to you for some repair work. Mind you, this is a time when the fountain pen was the most potent weapon, even in the scabbard of the city's top cop and we can appreciate the sense of contentment with which you must have left your shop for lunch that day, hoping to mend it with tender loving care, later in the afternoon. Little did you know, that by the time you would return from lunch, your world would have shattered, for during your absence from the shop, a close relative would pinch the pen and sell it off to fix his urge for intoxicants!
Legend had it that you had immediately brought the matter to the notice of Commissioner and that you had even replaced the fountain pen from one of the best that you had in stock and that the Commissioner, convinced about your personal integrity, had allowed the matter to rest. But the incident had jolted your wits away, and you had never really recovered from the deep hurt it had caused. Yes, you would be similarly swindled again, when another relative that you had graciously given employment in your shop, would cause massive pilferage, going to the extent of regularly selling off from your stock in trade, but that would be, as they say, loose change in comparison.
Your next generation, or the generations that followed, would not step into your shoes like you had stepped into your father's, resulting in the sad demise of an institution – Calcutta's pride, and certainly one of the best in these parts of the world – Dhar Brothers, which was sold off around 1998-99, just before your death. Yes, we are talking about Mohini Mohon Dhar of Dhar Brothers, Calcutta.
Md. Imtiaz of what is erstwhile Calcutta's oldest pen repairing shop, Pen Hospital calls the closure of Dhar Brothers a "catastrophe". Dilip Basak, perhaps the city's last pen repairing Mohican thinks on similar lines. For you were someone they had both grown up seeing their respective fathers, accomplished names in the world of fountain pens themselves, accord the highest respect to, holding you with a kind of reverence that is set aside only for the masters. And as is customary in cases like these, both rue the fact that restoration machineries painstakingly collected by you from around the world (including many from Pelikan, Germany) were sold off as junk, just as they lament the destruction of your priceless collection of ebonite and acrylic rods which they feel, in their hands, could have brought many a damaged damsel back to life.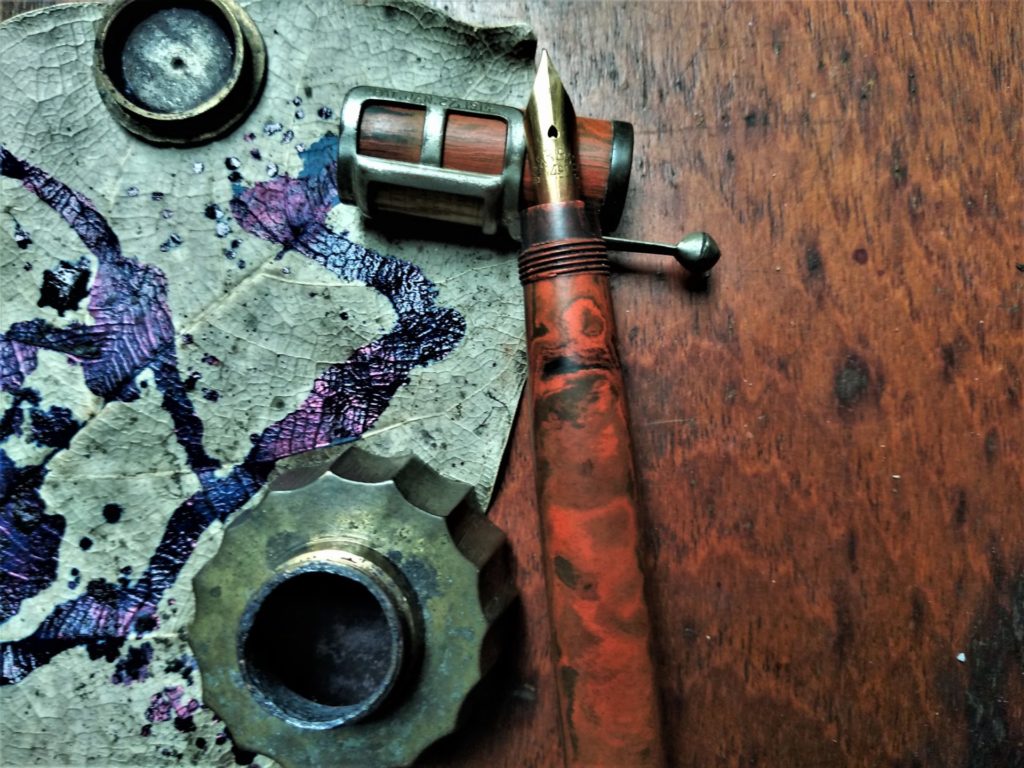 And a master you undoubtedly were, having joined your father's business – which was originally set up as a shop selling metal trunks – and almost single handed turned it into a pilgrimage for pen lovers. The narrative is sketchy, as the only person from the fountain pen community who had your blessings is Sabyasachi Bhattacharya, collector of pens pristine- likes to keep to himself, and is as possessive about his collection of pens and pipes as he is about his memories.
Dhar Brothers (and I have no documentary evidence, relying primarily on oral traditions) was established in 1875 or thereabouts with Mohini Mohon Dhar (Dhar babu) joining in around 1890. It is known that Dhar brothers had Parker and Sheaffer dealerships (apart from dealing in Waterman, Soennecken and Pelikan pens as well) and that the establishment was also known for the excellent Safety Razors, replete with ebonite handles, that were a rage in its early days. But what had made Dhar Brothers the go-to destination was the imported Safety Pens, which, though known to the world since the late 1800's had really come into their own in America and Europe in the first decades of the 1900.
Initially Safety pens made from hard rubber were imported primarily from Europe (read Germany) which were so well received by the market that Dhar Brothers had gone ahead and established his own brand – Ruby. From the initial hard rubber, mottled, safety pens with retractable nibs to the early eyedropper resins, Ruby was a name to reckon with in British Calcutta in the early decades of the last century. As a matter of fact, the reputation of the name itself was such that Dhar Brothers was able to command a premium and had even imported a stamping machine which was set up in the Beliaghata region. Some say, Dhar Brothers did not depend only on imported pens and had its own manufacturing setup, some say they also fitted "warranted nibs", while some even allege that they were masters of re-stamping pens made by others as their own. Point is, I have no evidence to back any of the claims. As a matter of fact, I do possess many Dhar Brothers "creations" that are frankly speaking, franken pens – and I have no way of knowing whether they were thus created or were the handiwork of dealers down the line.
The Ruby pens from Dhar Brothers are an important chapter in the fountain pen timeline of India according to Yusuf Mansoor, collector of vintage Indian pens who has been working to compile the history of their evolution. As examples of pre-World War craftsmanship, the Dhar Brother offerings, especially the safety pens, were as good as they got, quips Mansoor. The pens were mostly imported from Germany though they sported the Dhar Brothers and Ruby stampings. Not only were Dhar Brothers offerings extremely robust, they were also known for the add-on, signature gold nibs that were handcrafted by Dhar-babu and were available to the connoisseurs at a price. Naturally such Ruby pens occupy a place high up in the wish list of the serious collectors, their scarcity making them even more desirable.
There is another Dhar Brothers story that has become a part of Calcutta fountain pen folklore, which involves the Japanese Pilot. Legend has it that to a generation tired of soft and fragile nibs, the steel-nibbed Pilot was like a revelation in the late 1960's and Dharbabu would throw the pens like darts to the wooden counter and retrieve them to let awe-struck customers use them. And customers Dhar brothers did have – virtually a who's who of the times for more than half a century. Rabindra Nath Tagore, Satyajit Ray, Bonoful (Balai Chand Mukhopadhyay) to Dr Bidhan Chandra Roy and Dr Pratap Chandra Chandra.
Editors' Note: Anyone having any information about Dharbabu or his descendants are requested to kindly help us with information so that we may shed light on this important chapter of Calcutta's tryst with pen and ink.