Many congratulations to Inked happiness on completing two glorious years. I remember the humble beginnings when Chawm put it in Black and White. Ever since he has never stopped taking his fountain pen for a walk, inking those emotions and powerful feelings with overflowing thoughts.
His concentrated imaginative experiences about fountain pens naturally gets arranged in the choicest of words as only he can, stirring emotional responses from his national and International consumers of his blog.
He has showcased the rarest of gems from the fountain pen fraternity and the Industry with the likes of  Gary Lehrer, Richard Binder, Letizia Iacopini, David Oscarson, Kasia Stier, Brian Goulet of Goulet Pens, Alastair Adams of Conway Stewart, James Boddy of Onoto Pens, Anuj Poddar of  AP Limited Edition, Kate Dmitrieva of Benu Pens, Andy Deschacht and Laura Garcia Belli of Garcia Deschacht, Dilip Doshi of Lamy, Leena Shrestha Menon of Pen Boutique, Evelina Hristozova of Tibaldi and Nicky Pessaroff from the PEN WORLD magazine being the latest feather in his cap. Inked Happiness has become like a river of flowing ballads of fountain pens!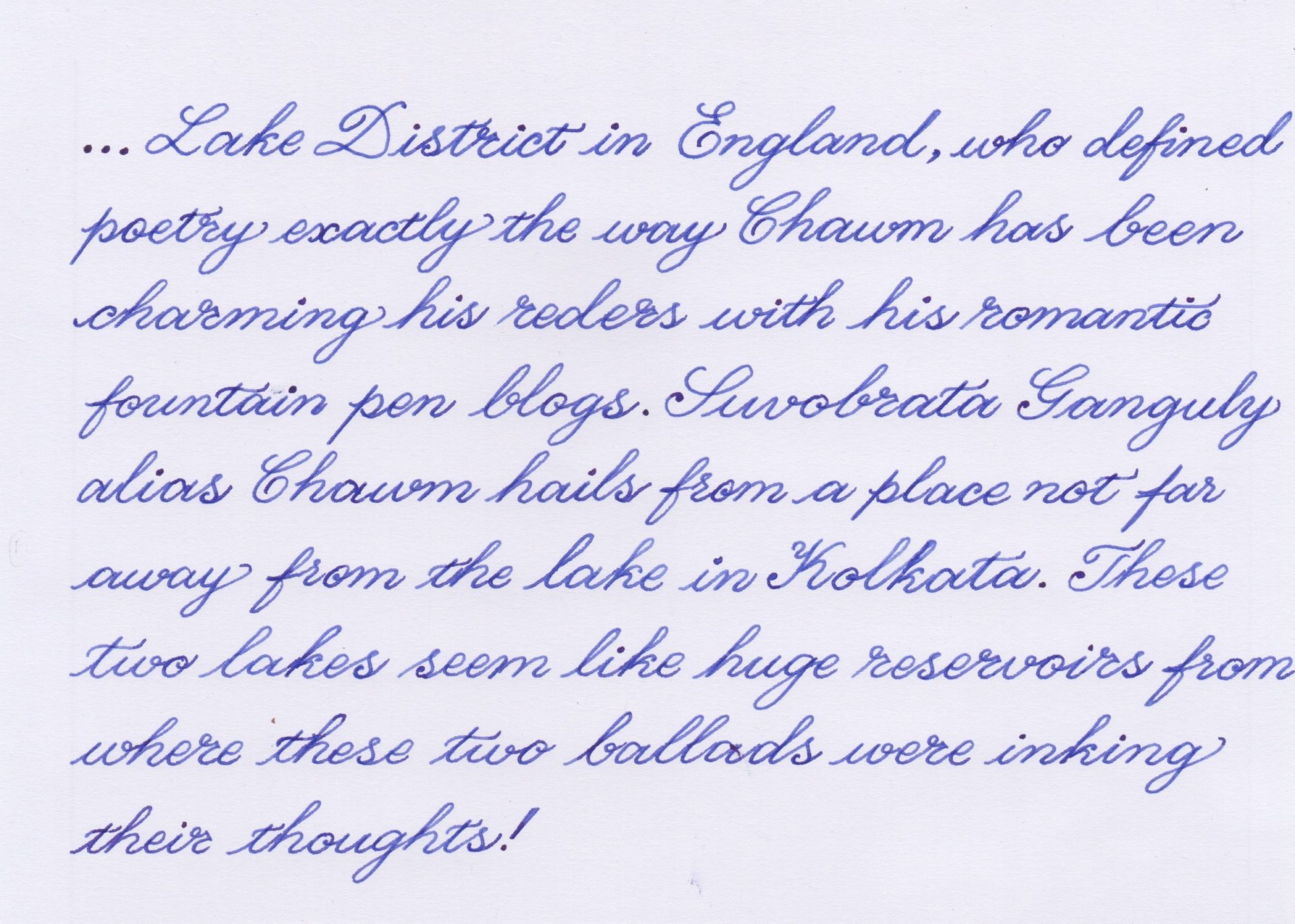 I am reminded of William Wordsworth from the Lake District in England, who defined poetry exactly the way Chawm has been charming his readers with his romantic fountain pen blogs. Suvobrata Ganguly alias Chawm hails from a place not far away from the lake in Kolkata.
These lakes seem like huge reservoirs from where these two ballads were inking their thoughts! Chawm comes across as the modern William Wordsworth of Fountain Blogs! For the last two years he has not only been boosting the morale of the fountain pen Industry but also recognising those people who have been passionately pursuing it from the fraternity. First it was Yusuf Mansoor and now Sudhir Kalyanikar with the Lifetime Achievement Awards, I am sure they both must be soaking in the Ink of Happiness!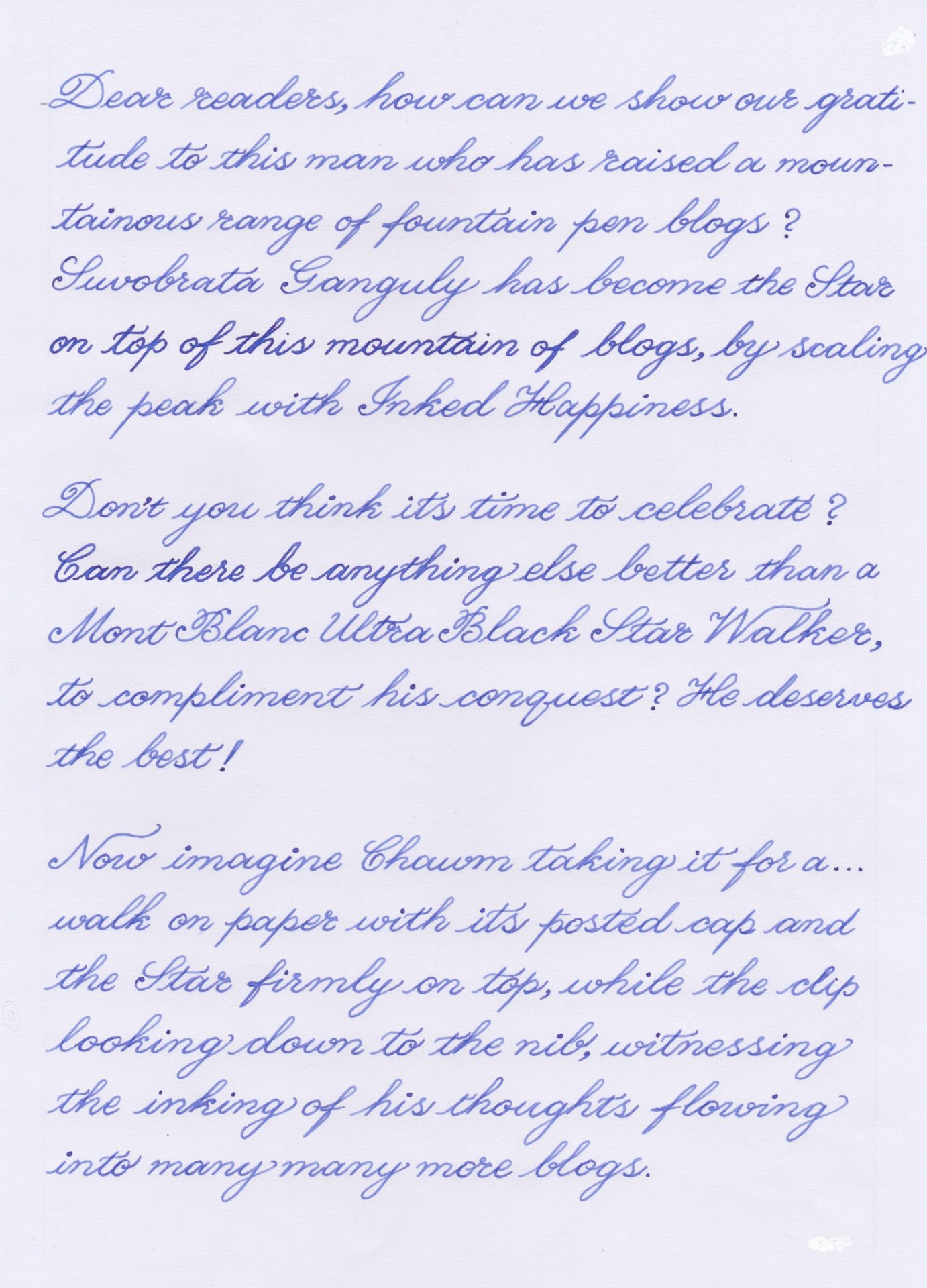 Dear readers, how can we  show our gratitude to this man who has raised a mountainous range of Fountain Pen blogs ? Suvobrata Ganguly has become the Star on the top this mountain of blogs, by scaling the peak with Inked Happiness. Don't you think it's time to celebrate? Can there be anything else better than a Mont Blanc Ultra Black Star Walker, to compliment his conquest as he deserves the best! Now imagine Chawm taking it for a walk on paper with a posted cap and the Star firmly on top, while the clip looking down to the nib, witnessing the inking of his thoughts flowing into many many more blogs!
I have checked out this pen personally for Chawm, it is a well balanced fountain pen with the cap posted in place. As you write with the medium nib, gliding on paper and the ink flows as smooth as butter, the floating Mont Blanc Star makes your heart flutter!
To you Chawm, on behalf of all the readers I bestow this Mont Blanc Ultra Black Star Walker, as you are now christened the Star Writing Balladeer of Fountain Pen Blogs. I know for sure you will enjoy taking it for a walk to continue to ink happiness on paper, as you are the Star Walker Charmer!
sd/  K.C. Janardhan
For more information about the author visit his website: https://www.jsquill.com/