Click Pens never ceases to amaze me. And I say this, after having been a user of Click fountain pens for close to four decades now. That in itself should be a cause for some kind of a celebration – some of my readers were not even born when my initial dalliance with Click pens had originally begun. Why, some were not even there when the initial flirting had, largely unknown to me, bloomed into a full-fledged romance, the forever and after types!
I am saying this for a specific reason, for today, I want to shed light on a particular aspect of the Click DNA and introduce two Click champions from the past. These two champions I speak of, were not only huge commercial successes with a dedicated fan following of happy users, but were also going by the existing technologies of the day (in India at least), far ahead of their times.
And herein comes the point that I want to underscore. Since its inception in 1978, and especially after the young Harsh Gagwani was forced to join the ancestral business, Click has always, its limited means notwithstanding, tried to ride the wave of innovation. The Click Aristocrat or the Click Ebonite Falcon that we are so gaga about, are in fact, just new additions to an already illustrious line of pens that Click has regaled the community of fountain pen lovers and writers with. Collectors among us, will surely agree.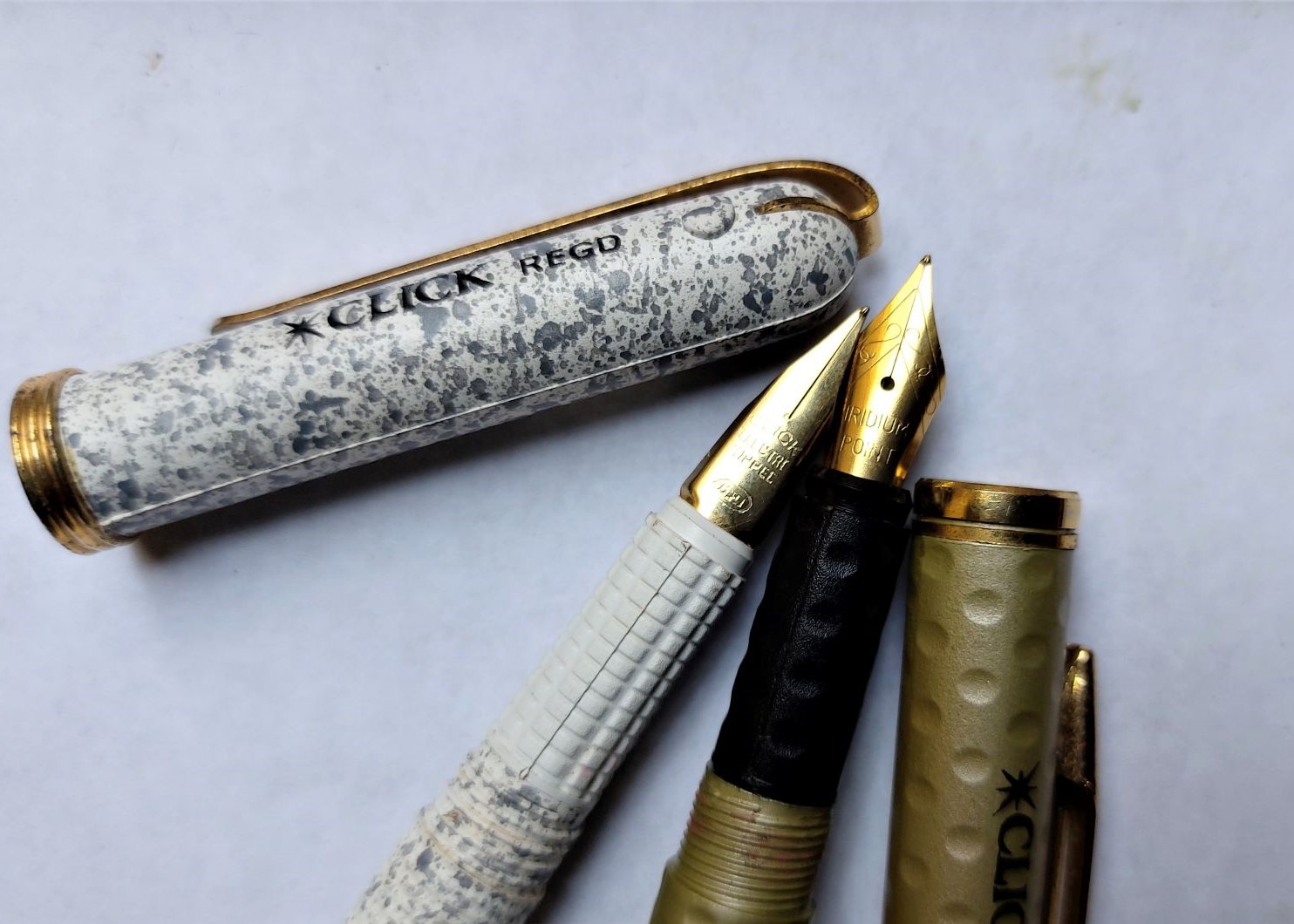 Take the Click Model number 555 for example which was introduced in the market in 1986-87. It was a slim pen, in keeping with the concept of Size Zero considering the fact that it incorporated a dotted design along with a matt finish, was a kind of a texture first in the industry. The model had a two-tone colour scheme – a white cap offset by barrels in different pastel shades. For a market that was notoriously traditional, the 555 was not only a bold step with its tactile feel, but was also a kind of radical in its innovative choice of colours – pastel shades, it is widely felt even today, are too muted for the average Indian's palette, who insists on a colourful, bright bang for his buck!
There was another small touch of uniqueness in the Click 555, which a "noob" may have missed, but had many a connoisseur drooling in delight. It featured the "Captain's Cap" which normally had the same two-colour combination as the pen, which added an additional element to the overall getup of the pen. Originally introduced with both eyedropper and aromatic filling systems, the 555, was a huge hit in its time, not to mention, the instrument of choice of the dandies of the day. It had an accompanying ball point pen which offered both the refill options of jotter and VT.
However, much before the Click Model 555, there was another model that was as successful if not more – the Click L2, which was introduced in 1982-83 or thereabouts. As a matter of fact, the Click L2 had created quite a storm in the market with its distinct shape and matt finished body. Old timers distinctly recall their first experience with the Click L2, hearts filling with pride as they caressed an Indian pen that looked and felt every bit "phoreign". It will not be out of place to mention here that those were the days before economic liberalisation, rationing was the norm and smuggling ruled.
The Click L2, was also the pen that had introduced the concept of spray colouring and could justify every reason that had made it into the rage it was then. The Click L2 also had its ballpoint beaus, which too were available in jotter and VT filler versions.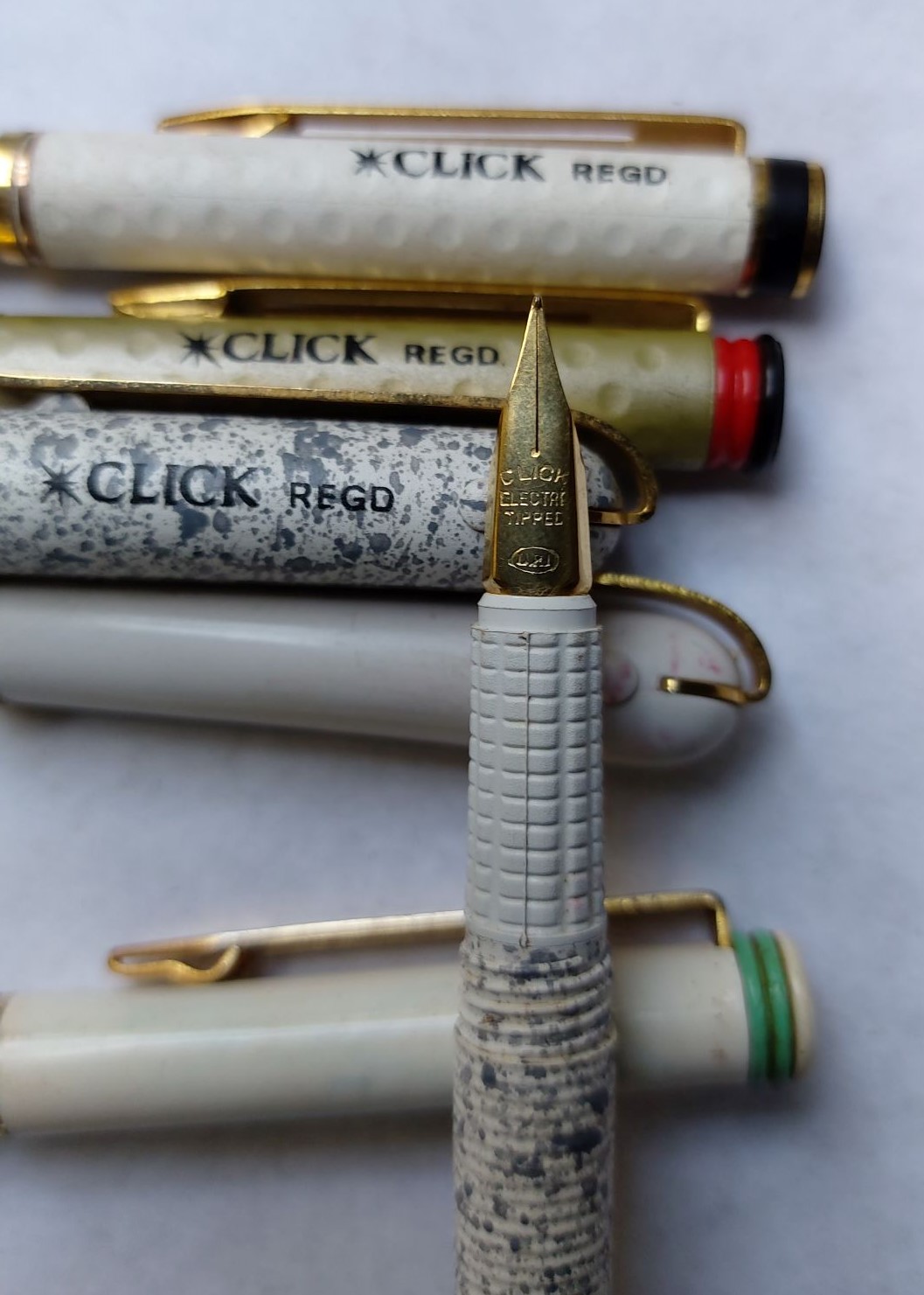 Click, like all mass producers of writing instruments everywhere in the world knew it had winners in its hands in both the L2 and later the 555, and had done everything to extend their home-runs by introducing a number of variants. As is the norm, the tinkering was minimal but noticeable enough to the serious collectors and connoisseurs to acquire one. However, such a sweeping statement needs to be qualified as in those yonder years, fountain pen collection as a hobby, had hardly sent in its roots. Besides, bot the Click L2 and the Click 555 were extremely robust fountain pens and could justifiably demand the kind of fan following they had, based simply on their ability to perform, and perform well.
For More information, visit the Click website: http://www.uniquepen.in/