Evelina Hristozova of Tibaldi talks pens, pandemics and posterity…
Evelina Hristozova is the spirit that is propelling the legacy brand Tibaldi as it reinvents itself, seeking to keep its date with eternity. With her deep understanding of the consumer's psyche and the intricacies involved in transforming a brand into an icon, she is the right person in the right place – one who, secure in her knowledge about the industry segment (her association with the House of Montegrappa is a long one), is worth watching, especially in view of the times that are far from what one would normally want. Inked happiness caught up with the Madonna of the Penna Stilografica. Excerpts:
Inked happiness: The long-term effect of the pandemic and the lockdown on writing in general and writing instruments – fountain pens in particular?
Evelina Hristozova, Tibaldi:  The long-term effect of the pandemic onto the world, as a whole is still to be known in detail. There are both scientific and populistic projections of what it would be, but I'd rather think gradually, at present and one step at a time, conserving at best our resilience and patience. I suggest to first wait and see the real end of the pandemic. We are not quite near the end, I'm afraid.
This is going to be surely a tremendous period of cleansing & clearance, but I'm curious to meet, to get to know the novelties coming our way. I am somehow optimistic with regards to writing too.
Help me out with this! 😊: Hindu people believed/believe that the hand is a sacred part of the human body, the one that contributes and vehicles man's creative process, while art & creation are divine processes considered to be integral parts of Nature. In other words, through the human hand we are all naturally invited to make part of Nature and creation.
Isn't this a great, centuries-old piece of news?
I would redirect our energy, during lockdown, instead of only worrying of what to expect in the future, to search for inspiration. Re-reading, re-studying and re-writing old concepts till they lead us to new conclusions, projects and plans. Visions.
Paradoxically, our pen-making industry is a sort of a lucky card in this pandemic disaster. We make some of the instruments that are used by the human hand. We can, theoretically or indeed, be proactive more than before.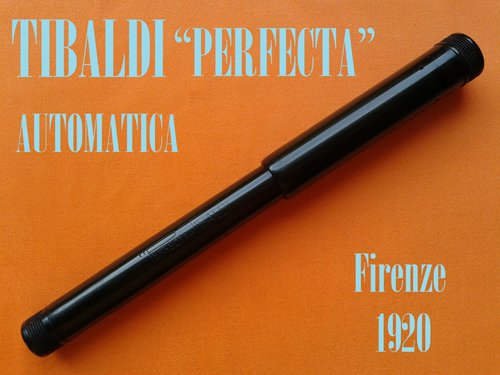 Inked happiness: Like, there will certainly be more automation leading to job losses; more inequality with the multitude becoming poorer and the few becoming richer; more shift to ecommerce (especially for fountain pens) with more brick and mortar stores forced to down shutters. What kind of an impact will it have on fountain pens?
Evelina Hristozova, Tibaldi: More automation at work, the widening gap between rich and poor social poles, ecommerce surpassing traditional retail were all there as trends, the pandemic has just exalted the effect.
On the other hand, people have more time to stay at home, have more time to think, and who says they are not writing more now?
You do not have to buy new pens every day, to feel inspired…. you need just one beloved pen to say it all!
Today, we are less inclined to go for city shopping, so many of the stores that are unable to re-invent will have to close. This is a fact. But I am quite sure that as soon as the world has readjusted, new and better stores will come along. And people will be eager to visit, nostalgic to retain elements from former social life. We are in the middle of a catharsis, getting ready for the "new normal."
Inked happiness: Will the high end – the expensive "decorative" pieces and conversation starters, that are seldom written with and are more accessories, than implements, rule the roost?
Evelina Hristozova, Tibaldi: As you said, "seldom written with"… are we talking really about pens, or just assets?  I prefer talking about real pens – instruments that help us express, lay down ideas, projects and art.
Consumer trends forecasters say that, unlike expected, in crisis times as this one, the market that will retract sensibly is the one of high-end products, while budget-conscious shoppers will widen the range…
We are left with the hope that the forecast is correct enough, and that the new forces will involve the pen industry too.
I personally think that all trends are in constant mutation (that's why they are trends 😊), retransforming and re-emerging, while changing proportions. It all depends on how hard the outer impact is. Rebalancing, for a certain amount of time, becomes the new state of peace, but hardly things just disappear. There is space for everyone.
Inked happiness: Will the middle and lower ends of the fountain pen market face survival threats? Or will it see a thumping return, as young people pick it up as their banner and rally around it in protest against the digital domination, even damnation of their lives?
Evelina Hristozova, Tibaldi: From what I could personally testify so far, young people (so, presumably "small luxuries" buyers) are very attentive indeed to what comes around, I wouldn't call them oblivious of pens.
They are actually quite well-educated consumers and in-the-know professionals, who buy and use their pens with the right hedonistic charge. I really love to see that. There is a healthy amount of curiosity and inventiveness on their part, which is adorable.
Apart from the lifestyle vogue being promoted in the last decade and meant to forge consumerism,
there are new and healthier, in my opinion, trends and words coined by the crises, such as: quarantainment, staycation, escapism etc. These new concepts could also contribute greatly to getting back to writing.
Inked happiness: Many experts have suggested that we use the fountain pen as a catharsis – to fight depression and myriad other mental ills during these terrible times – what are we to do, especially the ones who had paid heed to them, once we are allowed to go out, with or without our jobs?
I think we have exchanged ideas on this matter before. I see pens as a projection of one's personality. Pens-this is us! So, no wonder gurus suggest that we write as a means of healing.
Like all humans, objects possess their own vibrational levels too. They take us up, and they take us down. I'd keep just less holistic, saying that we should keep our pens dear and close.
We should dispose freely with them during hours of work or hobby, as long as they help us vibrate higher daily.
Inked happiness: We had the Roaring Twenties of the twentieth century – and Tibaldi was naturally on the roll. A hundred years on, is the Perfecta in its latest avatar, Happy?
Evelina Hristozova, Tibaldi: It is! Communication is precious, when meaningful. The pen as a product category is the perfect tool of personal expression and exchange between people. Fortunately, I receive evidence each day of people who are happy with their new Perfecta and need to tell us so! They share with us their written thoughts, manga sketches, visual poetry art, and all of this through other technological channels. So, you see things can coexist, and do so peacefully. 😊
Inked happiness: And to end on an optimistic note – the Renaissance did emerge from the Plague the last time around. What is Italy, which was its cradle thinking this time around? Is there hope yet? Is Tibaldi ready to take the leap of faith and lead us, the faithful fountain pen heads to the promised land of ink and paper?
Evelina Hristozova, Tibaldi: We want to believe so. We will try to do this cautiously and with respect to the rest going on around us. Cohesive malleable existence, in line with what the times call for. Catharsis towards a new world.
For More information: website: https://www.tibaldi.com/en/home
You can also check out the Instagram page: @tibaldi.official