Jamini Roy line of inks –  a one of its kind tribute to the master and his art is being created by Sulekha.
The yearning to reflect the voice of the people, to discover the "idiom of its own" has been a constant struggle for Sulekha, since its inception as a protest against the British Raj in 1934. Initially, its challenge was simple – to create a Swadeshi ink that the Mahatma could write with, one that would defy the British and prove to the world that yes, we Indians were no less. It had soon swam to the deep end of the pool and competed directly with the big and the mighty of the ink world, to hold on to its own. Import of inks was never directly restricted in independent India and to obtain the status of numero uno, Sulekha had to always compete with the local manufacturers on the one hand and the global majors on the other. That Sulekha was no pygmy among the global brands can be gauged from the fact that its exports were always substantial and it addressed demands from as far as Australia, Europe and the Americas.
But the question had remained. How to create a niche that Sulekha could call its own? How to differentiate its products in terms of quality and character? How to discover the "idiom of its own"? Solvent S-100, the magic ingredient that helped clean the feed as it wrote, was one such innovation, the other being Sulekha's conscious and continuous effort to encourage the enrichment of Mother Tongues in the markets that it primarily operated in. Sulekha was never a uni-dimensional commercial enterprise, it was much more: the spirit of Swadeshi, example of self-reliance, practitioner of ethicality, purveyor of illumination, facilitator of equality through education.
Today, after a hiatus of three decades,  Sulekha is making a comeback and the big question still remains as it searches for voice, to establish its identity, to communicate its core values. And this is where the Sulekha story merges with that of another icon of Bengali sensibility – Jamini Roy.
Jamini Roy (born 11th April, 1887 in Beliatore village, Bankura), as we all know, was a Padma Bhushan recipient and is one of the nine masters whose works have been recognized by the Government of India as art treasures due to their artistic and aesthetic value. Having passed out from the Government Art College in Calcutta in 1954, and after a brief period of doing commissioned work, Jamini Roy began experimenting with a folk art form, often loosely referred to as the Kalighat Pot paintings and dedicated the rest of his life seeking his roots in the spirit of rural Bengal, only to pour out his feelings on his canvases in his unique style for posterity. Like Jamini Roy, Sulekha too has always sought to reestablish its soul-connect with rural Bengal, to seek its raison dêtre in the simple expressiveness of the purity of its art.
Jamini Roy, it is worth mentioning here, restricted his palette to seven colours, abhorring chemical dyes and preferring naturally occurring earth and mineral colours. Sulekha, as its tribute to the artist has taken up the challenge to recreate these six colours (the seventh being white is left out) in a line of inks, remaining true to the artist's intention of expressing his feelings in naturally occurring hues. Towards this end, Sulekha has sought permission from the legal heirs of Jamini Roy and will be using the images created by him. The necessary papers were signed by Sanghamitra Roy (representing Jamini Roy's legal heirs) and Kaushik Maitra (the MD of Sulekha Works Limited) in the presence of Arkamitra Roy and Suvobrata Ganguly. The new line of inks will be launched sometime in October 2022 to coincide with the biggest festival of Bengal, Durga Puja.
"We have received permission to use a number of images created by Jamini Roy and are contemplating a line of inks and accessories aimed at the young, not only to inculcate in them the habit of using sustainable, nature positive products; but also to expose them to the rich tradition of our art forms, to masters like Jamini Roy, whose works may be ubiquitous but are not known or appreciated the way we as a people should relate to them" said Kaushik Maitra. "Through this tribute line, Sulekha will seek to reinvent; redeem itself as it were, to reach for its roots".
"I am so happy that such a tribute line is being conceived in memory of Jamini Roy" said Sanghamitra Roy. "I am happier still that the initiative is being taken by Sulekha with which are intertwined many of our childhood memories. I wish the enterprise all success and hope that it will achieve its stated aim of etching both the Jamini Roy and Sulekha names in the public consciousness".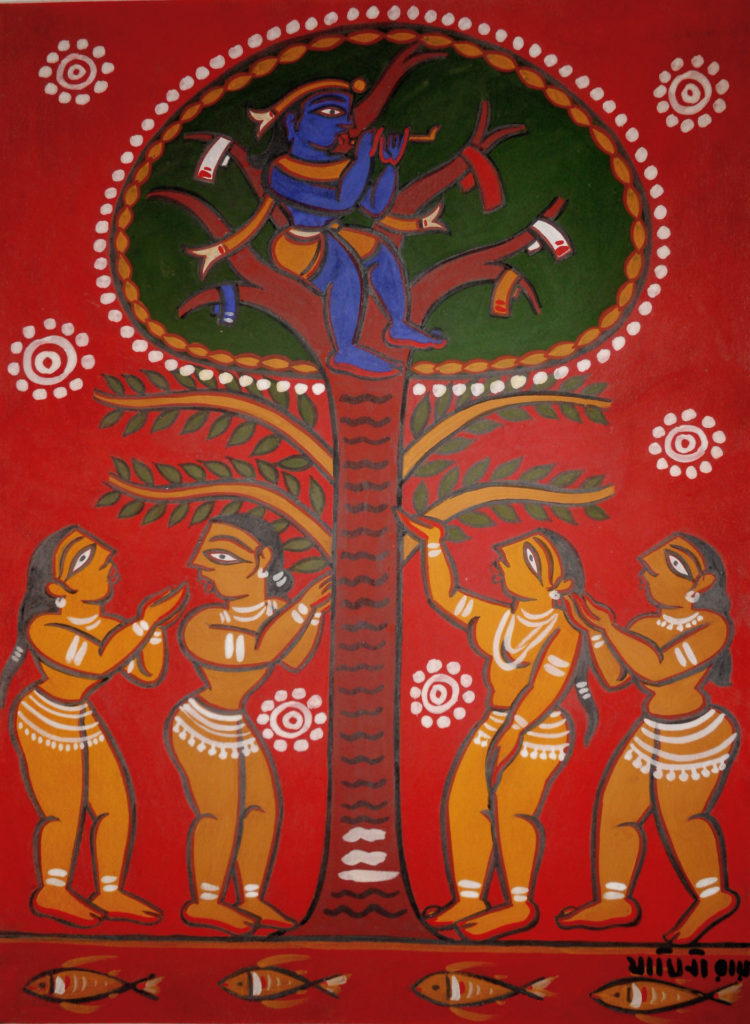 It will not be out of place to highlight another very important aspect. Jamini Roy's life and works were a constant struggle to relate to his roots through his work, his unique style being the nectar that had surfaced due to this churning of the oceans of his creativity. He had once famously said "It was not possible for me to paint in European way, nor in Chinese or Tibetan…. because I was not in their milieu." Today, when Sulekha's inks are increasingly being measured against yardsticks of Chinese, Japanese or European inks, is Sulekha silently screaming "I am not in their milieu" by looking inwards?
For More information: www.sulekhaink.co.in