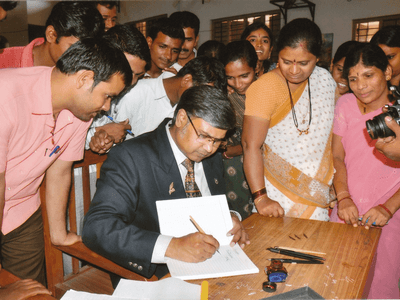 K C Janardhan is a living legend. That said, it is so difficult to ascribe any one reason to labelling him thus, for he has achievements by the ink pots – so many, that whatever accolades are heaped upon him will fall short of honouring all that he has achieved.
He is India's most celebrated calligrapher. Someone who has been there, written it all, with his own hands. Yes, he is the one man who has the distinction of writing his daughter's birth certificate, his own passport and his father's death certificate, not to mention innumerable documents that are treasured in different parts of the world.
K C Janardhan has tirelessly worked towards popularising the art of calligraphy over the last few decades – as a teacher, scholar, published author, spokesperson, in every possible avatar. He is now busy building his magnum opus – a museum of handwriting, lettering calligraphy & writing instruments, the only one of its kind in the world, in Bangalore.
K C Janardhan has been variously described as an anthropologist, artist, author, autodidact, aviator, calligraphy connoisseur & maestro, cognoscenti of handwriting, corporate trainer, cross-cultural understanding enter-trainer, educational reformer, entrepreneur, geographer, graphologist, life Coach, mentor, mimicry Artist, miniature model maker, marksman, orator, professor of management, professor of penmanship, questioned document examiner, raconteur, sculptor, sociologist & social reformer… suffice to say, I have nothing to add, there is nothing that he has not achieved already!
In an exclusive interview, K C Janardhan talks to www.inkedhappiness.com about his life and work – calligraphy, fountain pens and the 1st India Pen Show to be held in Mumbai on the 2nd and 3rd of February 2019.
Q1. Is the art of calligraphy dead and buried? Should we inculcate in our young the need to have good calligraphic skills? Why? When is the right age to start writing?
K C Janardhan: Let me begin by assuring you that Calligraphy is not only living but is thriving. An art form like calligraphy can never be dead, like time itself, calligraphy is forever, it is eternal.
As for inculcating the practise of calligraphy in our young, my life has been dedicated towards this end as I have always fought to foster the habit of not only writing but writing well. It is a fight that is on and I hope someday you'll join us, and the world will write as one!
The right age? Anyone with the passion for beautiful writing, who is mature with life experiences to understand the nuances of the art form with the spiritual dimension. Just like there is no age for doing things right, for smelling the flowers, for appreciating beauty, for falling in love – anyone, anywhere, anytime, can take up the pen and begin the crusade. There are some basic disciplines to master and lay a strong foundation to progress from day to day handwriting to Lettering with an understanding of typography and spiritual dimension to attain the level of calligraphy.
Q2. What about calligraphy as an art form? What are its need and efficacies in these days of electronic word processing and Photoshop led designing?
K C Janardhan: Carbonated, fizzy drinks have been a rage around the world – but have they, can they replace mother's milk? Electronic word processing is convenient, there is no way of denigrating it or even of denying it its efficacy. But that is not to say that it can "replace" the sheer joy of putting pen on paper. Calligraphy, as you have rightly said, is an art form – keying in letters is not.
Q3. In the context, how important is a Fountain Pen? Is it a mere relic of words past?
K C Janardhan: The pen they said, is mightier than the sword. The fountain pen then, is the mainstay of civilisation as we know it. Yes, less people wield it today than there were in the past, but that cannot rob it of its importance as a tool for communication, as a key player in the dissemination of thoughts and ideas. It was there in the past, it is here now in the present and I am sure it will continue to be used in the future as well. Its importance may change over time, but that will be in degrees, not in terms of direction.
Q4. How do you explain the sudden burst of interest in Fountain Pens? Is the surge in demand a fad? A flash in the pan? Or is it a part of a larger scene – of people rebelling against the digital domination of their lives, a kind of digital detoxification?
K C Janardhan: Every generation seeks to look back and nurture the legacies it receives from the past, from its ancestors. That way, every new generation seeks to renew its bonds with the pen and ink – embrace the pleasure of writing with one's own hands, bask in the glory of seeing their thoughts take the form of words even as the ink dries, preserving their ideas for posterity. Seen in this context, what you refer to as a "sudden interest" is nothing sudden, it is following a cycle that is eternal.
Terming the act of seeking refuge in the fountain pen as a fad would be wrong as many people are, literally, taking up the fountain pen as they realise the advantages of writing with one – for one it allows you to work at a pace that allows the mind to distil the thoughts. Secondly, there are n number of pure psychological reasons that make the fountain pen a natural ally in the war of words… I could go on and on, but I guess, your question about digital detoxification is a rhetoric one and would thus like to rest my case.
Q5. How does the art of handwriting and calligraphy feature in this changed scenario?
K C Janardhan: Many young people are showing great enthusiasm and are taking up calligraphy with the dedication and seriousness it deserves, which I find is extremely heartening. On the corporate level too, the interest that is being shown these days is pretty encouraging. However, a lot more needs to be done and considering our rich heritage and long tradition in the field, I feel we have miles to go before we sleep.
Q6. What role should the 1st Indian Pen Show (February 2nd and 3rd, 2019) play spread awareness about Handwriting and Calligraphy?
K C Janardhan: I am very, very excited about the 1st India Pen Show while it is a step in the right direction, I hope and pray that it is the bud that will bloom over time, and act as the harbinger of everything that is good, everything that we hold dear – fountain pens, inks, accessories and of course, handwriting, lettering & calligraphy.
An event of this magnitude was long overdue in India and I must take this opportunity of all of you associated with it for making it happen. May your tribe – of fountain pen aficionados, increase!
Q7. How do you, as an acknowledged domain expert, propose to use the platform to spread word about the good work that you are doing?
K C Janardhan: I want to do my bit, like I have been doing from ever since I can remember, to spread word about handwriting lettering & calligraphy, to present the art to the discerning and to encourage people, especially the young ones, to take it up.
Q8. What will be your message to the new comers and those who want to take up handwriting and calligraphy? Message to the Fountain pen lovers?
K C Janardhan: Take up that pen and write. Let the letters take you to the past. Let the letters build bridges of words to the future. You have nothing to lose but your boredom and a whole new page to write!
Going back…it was the advent of Guttenberg's press that first created a sense of fear and a threat that writing would become a thing of the past. People thought that anything you wanted to convey would now be printed and yes, numerous books were printed and it spread literacy reaching out to millions, who became educated and on the contrary, to convey ones thoughts – the quill and fountain pen remained the personal tools to record them rather than being relegated to a thing of the past!
Today I see a similar situation in the digitised world. Digitisation has helped in creating greater awareness and educating millions across the globe about the word "Calligraphy" than ever before and many digital tech savvy youngsters have taken it up like "a duck to water."
For More information: