I am Muhammad Ilyas Khan. I belong to Southern part of Khyber Pakhtoon Khwa province (Distt. Lakki Marwat). I am a retired bureaucrat and am now settled in Pak Capital – Islamabad. I speak, read and write in more than seven languages including English, Arabic, Persian, Urdu, Punjabi, Dari and Pashto. I was a "pharako" boy ever since my early childhood and, hence, I don't remember wasting my time in non-academic activities even in my young age. I am a writer, researcher and technical editor. I have more than 20 well researched books and more than 60 research papers on my credit.
I started collecting books and pens from my school days in 1960s when there was no internet, no on-line platforms for sale purchase.
Inked Happiness:  How popular are fountain pens in Pakistan? Do people still like them? How many people in a hundred / thousand use them now, as opposed to ball point / gel pens?
Muhammad Ilyas Khan: Fountain pens are quite popular in Pakistan especially in school, college and University students. Until 2000s writing with fountain pen was compulsory for students above grade/class III in primary schools until universities. Thereafter use of ballpoint pens was allowed in all educational institutions.
But people have now begun reverting to fountain pens.
You also see doctors, nurses and officers in government institutions, corporate bodies and executives in business corporations using fountain pens. I can't say for the percentage of people who prefer using fountain pens but definitely the popularity of fountain pens in every age group on the rise.
Inked Happiness:  Where can we learn more about the legacy of fountain pen and ink making in Pakistan? Are there any old entities still making pens and inks in Pakistan?
Muhammad Ilyas Khan: Fountain pen making companies have their well-established websites. Also, stationery stores and online stationery traders regularly list, for sale, locally made fountain pens and inks. Dollar, Piano, Kidco, Nafees, Bahadur, Dux and countless other companies mass produce pens and inks.
Dollar, Nafees Piano, Kidco and Shark are the best locally made inks and there are many others.
Inked Happiness: How vibrant is the community of fountain pen and accessories hobbyists and collectors in Pakistan? Are young people interested in the hobby? How can we initiate more exchange of ideas and views with these groups?
Muhammad Ilyas Khan: Very vibrant. But most mature people like vintage pens as opposed to modern production pens. While school, college and university students use locally mass-produced brands of pens.
There are FB pen groups, FB pen pages and a lot of WhatsApp pen groups. Vintage pen supply comes both from our borders with Afghanistan and Iran as well from Europe.
There is a sizable community of hobbyists and pen collectors in the country. Such Pak national hobbyists are part of almost all pen clubs and groups on FB and other hobbyist websites such as 'fountainpennetwork.com' etc.
Yes, young people are very much into the fountain pen hobby. Interacting with them are through cross-border hobbyist websites and free for all FB pen clubs and groups.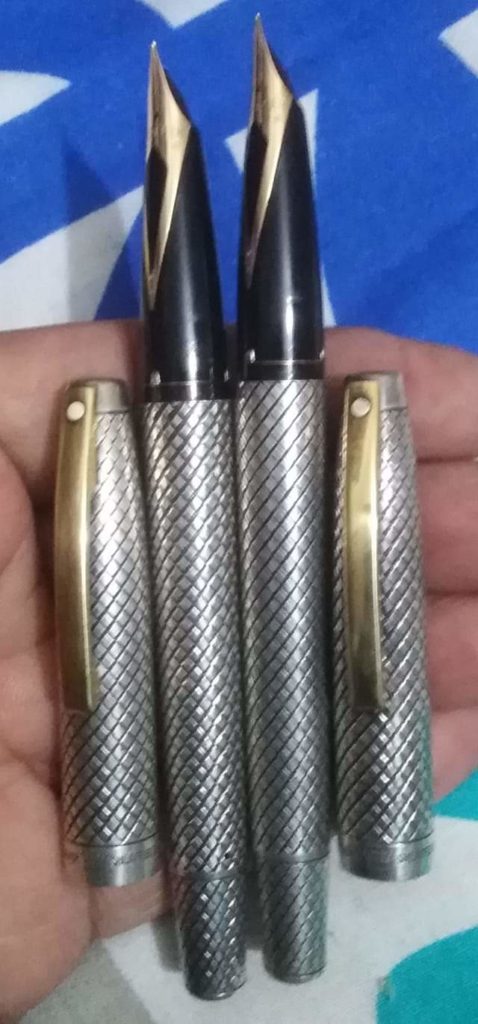 Inked Happiness:  How is the market for vintage and antique pens in Pakistan?
 Muhammad Ilyas Khan: All major cities have antique malls and vintage stores where antique and vintage pens are also sold.
Though I buy some of my supplies from eBay, the bulk of my vintage pens come from Peshawar (bordering Afghanistan), Quetta (bordering both Afghanistan and Iran) and Karachi – the business hub of the country.
Inked Happiness:  We see with great interest the pictures of collectable pens posted by you. How can we buy from you? What is the general mode of payment acceptable to you?
Muhammad Ilyas Khan: I am not just a pen collector. I am also a pen doctor. Meaning I restore my pens with factory made replacement parts. I can't sit idle until I bring my pen(s) back to their lost glory. I don't care about the costs. I just care about how to bring them back to the condition they may have come, in their times, out of the factory.
I was in the Foreign Service and would spend all my earnings (in hard currency) when posted in Pak Missions in different world capitals on mainly two things:
1) Books.
2) vintage pens.
To a lessor extant I would also spend money on wrist watches and frames for my eyeglasses.
Resultantly I have a very large personal library as well as a very big collection of vintage fountain pens (about ten thousand). My collection of only Parker 51s is currently exceeding 1500 (fifteen hundred).
Unfortunately, I can't ship pens to India. And I am sure same is the situation in India. Unfortunate tension in ties and unending animosity between the two neighbouring nations have created barriers that we can't seem to overcome. Hope the situation will change one day.
I have been to India heading official delegations during my service but wouldn't find the opportunity to escape the surrounding "security" and go hunting for pens especially hand-made ebonite Indian ones. I now enjoy living a retired life.
Inked Happiness: How interested are pen lovers in Pakistan to welcome Indian Pen and Ink brands to your country? Would you want us to facilitate the Indian brands to showcase their products in Pakistan? This will be extremely nostalgic for people who settled in India post partition and are now in the fountain pen / ink business. Sulekha inks for example was originally from Rajshahi, which is now in Bangladesh.  
Muhammad Ilyas Khan: The answer is as in my answer to Q5 above. People are greatly interested in Indian pen and ink brands. But no trade of items except of those agreed upon bilaterally which do not include pens and inks.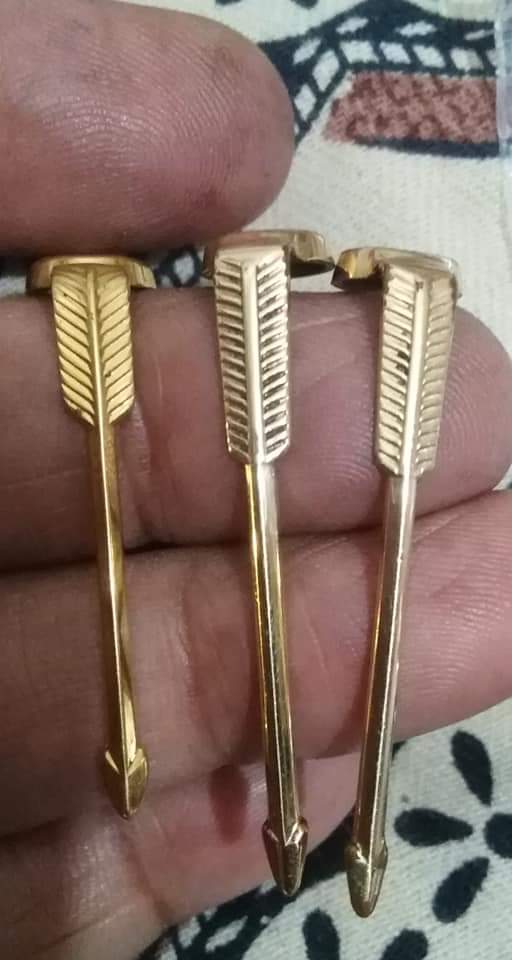 Inked Happiness:  Would Pen lovers in Pakistan be interested in joining hands with their fellows in India and Bangladesh (and possibly from Nepal and Sri Lanka as well) to create a movement?
Muhammad Ilyas Khan: Certainly. If in case they are given the opportunity by the governments of the two neighbouring countries.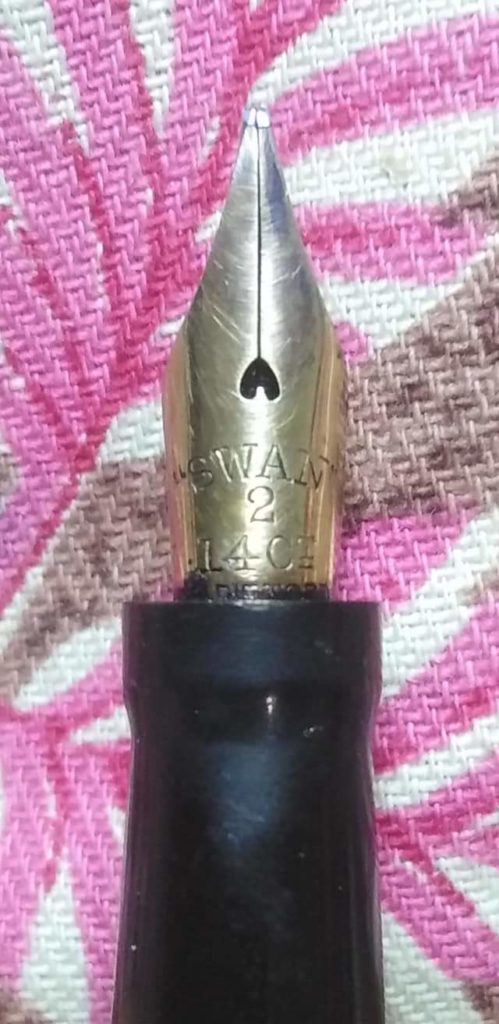 Inked Happiness: What is the state of Calligraphy in Pakistan, especially Urdu calligraphy, which had once reached the pinnacle of creative artistry?
Muhammad Ilyas Khan: Urdu Calligraphy is still flourishing. In fact, it is touching new heights. And the reason is the Holy Quran is still being published by hundred or even thousands of publishing houses after getting it written by hand by Urdu / Arabic calligraphers.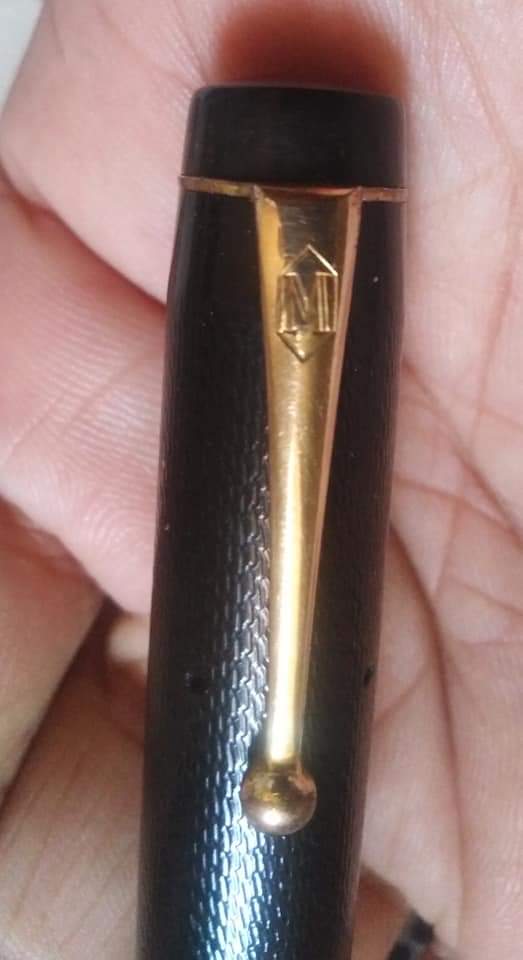 Inked Happiness: Are young people picking up the fountain pen and writing? Are they aware of the fact that the fountain pen is perhaps the most sustainable writing instrument? Do they know about the definite advantages of using a fountain pen as a knowledge aid, as a tool to fight against depression? What are you doing to spread the use of fountain pens?   
Muhammad Ilyas Khan: The answer is 'yes'. Younger generation has been developing love for fountain pens. After a brief lull, in the early 2000s, school, college and university students are now back to using fountain pens.
More and more pen and ink making companies are emerging and sales of fountain pens and inks are on the rise.  Also, love for vintage and antique pens is growing day by day.