Ivano Ziggiotti was born in the province of Vicenza in 1962. By profession a craftsman, now retired, he approached calligraphy in 1996 when he enrolled in the Italian Calligraphic Association and attended numerous courses with teachers of high artistic value and high technical preparation, including Denis Brown, James Clough, Giovanni de Faccio, Gottfried Pott, Anna Ronchi, Klaus-Peter Schäffel and Michael Sull.
Thanks Klaus-Peter Schäffel, who passed on to him the ancient knowledge of Ars Illuminandi, he discovered the passion for the manuscript book to which he devoted himself with love and philological care as regards the use of techniques and materials. His vocation as a craftsman led him to research, through the study of ancient medieval recipe books, the traditional materials and techniques for the production of his own colours and inks which he then used in the decoration and writing of his manuscripts. His codes are not copies of ancient works, but original artefacts made with absolute respect of the ancient techniques, starting from the writing support such as the parchment of ovine or caprine origin, from the use of goose feathers and the use of colours of organic origin from woods, herbs, flowers and berries, of animal origin such as cochineal or of inorganic origin such as minerals like malachite, azurite, lapis lazuli, cinnabar, orpiment, mosaic gold, white and lead yellow, red lead and the vast range of ochres.
Only the last two of his works are almost faithful copies of a model book of Lombard or Gothic letters preserved in the Marziana library in Venice. It is a small paper code in which the author, alas anonymous, drew with a compass, back in 1493, all the letters of this Lombard capital alphabet (this is the name with which the calligraphers identify this style) used to create the wonderful drop caps that adorn the pages of manuscripts, especially in the Renaissance period where the geometric rigor was highly respected by artists of all levels. The intelligent use of the compass has allowed the author to trace the shapes of these letters giving them sinuous and well-proportioned shapes allowing, even after more than half a millennium, the current generations of calligraphers to reproduce them exactly as he thought them, following his instructions written on the pages next to each line.
Works
The four Gospels, the Apocalypse, the Prophet by Kahlil Gibran, the Fables of Phaedrus, the book of Genesis, the Song of Songs, the Qohèlet, a small collection of poems, The Theogony of Hesiod, The works and days of Hesiod and two copies, almost faithful, of the book of models of Lombard or Gothic letters drawn with compasses kept in the Marciana library in Venice, signature it. IV, 186 (= 5606).
Since 2002 Ivano Ziggiotti has taught the technique of gilding on parchment, the cutting of the quill and the production of traditional colours for the art of the decorated book.
Exhibitions
In Mendrisio in the Canton of Ticino in Switzerland, in Florence at the Riccardiana library for an exhibition entitled "Miniatura viva", at Palazzo Cordellina in Vicenza with the collaboration of the Bertoliana library, he exhibited in a personal exhibition in the basement of the Berchesse of Villa Trissino in Meledo ( Vi) and in the eighteenth-century Venetian villa "La Favorita" in Monticello di Fara (Vi) and at the collective exhibition of the "South London Lettering Association" at the St Bride Foundation in London.
Collaborations for thesis
He collaborated as a consultant for some degree theses, in 2007 for a degree in Science and Technology for Cultural Heritage at the University of Turin, in 2009 for a degree in Chemistry for the Sapienza University of Rome, in 2019 for a degree in biology from the University of Biological Sciences of Alessandria.
Here he talks exclusively to Inked happiness, about his art and everything related to it. Excerpts:
Inked Happiness: When did you start calligraphy? Why?
Ivano Ziggiotti: I started doing calligraphy in 1996 following a course of the great Italian calligrapher Giovanni de Faccio. The style was uncial. I immediately fell in love with this discipline and have never stopped practicing it since.
I have always been fascinated by calligraphy and from an early age I admired manuscripts both for the written and decorative part. I have always had a passion for "handmade" and the manuscript in Italy means "handwritten", therefore it was destiny that I would undertake this path.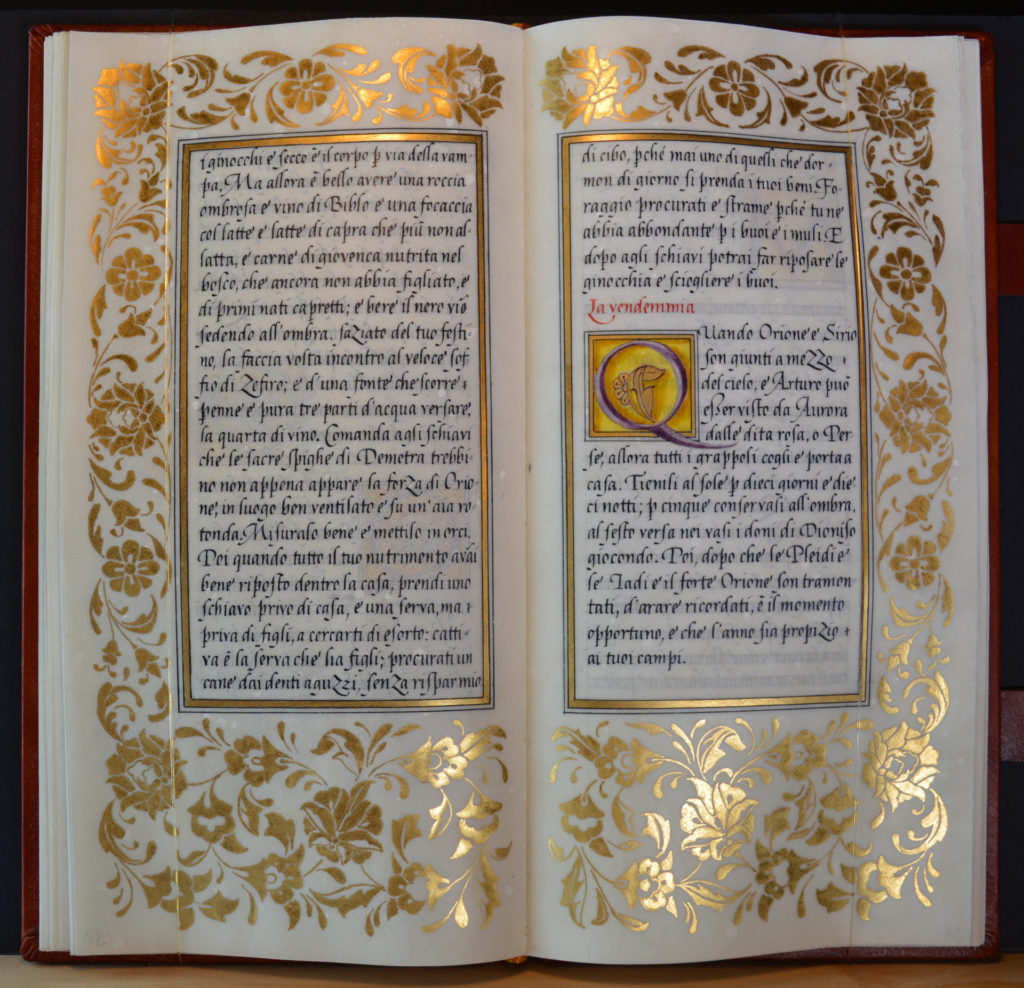 Inked Happiness: How did you develop your unique style, especially in the form of illustrated/drawn books, examples of what mesmerises us in the social media? How long did it take you to reach the level of mastery you have in this art form?
Ivano Ziggiotti: I started dedicating myself to the manuscript book in 1999 by transcribing the four Gospels in texture style, but once I finished writing all the text, I needed to learn how to decorate the pages and it was following a miniature course, organized by the Italian Calligraphic Association, that I learned many secrets of this art. The teacher was Klaus-Peter Schäffel, a German illustrator who works in Basel in Switzerland.
After the beginning in which I copied the ancient style for my books, I decided that I had to follow my own path, always trying to be coherent between the calligraphic and decorative styles without mixing styles that had nothing in common with each other, identifying instead, shapes that harmonized with each other, even drawing from styles far from my world. This can be seen in my last manuscript "The Works and the Days" of the Greek poet Hesiod of the eighth century BC, where I merged the chancery style calligraphy, that is Italian, with a decorative style coming from the Middle Eastern school typical of Turkey – West and East that meet. The same also applies to my other work, the "Genesis" in which I merged elements from the three monotheistic religions, the Jewish, the Christian and the Islamic. From the Hebrew one I took the typical form of the Torah, that is a form that can be extended in its entire length like a scroll even if in truth my book can also be leafed through like a normal book because its shape is a "leporello", so we call it in Italy a book folded like an accordion. This form allowed me to imitate the Torah as well as the layout with rectangular columns. From the tradition of the Christian book, I took the style of the "mise en page", that is, the decorated initials, the rubrications, the writing in red that indicates the beginning and end of a chapter or other reference notes, and the calligraphic style. On the other hand, I took the decorative style from the Islamic world. In all this, I didn't ask myself which style they belonged to or even from which historical period all these elements came, what was important for me is that they harmonize with each other and the result seems to me to have come very well. I have looked at thousands of ancient books, in the library from life and online, that's where I draw inspiration, but also from other forms of decorative figurative art, I let myself be seduced and expired by everything that catches my attention.
This art is refined with frequent practice and dedication both in the form of manual exercise, and also in the form of observation of works by other greats of calligraphy and miniature.
Inked Happiness: How long does it take to design/illustrate an average book? How many have you created so far? Any interesting features about the process / your art form that you would like to share with our readers?
Ivano Ziggiotti: To create an average manuscript of 100 – 120 pages with a format of 13.5 cm by 21 cm it takes about 500, 600 hours without taking into account the time used to produce the colours. I only use traditional medieval colours. Apart from those that I cannot produce myself such as lead-based colours for which the use of high-temperature ovens is required, all the others are made by myself following ancient recipes. I use colours belonging to the mineral, vegetable and animal world.
So far, I have produced about ten books in about twenty years, but calculate that for some I have also worked on them for two or three years.
Inked Happiness: What are you doing to ensure that your experience is passed on to future generations? Are there enough young people in your country who are interested in calligraphy?
Ivano Ziggiotti: Thanks to my association, which I mentioned earlier, I hold courses on gilding techniques, the production of traditional colours and the cutting of goose quills. In Italy there is a small revival of calligraphy and many young people approach this art attracted above all by the world of graffiti writers. They attend traditional calligraphy classes and then apply it to this modern way of doing calligraphy which I find very fascinating. Others, on the other hand, apply calligraphy to create shop signs, logos for clothing brands or books or record covers or to write invitations for a wedding or special parties. Young people want to personalize their work, they are tired of drawing on computer calligraphy fonts.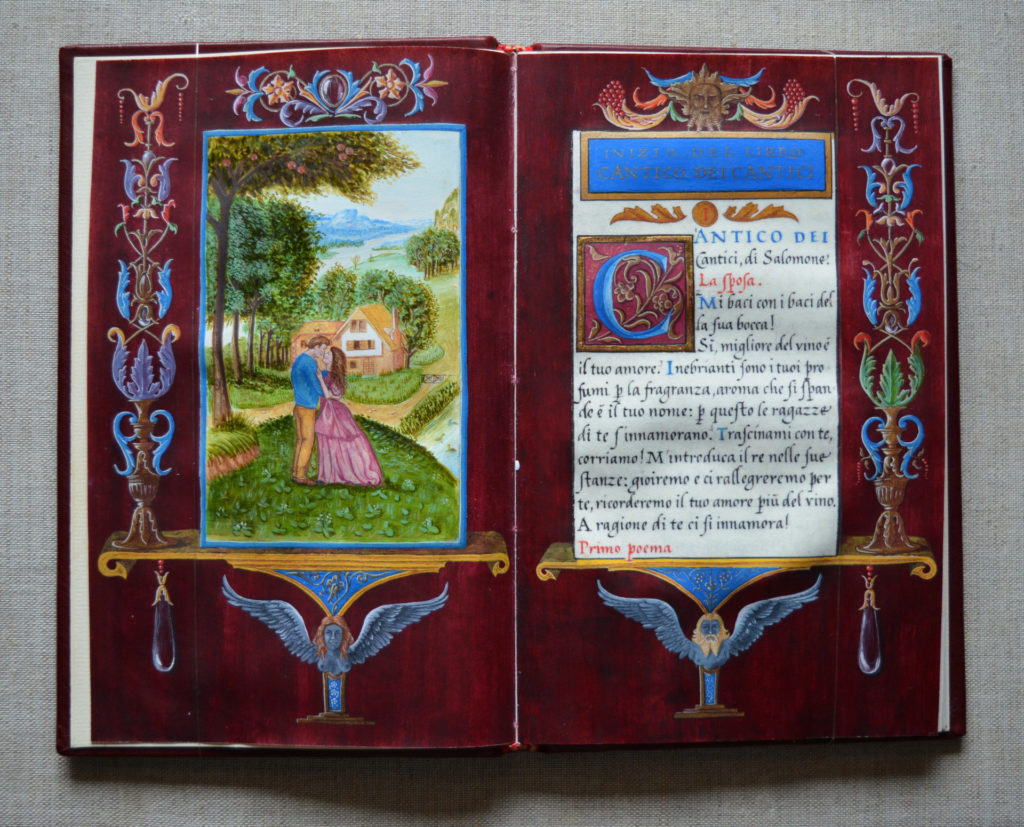 Inked Happiness: We all know that calligraphy is a deeply divine exercise, requiring as much physical work as it requires spiritual and intellectual involvement. Perhaps it is one of the reasons why calligraphy in antiquity was so concentrated in religious cloisters, earning the patronage of the church and the kings of yore. Are the church and state doing enough to ensure that calligraphy continues to be the medium of enlightenment?
Ivano Ziggiotti: Unfortunately, Western calligraphy in recent decades does not have this spiritual and mystical vision that it does in the East, however many Western calligraphers are going in this direction. They understand that writing is good for the soul, it regulates the heartbeat, synchronizes the breath and lets you enter a very deep state of meditation and concentration. It happens to me, above all, when I transcribe sacred texts. I am not ashamed to say that while I was transcribing the Gospels, a sacred text for us Christians, I touched upon the mystical crisis. I could not think of anything other than putting myself there to write and meditate, my whole being was serene, blissful. It was an experience that marked me very positively and that is still repeated even though I am transcribing less important texts. I always choose texts with an important ethical and moral content, for me a book must not only be beautiful from an aesthetic point of view, but must contain, above all, an important message for all of humanity.
The first Christians, in the second century or so, adopted a new form of writing to transcribe sacred texts, the uncial, which derives from the Greek calligraphic form with which the first Gospels were written. This is because they considered the Roman forms of writing not worthy of being used to write sacred texts, this style lasted until the seventh eighth century evolving into various forms and styles within the monasteries scattered throughout Europe. So, I believe that in past centuries writing and spirituality were also part of the same divine project in Europe. The State and the Church in this sense are doing nothing, everything is in the hands of each of us who loves and understands the importance of writing from an aesthetic and practical point of view. Writing by hand, as science says, develops the intellectual abilities and functions of the brain and the brain, then, is ourselves.
In my courses I teach first of all respect for the material we are using, respect for Nature which has often given us these things for free. I teach them not to waste things, colours, parchment, paper and ink because, even if they are inanimate things, they still have a history and for some of them even thousands of years old like the minerals we reduce into impalpable dust to then give it new life, new forms, a heavy stone like lapis lazuli can become an ethereal and blue sky or a warm mantle that envelops a body. Yes, I believe there is a lot of Divine in what we do in this sense.
Inked Happiness: How has the relentless advancement of digital media influenced handwriting? Will this "digital overwhelm" lead more young people to pick up the pen / brush to use calligraphy as a powerful weapon, as a solace leading to digital detox? What are you doing to spread the word?
Ivano Ziggiotti: As I said earlier in answering the fourth question, the world of digital media has brought many people closer to calligraphy. Thanks to them, many of us have been able to access images and videos of more or less skilled calligraphers, impossible to find before the invention of the internet. It has allowed many people to discover this world of which little was known and to stimulate their curiosity. Thanks to these means, my association has also seen an increase in its enrolment in courses due to ease of communication. There is a good and young Italian calligrapher, Luca Barcellona, ​​who has done a great job in this sense, bringing writing from the street to the classrooms thanks to his social channels. He is a "magician" of the brush, he uses flat brushes or brush pens with a skill that did not exist before in the West. He mesmerized young people by leading them to seriously study ancient forms and then use them with these new tools, creating authentic works of art. Yes, he teaches calligraphy with an oriental approach, that is, with the meditation and spirituality necessary to face this gift which is writing. Obviously, these works lead to detoxify young people from digital because, as I said before, writing is a medicine for our soul and our mind. Not only that, calligraphy is also physical fatigue and this helps young people a lot to understand that life gives you nothing without effort.
To spread the word, I try to show what can be done with our hands without using them only to press the keys of a computer or a mobile phone and I do it using their own weapons, that is the computer and the mobile phone by posting my works.
Inked Happiness: What advice do you have for people who are just starting to write by hand, lettering and calligraphy?
Ivano Ziggiotti: I advise them to attend good masters, to look at many pictures of famous calligraphers, of proven ability and to memorize them so as to get away from the many charlatans who are on the internet who teach calligraphy after having attended only one course thinking they are the top. There are very serious associations, I recommend enrolling in their courses and attending them with passion, I remember that calligraphy is a discipline and like all disciplines at the beginning there is a lot of frustration because there are many rules to respect (excellent exercise for many young people who do not know what it is to respect the rules) and the results are sometimes slow in coming, but in the end the satisfactions transform the frustrations into solid foundations on which to build sumptuous buildings.
Calligraphy and lettering are children of the same mother, we often find them together on the same page. The drop caps are the product of a deep lettering that we find associated with the calligraphy text. I am studying a model book of 1493 kept at the Marciana National Library in Venice where the Lombard capital letters drawn with a compass are represented, pure lettering, it served as an example to draw the initial letters that decorated the Italian Renaissance manuscripts between the fifteenth and sixteenth centuries.
I conclude with this sentence written by a monk of the abbey of Corbie in France in the eighth century about the end of a manuscript: "Dear reader, when you turn these pages, try not to ruin the writing with your fingers. No one knows better than the copyist what a difficult job is, it is so sweet for the calligrapher to draw the last line as it is for the sailor to return to his home port. Only three fingers of the master held the quill, but his whole being suffered from the work".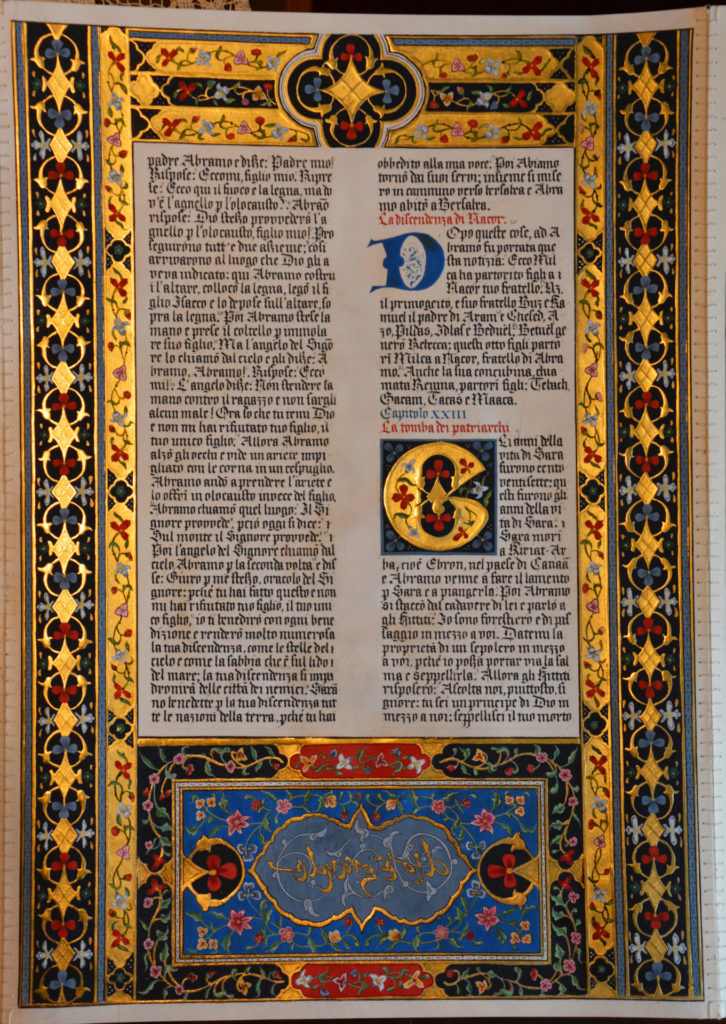 Inked Happiness: Anything you would like to communicate to our readers.
Ivano Ziggiotti: I would like to tell the readers that everything we do will be judged, it represents our being, our essence. If we want to be useful to others we must learn to appreciate and share what good comes from our hands and our behaviour because the example, if positive, is always the best of teachers, but it can also be the worst if negative. You, which of the two masters do you want to be?
You can check out Ivano Ziggiotti's work here:  
ziggiotti ivano (Ziggy Stardust) | Flickr