Oscar Schindler (1908-1974). German industrialist. Opportunist businessman. War profiteer. Nazi party member. During the World War II he outwitted the Nazis to save more Jews (some put the number to above a thousand) from the gas chambers and certain death than anyone else. He did this by primarily employing them in his enamelware and ammunition factories.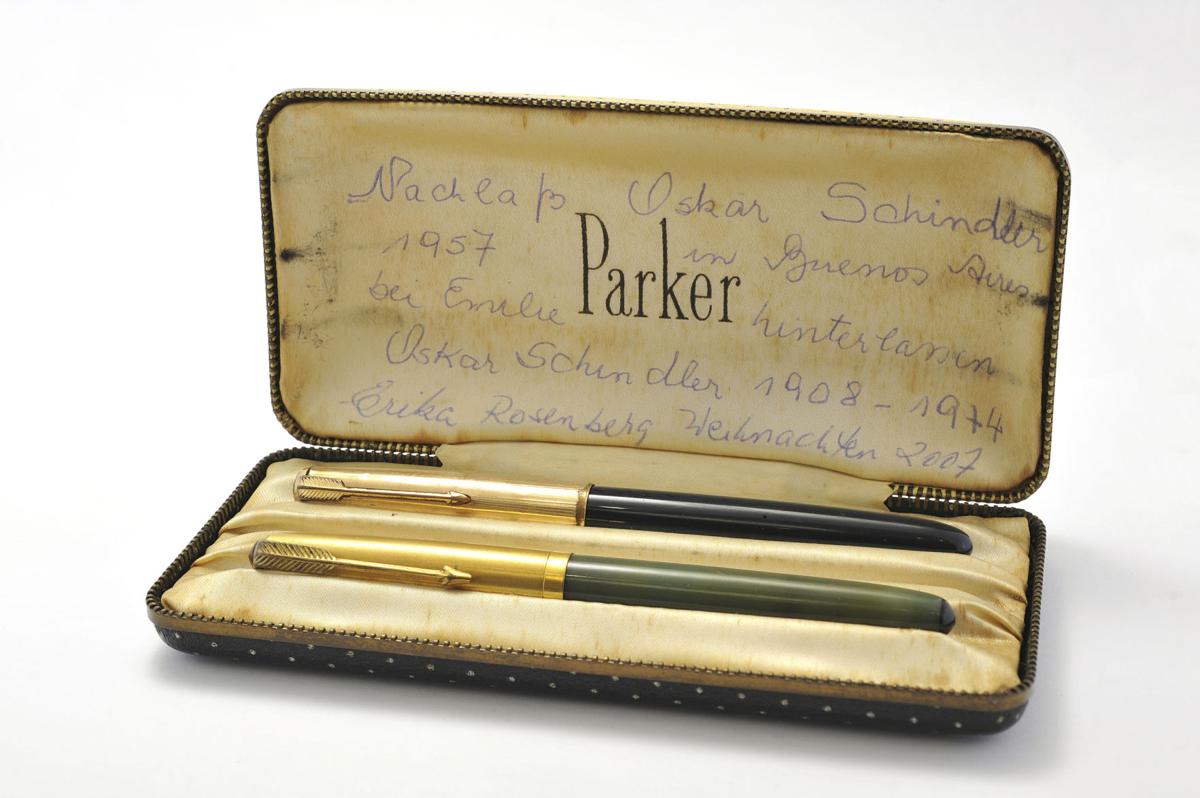 Oscar Schindler spent his all to bribe and pay-off the dreaded SS, even risked his life to help the hapless souls. He may have lost millions in the process, but gave the Jews a second life, walking through the blood drenched gore of the Holocaust – one of the most notorious periods in human history, his soul unsullied, his humanity intact. He pulled off his daring acts of the most humane kind with the aid of the same "talents" that made him a so-called war profiteer – his flair, his glib talk, his ability to bribe and the capacity for grand gestures.
Schindler's Longines wristwatch, a compass (that he and his wife used as they fled the advancing Red Army in 1945) and several other items of personal use are up for auction. What is of great interest and importance to us fountain pen lovers are two Parker fountain pens that are there among the items.
These fountain pens are in a hinged Parker case, annotated inside the cover in ballpoint by Emilie Schindler's biographer Erika Rosenberg, "Nachlass Oskar Schindler 1957 in Buenos Aires bei Emilie hinterlassen. Oskar Schindler 1908-1974. Erika Rosenberg Weihnachten 2007. [Bequest of Oskar Schindler, left in 1957 in Buenos Aires with Emilie. Oskar Schindler 1908-1974. Erika Rosenberg Christmas 2007."
The auction is being conducted by RR Auction of Boston and the whole lot is expected to fetch upwards of US$ 25,000.
Ideas for a film about the Schindlerjuden (Schindler Jews) were proposed as early as 1963. Poldek Pfefferberg, one of the Jews saved by Schindler had made it his life's mission to tell the story of Schindler. Steven Spielberg directed the film and yes, we are talking about Schindler's List!
More information about the auction can be found at: https://www.rrauction.com