Football, despite its universal appeal and immersive magic, has, by snobbish and opinionated casual commentators, never been seen as an academic pursuit. They somehow overlook the fact that intellectuals and creators like Pasolini, Gramsci, Camus and Galeano have thought about the game at length. There are thousands of books that talk about politics, history, philosophy, art and anthropology, through a crystal-clean glass that football offers in the world of inter-disciplinary studies. I detest the dissociation of sports and intellectualism. Fountain pens, deservingly or not, have long been connected to the artistical and the analytical. So, I will avenge the wrongs of all; who consider that football is just a game of twenty-two people mindlessly kicking a leather-ball and millions of fools drawing escapist pleasure from that; by, sort of, pairing a legendary pen with every iconic footballer who made into my all-time eleven. It sounds crazy. And love, at its purest form, is crazy indeed. This is a (completely pointless, for love is pointless indeed) synthesis of my passion for the sacred game and the sacred writing instrument.
THE GOALKEEPER
Lev Yashin and the Sheaffer PFM – Unique and game-changing are the obvious adjectives that come to mind while drawing parallels between arguably the greatest Goalkeeper and the most iconic of all Sheaffer pens. For a start, the production of the said pen and the career of the said footballer stretched roughly from late 50s to late 60s, making one contemporary of the other.
The man who revolutionized goalkeeping, by pioneering frequent outings and sweeping clearances, with a commanding presence all over the box, seems to have a divine kinship with the pen that introduced the hallowed Sheaffer in-laid nib. Just like Yashin, who wasn't cut from the same cloth as other conservative and passive keepers of the time, the Sheaffer PFM was opposed to the then popular fashion of sleeker pens, by being quite girthy and stout. The complex and sexy filling mechanism, that is the snorkel, seems to propagate an idea that this pen has a secret tentacle that can reach places, which it should never be reaching. On the same note, Yashin had a bit of habit of reaching shots that were cannoned towards the furthest corners of the goal. With the help of his reflex and coordination of his far-reaching limbs, he saved more than hundred and fifty penalties and earned himself the epithet of "Black Spider".
Sheaffer PFM was fielded for fighting against the monopoly achieved by Parker, in a battle which, according to pundits, was already lost. Yashin, from the East of the Iron Curtain, represented the Communist USSR in the height of Cold War, in a battle – as history will later show – which will certainly be lost against the West that embraced free-market capitalism.
Despite their respective greatness, the pen and the athlete, were known to embarrass themselves, even amusingly sometimes. Yashin once conceded a number of sloppy goals in the second half of a world cup match, after having little too much of a drink during the half-time break. Sheaffer PFM had a reputation of shooting a lot of ink up the snorkel if one showed lapse in handling.
The history of Goalkeeping is divided between pre-Yashin and post-Yashin periods. The history of Sheaffer pens also is divided between pre-PFM and post-PFM.
THE DEFENDERS
Dani Alves and the TWSBI Vac700R – When modernity is married with the classical, the results are invariably mouth-watering.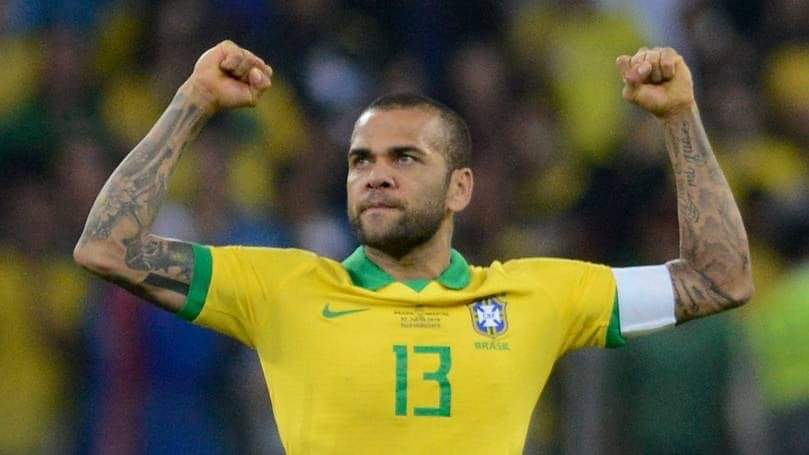 The position of right-back was for a long time dominated by players who would block the ball and clear it. The uni-dimensionality of the role was destroyed by some very versatile players. Dani Alves is one of them. Vac-fillers are supposed to adorn the sombre and dark pens that are suited for grim-visaged executives and starchy high society parvenus. But Twsbi, one of the leading brands of today, opened the door of opportunities by bringing a vac-filling pen for the masses and that too in a flashy demonstrator body which hardly fails at catching attention. Suddenly, the world became aware of inexpensive vac-fillers that are appealing to modern eyes, just as Dani Alves reminded the world about pacy and sharp attacking wing-backs, every time he darted down the flank to find a forward to pass to in a lethal position in and around the opposition box.
When Alves plays, it looks like the role of the right-back frees itself from the shackles of dull defensive duty and creates its own free-flowing vertical movement. A movement comparable to the swashing of a vibrant ink inside the barrel of Vac700R, when one fidgets the pen or the upward movement of ink while filling the barrel through vacuum-pressure.
Alves is the most decorated player in football history. The Vac700R is crowned with a steel nib from the famous nib-manufacturer – Jowo. The jewels of Dani's trophy-cabinet are various, just like the plethora of nib sizes that Twsbi offers in the Vac700R.
Franz Beckenbauer and the Lamy 2000 – Irreplaceable. The first word that comes to mind when describing these two apparently unrelated giants is "irreplaceable". Beckenbauer, fondly known as der Kaisar, sits atop the list of the greatest centre-backs. He was such a phenomenon that every good centre-back succeeding him has been measured against the standards set by him. The Lamy 2000, inspired by Bauhaus architecture and made of polished fibre-glass, announced itself to the world sixty years ago and since then every entry-level gold nib pen has been measured against the standards set by it. No one topped Kaiser. No one has topped the Lamy 2000 either.
Kaisar was lean and supple, very opposed to the tall and heavily-built typical centre-back. Lamy 2000 is black and understated, with a small nib, very opposed to the typical pens of this price bracket which show off metallic lustre and are adorned with ornamental trims, boasting a big shiny nib with intricate engraving. Kaiser wasn't loud and showy, yet he did an incredible job at defending while also weaving attacking moves with his pin-point passes. Lamy 2000 isn't loud and showy either, yet it does an incredible job at writing while also providing an intentional statement with its brushed finish and ultra-modern looks.
Lamy 2000 is a strong pen that lasts a lifetime. A broken hand didn't deter Beckenbauer from giving his all on the football pitch in a high-intensity world cup match. Both Kaiser and Lamy 2000 represent all things German.
Franco Baresi and the Visconti Homo Sapiens Bronze age – The latter is a sumptuous and beautiful pen that hails from the city of Machiavelli and Michelangelo, while the former was the greatest guardian of Italian back-line, who learnt his sacred trade of impenetrable defending in the football cathedral of Milan – the San Siro. Together they encapsulate the ethos of Italy.
The Homo sapiens Bronze Age has a hook-safe lock for capping the pen and it is built out of the stuff that volcanoes are made up of – basaltic lava, the hardest of the rocks. Baresi was probably the best tackler that the football world ever laid eyes on. He guaranteed that the goal was always protected and provided sternest of resistances to the opposing forwards.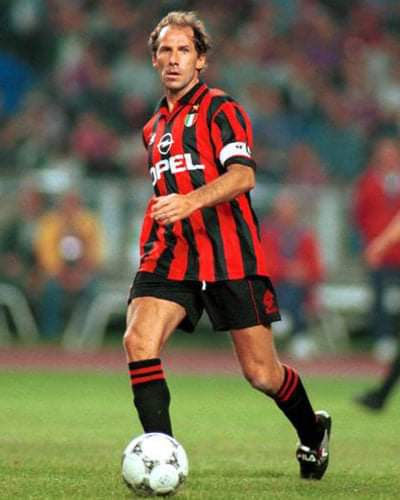 The pen has a solid and meditated appearance. It looks like it holds a lot within. It looks like it rarely is at any fault. It writes like an animated magic-wand with juicy strokes. Baresi's concentration and focus through the length of the game used to be perfectly sound. He was ever composed, but sometimes, on odd occasions he would permit his inner monster to take charge for hurling impossible tackles or to throw his body for unbelievable blocks at crucial moments of the match. Baresi and Homo Sapiens Bronze Age are loyal companions. When they leave, they leave a gap that can never be filled. You simply cannot get a pen practically made out of volcanic ash, with a special dream-touch 23k palladium nib[1] and AC Milan retired the number 6 shirt in Baresi's honour.
Paolo Maldini and the Platinum #3776 Century – The greatest ever left-back had the attractive features of an archetypical Greek God with an essence of majestic kingship. "The glory that was Greece. And the grandeur that was Rome." was addressed to Helen, but Poe might as well say this about Paolo Maldini. Platinum #3776 showcases the similarly classic and eternally deified look of a perfect cigar-shaped fountain pen with an essence of majestic kingship (and queenship).
The build-quality of the pen where the resin is polished to a mirror-shine stands out immediately. It is known to have a special "slip and seal" mechanism that prevents the nib from drying for up to two straight years. Maldini was an elegant footballer and an exemplary athlete. He caught eyes whenever he touched the ball. When he guarded the box, he used to actively 'seal' it, with his impeccable sense of positioning and intuitive game-reading, in a way that no attacker dared to 'slip' inside the box.
It is difficult to fit Maldini in any random system. Maldini fully explodes to life only when a team utilizes his offensive abilities and ball carrying credentials. Otherwise, he is just a generational defender, and hardly an all-time great. Platinum #3776 is also not for everyone. It becomes the perfect choice for those who love a distinct pencilly feedback while writing or sketching. Otherwise, it is just a beautiful pen with a dependable stiff gold nib, and hardly an all-time favourite. If you end up falling in love with Platinum #3776 (and its cute heart-shaped breather-hole, of course), you effectively prepare for a life-long commitment. Paolo Maldini was a one-club man, serving AC Milan for a quarter of a century.
No discussion about legendary left-backs is complete without a mention of Maldini. No discussion about cartridge-converter based beginner's gold nib pens is complete without a reference to Platinum #3776 century, which incidentally wears a beautiful golden band in the cap that, according to me, is strikingly similar to the captain's armband that Paolo "il Capitano" Maldini sported for twelve long years. Maldini is the face of AC Milan. Platinum #3776 is the flagship model of Platinum.
THE MIDFIELDERS
Alfredo De Stephano and the Pilot Vanishing Point – Comparing the most versatile footballer in history, who could play in any position from centre-forward to goalkeeper (with unparalleled finesse in most of the roles), with a nice work-appropriate pen with unconventional funky features that maybe branded as outlandish in the world of fountain pens; makes perfect sense. Not only because the Vanishing point nib unit looks like an arrow, and De Stephano was lovingly called the "blonde arrow", but also because they fit everywhere and prove their respective merit.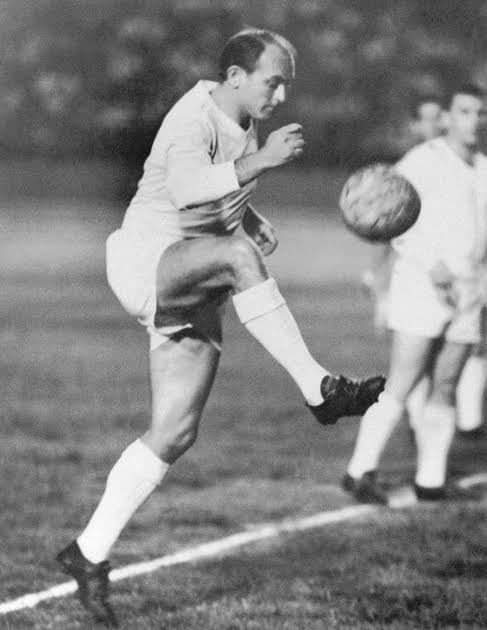 De Stephano played his football in Argentina, Colombia and Spain, and mesmerized his fans with all attributes that a football player could possibly possess. Tackling cleanly under pressure? Yes, he could. Scoring acrobatic goals with unstoppable shots? Yes, he could. Finding a team-mate thirty yards out with an almost uncannily perfect chipped pass that would make time freeze? Yes, he could do that as well. If you need fountain a pen that is essentially ready to write in a click at a board-room meeting, vanishing point is the obvious choice. If you need one of the most enjoyable writing experiences, in a pen that is fun to play around with, vanishing point is the obvious choice. If you need a pen for relaxed situations, that is idiosyncratic enough to be special and personal, vanishing point is the obvious choice.
The vanishing point, frankly speaking, looks quite silly, but within itself, it hides a juicy 18k nib that bears the mark of immaculate craftsmanship from the land of the rising sun. Alfredo, with his balding head, looked quite silly too, but within himself he used to hide the hungriest of determinations and cleverest of footballing brains, that helped him win five straight European cups (or UEFA Champions League in today's terms), whilst scoring in each of the final matches, for the biggest club of the planet.
De Stephano transformed Real Madrid. He is the most influential footballer of that club. Vanishing point arguably is the best-selling gold-nib pen of Pilot. It is one of the most recognizable products developed by Japan's largest pen-manufacturer. De Stephano was the definition of a complete and prolific footballer. In some respects, he was far ahead of his time. Vanishing point is the definition of an all-purpose pen. Introduced in 1963, it is still an ultra-modern tool.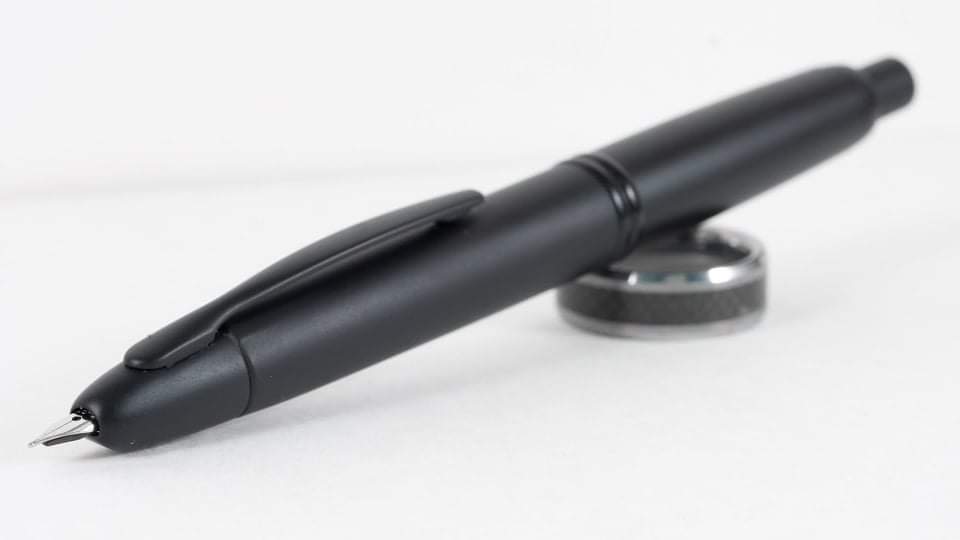 The vanishing point, according to some users, is difficult to grip properly due to the slightly awkward positioning of the clip. De Stephano was also very difficult to get a grip on. His famous transfer saga, probably the most debated transfer of all-time, had led to a historic feud between the two rival footballing institutions of Spain and the Colombian club that technically owned De Stephano.
De Stephano is an ever-present figure in football's greatest XIs. Vanishing point always features in every pen-lover's "someday"-list. And on a second thought, the small proprietary con-40 converter, that acts as the ink-reservoir of the vanishing point, looks very much like a half-burnt cigarette which Don Stephano admittedly liked to puff at, minutes after the closing whistle of a tense football match.
Johan Cruyff and the Pelikan Souveran M800 – The Dutch maestro was the greatest thinker of the sport. He pontificated his highly curated ideas on total football and exceptionally executed those on the football ground. The famed Pelikan M800 looks like a philosopher's pen. This is a pen to explore the depths of poetry that oozes out of eternal melancholia. The songs of misery, astonishingly, kindle the hope of change. Cruyff's football explored the avenues of achieving technical perfection through non-stop hard-work and establishing with team-mates a telepathic connection of passing-triangles, with geometric precision. Despite the prosaically scientific and objective approach to the game, Cruyff's football, astonishingly, kindles the torch of individual brilliance and celebrates poetic moments of delight.
M800 does not look like an out-of-the-box pen in itself, but the clip of the pen, or the beak of the pelican, exudes, along with other metallic trims, the shine of polished gold. The nib, which is the ultimate messenger of the pen's heartfelt desires, is bewitchingly beautiful. Cruyff was a lean man, who hardly looked like a conventional athlete, but when he invaded the (newly bought, coloured) television sets all-round the globe during the World Cup of 1974, donning the famous bright orange kit of Netherlands, he became the center of all attention. His well-articulated writings and speeches, just like his expressive style of play, later became the ultimate flag-bearer of fluid passing football.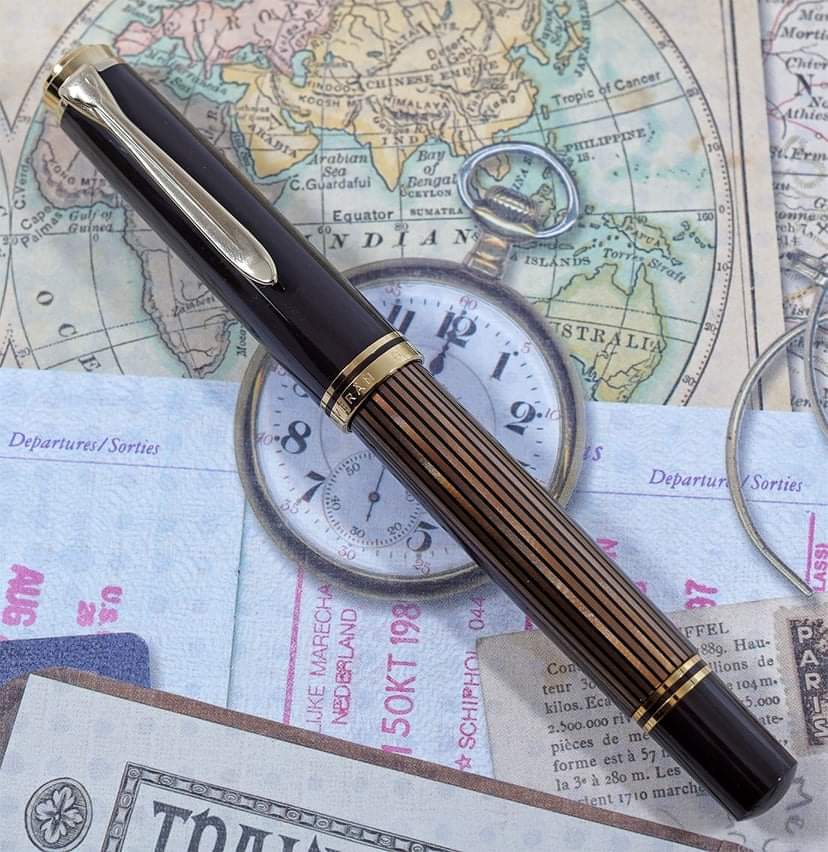 The eye-catching stripes in the barrel of M800 reminds one of the renowned blue and red stripes in the shirt of FC Barcelona, the club that absorbed, appropriated and assimilated everything Cruyff ever stood for. The piston known for its seamless working, is comparable with the flawless chemistry between the ball and Cruyff in the attacking third. The nib, known for its wet, smooth flow and a soothing tactile feel of softness, is comparable to the genius passes Cruyff provided, like the tributaries navigating its devious route from a lofty glacier to a wide and deep mountain river.
Johan Cruyff lived and died by his 'ism' of "Total Football". Pelikan Souveran M800 lives and dies by its 'ism' of ensuring a cherish able writing experience.
Diego Maradona and the Montblanc Meisterstuck 149 – Both are blessed by the power of enchanting and captivating mere mortals by their nonchalant grace. Both are a staple answer, when asked about 'the greatest of all time'. Both bear an angelic star (visible atop one, felt in the case of the other).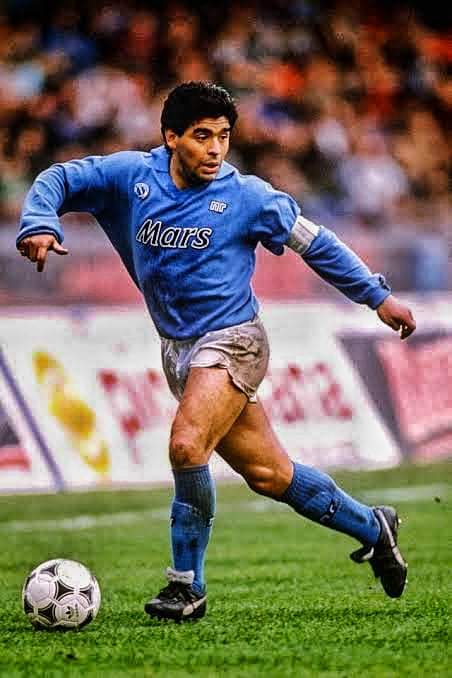 When the masses are unequivocally seduced by the magic, experts are rather divided. Maradona, with his disreputable lifestyle, and often disgraceful temperament, is, as many opine, never a sportsman; while his admirers justify his off-the-field shortcomings by citing his immeasurable talent. The MB149 has an unjustified price-tag, argues some, while admirers justify the extravagant pricing by citing its unmeasurable brand-value.
Both have a, not-so-unique stubby physique, but still radiates the essence of a strong presence. No lover of Montblanc ever described properly, why MB149 is greater than other pens with similar features. It seems as if the pen is endowed with a mystical flair of grandeur and an inexplicable divine aura of elite pleasure. No lover of Maradona, similarly, has ever come close to put exactly why Maradona was the perfect magician. It seems as if the footballer was endowed with a mystical flair of footballing beauty and an inexplicable divine aura of impossible pleasure. They say that you can feel the wizardry of MB149, just by holding it and drawing a couple of figure-8s on paper. They say that you can feel the wizardry of El Diego, simply by watching him warming up for a game.
When El Pibe De Oro – the golden boy, used to dribble, everything else under the sun became secondary. When one writes with Montbanc149, all of his/her sense organs focus on capturing the writing experience of the hallowed fountain pen and so everything around becomes basically nugatory.
The precious resin of the pen or the intricate carvings on 18k nib, overwhelm the observes. Goals of Maradona, or his passes, overwhelm the observers.
One of his goals didn't particularly overwhelm. It angered a lot of people. He used sleight of hand, quite literally, against the English. If I really want to lay my hands on a MB149, I think sleight of hand will be the only way for me as well.
THE FORWARDS
Cristiano Ronaldo and the Waterman Hemisphere – A classy fountain pen, which is one of the most recognizable Waterman products, can only be compared with a classy attacker, who is one of the most recognizable athletes in the world of football. Supple, lithe and neat are the common adjectives that spring to mind when I contemplate the pen and the player. Upon a quick look, they attract admiration without indulging in any sort of gaudy superfluity. The pen, with its chiselled features, seems destined to match up with the perfectly-toned body of Cristiano.
Waterman Hemisphere is a cartridge-converter pen, with a fantastic steel nib. It exudes the twenty-first century utilitarianism. Cristiano Ronaldo is a flaw-less scorer of innumerable beautiful goals, with an enviable panache. He and his statistically proven greatness exudes the twenty-first century marketability. Hemisphere is a pen fit for occasions ranging from corporate meetings to casual musing in living-room. Ronaldo has impressed the fans and experts by performing phenomenally and creating innumerable records in three different top football leagues, in England, Spain and Italy respectively.
Cristiano is responsible for stimulating a love for football in many of his adoring fans whom he attracted into the sport. Waterman Hemisphere, being a popular choice for a gift, is similarly responsible for introducing many a people to the world of fountain pens.
Pele and the Sailor King of Pen – When I was introduced to this real black-beauty, with the matchless shiny polish on its warm ebonite body and a title that only it can bear, I couldn't help but ruminate about Pele, also known as "O Rei" or the King, the black diamond of Brazil. He represented the poor and discriminated masses in the world of inequality and reached a height that one can only dream about. He was the most prolific scorer of all and still is the biggest superstar that the game ever produced. His achievements of more than a thousand goals and three world cup winning medals, remain unblemished. Sailor is the oldest Japanese brand to produce fountain pens. It fought the Western consumerism and represented the Orient in the fountain pen society before anyone else did. The King of Pen is essentially the face of Sailor. The minimalist design is not even blemished by a single metal trim on the body or the barrel.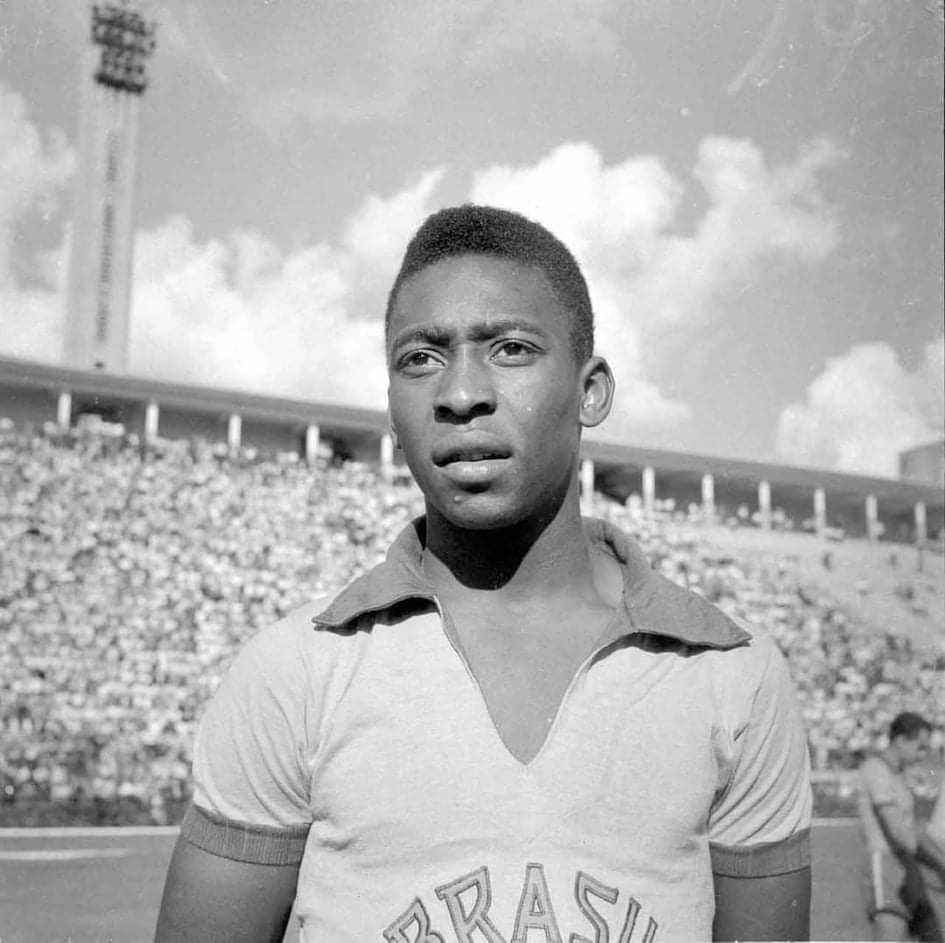 The nib of Sailor KoP is one to wax lyrical about. The 21k Gold dual-tone nib is massive and exquisite with a signature anchor-logo elegantly carved into it. It's a responsive nib that is noted for its uniform, slightly wet line. It is also known to have the perfect level of smoothness, where the user gets the slight hint of feedback that seems to remind him/her that he/she is actually writing with a Sailor KoP. Goal-scoring capacity of Pele was one to wax lyrical about. He could score with both of his feet and his head, in stunning fashion. It was the amalgamation of machine and dreams, where viewers could actually forget their grim reality and float on the magic of the moment that Pele created.
Despite being a high-end product, Sailor KoP is a cartridge-convertor filling pen. Cynics (futilely) argue that it somehow downplays the gravity of such a pen. Despite being the most popular choice in the 'Greatest of all-time' debates, Pele never played in a European League. Cynics (futilely) argue that it somehow makes him not-so-great after all.
Sailor was conceived in Hiroshima, a city which was decimated by an atom-bomb that was oh-so-innocently dropped by the benevolent protector of Western Democracy. Pele is emblematic of Brazil. A rich and exotic tropical country that was mercilessly raided and pillaged by the so-called civilized carriers of white man's burden. The KoP and Pele are constant reminders that an undying determined spirit can launch an unprecedented comeback from an apparent point of no return…and stand tall as victorious, forever.
Lionel Messi and Parker 51 – Very few players are at the same time so relentless and poetic. Very few pens are at the same time so commercial and special. Parker 51 is Parker's most famous product of all time. Lionel Messi is Barcelona's most famous footballer of all time.
Parker 51 was a path-breaking pen. It introduced to the world the concept of a hooded nib, that is distinctive and functional at once. Lionel Messi is an epoch-making footballer. He sports the best left-foot in the world of football that is prolific and aesthetically creative at once.
Parker 51 is an unassuming pen. It has an understated design, and it looks smaller than it actually is. Lionel Messi is an unassuming human being. He has quite an ordinary appearance and he looks thinner and shorter than he actually is. Parker 51 was the pen that popularized snap caps. Lionel Messi can literally turn any game in a snap. Parker 51 embraced fine but important changes to adapt with changing times and requirements, but that didn't alter the basic hallmark of the great pen. This is one of the biggest causes of its longevity. Lionel Messi also embraced fine but important changes to adapt from the possession-based football to the game of pressing-era. It didn't alter the influence that he has on the game. This is one of the biggest causes of his longevity.
At the peak of Messi's career, many thought that Messi would be suffering when the golden generation of Barcelona around him would've retired, and tiki-taka football would've given way to next over-ruling playing style. That didn't happen. Academicians and fans together acknowledge that Messi has never ceased to adorn the throne of the greatest footballer to walk the planet. At the height of Parker 51's fame, many thought that the pen would be unable to attract newer customers after stainless steel takes over as the main nib-material and every-day gold nib pens would become obsolete. That didn't happen. Academicians and fans together acknowledge that Parker 51 has consistently remained the most sought-after pen in the world.
The hooded nib of the Parker 51 was originally designed to handle fast-drying inks that Parker developed to specifically pair with the pen. No one thought that it would become such an iconic moment in the evolution of nibs. It no longer was a "Parker thing", it turned into a "fountain pen thing". The delicate style of passing football that Messi grew up with, in La Masia Academy, was developed specifically to fit the so-called Barcelona DNA. No one thought that he will be an inspiration to players and lovers from all schools and philosophies of the game. Messi evolved from being the Golden Prince of Barcelona to the Golden King of Football as a whole.
Every outstanding footballer is dubbed as the upcoming new 'Messi'. The numbers achieved in all remarkable player's greatest seasons are measured against the standards set by La Pulga. Every highly demanded pen is dubbed as the new 'Parker 51' of the day. The sales-figures achieved by the most wanted pens in their heyday are measured against the standards set by Parker 51.
There is a massive cult of admirers who only watch football for the sheer pleasure of seeing Leo play. There is a massive cult of admirers who only use fountain pens for the sheer pleasure of writing with a Parker 51.
Any great team needs a great manager. I will look no further than Sir Alex Ferguson to grace the touchline when this team embarks on its on-field journey. He is a fatherly figure in the dressing-room and knows well about handling great egos with care. A pen to go with him? I will choose Namiki Maki-e Emperor. Just like Sir Alex it is an asset. Just like Sir Alex, it seems to have an effortless audacity oozing out of the supreme belief in own capabilities.
An eternally developing nation, torn with the woes of social fissures and lack of basic resources, India, has never been able to provide the required infra-structural impetus for a booming fountain pen industry nor was it able to provide the required infra-structural impetus for a booming footballing industry. It is very difficult to make pens for a living in India. It is very difficult to play football for a living in India. Still, we have had the days of glory, when a politically active footballer, noted far and wide for his unquestionable talent in football, became an icon for the people who wanted to get better of their hated colonial lords in every possible way. Gostha Pal, a legendary defender of Mohun Bagan Athletic Club (the National Football Club of India), who captained the first Indian football team, was known to resist any attacker in the most stringent fashion. This earned him the sobriquet of "the Great Wall of China". If I want to pair the first super-star of Indian football with a pen, I will pick a pen made by Luxmy Pens, the earliest indigenous fountain-pen-making brand of India started by a talented craftsman and entrepreneur, Dr Radhika Nath Saha, based in Varanasi. Gostha Pal, as an icon, had no predecessor. Dr R.N. Saha, as a swadeshi pen-maker, had no predecessor either!
[1] It used to come with the 23k palladium "dream-touch" nib up until around mid-2019. Any Visconti Homo Sapiens manufactured after that carries a 18k gold nib.
Apalak Bhattacharyya (An immodest Self Introduction) : I am a nineteen-year-old student of history whose foremost passions include football and fountain pens. I am an ardent reader of poetry and non-fiction, an incompetent photographer and lover of country and rock music. I regard writing (in Bengali), as my sole (questionably) creative endeavour. Caffeine and evenings passed in play-ground keep me going.
(Picture credits: All photographs provided by the author and are the properties of the respective owners  Sheaffer PFM – reddit.com and catawiki.com Yashin – commons.wikimedia.org and russiateam.com Beckenbauer – sportskeeda.com Lamy 2000 – clumsypenman.com Baresi – sportskeeda.com Visconti HS – reddit.com Dani Alves – sportsbible.com Twsbi vac700R – pinterest.com Maldini – facebook.com Platinum 3776 – bunbougu.com.au Stephano – latimes.com Pilot VP – youtube.com Maradona – facebook.com MB 149 – fountainpennetwork.com Cruyff – facebook.com Pelikan M800 – thepelikansperch.com Messi – facebook.com Parker 51 – inkstable.com Pele – facebook.com KoP – stiloestile.com Ronaldo – facebook.com Waterman Hemisphere – Montgomerypens.com)