Peary Mohan Bagchi or P.M. Bagchi (1850 (?) -1917) was the son of Pran Gopal Bagchi, a "Bhanga-Kulin" Brahmin of the Kashyap-para locality in Shantipur of Nadia District of undivided Bengal. Peary Mohan was a treasurer at the Krishnanagar/ Kishnagar Rajbari (palace) during his initial working days. He had five sons and three daughters. The eldest among his children was Kishori Mohan Bagchi born in 1868. Other sons were Haripada, Bijoy Krishna, Amod Krishna and Pramathanath. During the decade 1871 -1880, Peary Mohan shifted to Sovabazar in Calcutta and took shelter at a rental house. The address was 5/1 Kailash Das Lane at Sovabazar region. The region was under the domain of Sovabazar Rajbari. After shifting from Shantipur, Peary Mohan started working as a "Muhuri" (stamping clerk) under an advocate named Sitanath Ghosh at the Calcutta High Court.
Meanwhile, Kishori Mohan got married to Nandarani Devi, a Bhaduri family girl from Bally near Calcutta. His father-in-law was a businessman and was connected to the commodity supply chain. The year was 1882. Kishori Mohan was just 14 years old during marriage as informed by the descendant Pijush Bagchi in accordance with their inherited family-related information (However, after the death of Kishori Mohan a series of write up published probably in 'Anandabazar Patrika'(?) of 16th November 1925 (?) depicted that Kishori was twenty years old during the marriage. The then octogenarian President of "Bangiya Puran Parishad" of Shantipur, Subal Chandra Maitra provided this information to Pijush Bagchi in 1983). Kishori was ever inclined to self-dependence instead of doing a job under someone. Going against the desire of his father Peary Mohan, Kishori started to manufacture writing ink from his residence at 5/1 Kailash Das Lane since 1883 to become financially independent. Simultaneously in the same year the company 'Darjipara Chemical Works' was formed at the address of the rented house 5/1 Kailash Das Lane, Calcutta. Immediately after marriage Kishori however, had to serve for some time in his father-in-law's business. Here, the most interesting part is that he was dismissed from service by his father-in-law as Kishori was simultaneously continuing his ink business without informing his father-in-law.
Kishori was a highly talented boy in business-related matters. He was a daredevil young man with intelligence and overwhelming business skills. His business anticipation was god gifted. He took multiple risky steps to secure his business even against his father's opinion which annoyed Peary Mohan multiple times.
Around 1887-88, the land at 38, Masjidbari Street was bought by Kishori Mohan when he was around twenty years old. The contribution of his father to this purchase is unknown to this author. After the land acquisition was over, factory and residence construction began and from 1888 to 1890, the whole production unit along with the residence was shifted to Darjipara.
As per necessity he later changed the initial factory name to "Darjipara Chemical and Rubber Stamp Works". However, much prior to that, another company named "P.M. Bagchi & Co" was created by Kishori Mohan in his father's name. In due course of time, this company name gradually replaced all the previous names as a single producer of the products. The factory was extended in Gulu Ostagar Lane of Darjipara. The office was also made at 16 Canning Street and a branch office was opened at 337, Upper Chitpur Road, Garanhata, Calcutta.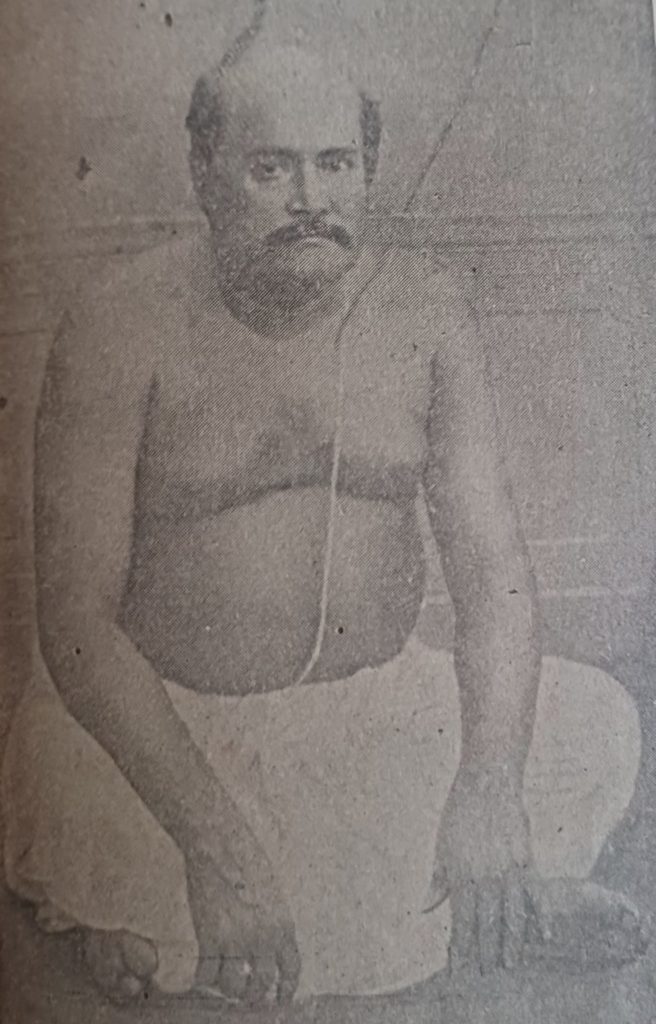 During those days there was no fountain pen among people and dip pens were used. So the ink produced was in fact dip pen ink. At the juncture of 19th and the 20th century fountain pens (pens with ink reservoirs installed within them) started to flourish in the Indian market. "Necessity is the mother of invention". Intelligent Kishori Mohan immediately started manufacturing water-soluble fountain pen (a term used much later in India) ink for ebonite pens. Although there is direct evidence that Dr R.N. Saha started commercial production of water-soluble non-precipitating fountain and Stylo pen ink under 'R.N. Saha ink' brand name since 1907, he never claimed that he was the pioneer in the branded swadeshi Ink production. In fact, Kishori Mohan who was already in the ink business for years did not waste time but foresaw the fountain pen's prospect and started production of this ink. P.M. Bagchi's directory in 1912-1913 clearly provides evidence for well-established Kishori's water-soluble inks, ink dust, and ink tablets. Initially, it was probably pigment based but soon changed to dye-based ink.
P.M. Bagchi's ink brand name was 'Saraswati' and the name of the ink was 'Ideal'. Blue Black ink and ink powder, Green/Violet/ Red/ Black inks and Stylographic ink for Stylo pens were popular products. Scarlet Red ink, Brilliant Red ink etc were also there among their products. Inks used to come initially in long bottles and later in small ink bottles.
This deserves mention that around 1888, "P.M. Bagchi's Panjika" was printed initially from a press at Pathuria Ghata Street, Calcutta, and released from the same company of Kishori Mohan. Later Bagchi installed its own printing press. In 1898-1899 "P.M. Bagchi's Illustrated Directory of India" was published and documented in the "Bengali Library Catalogue" in 1899 (1306 BS).  Kishori Mohan was also a perfume baron and many of his perfumes were imported from Grasse, France, and branded in India. His company also produced stamp pad ink, rubber stamp, Ayurvedic medicines, fruit juice syrup, Rose water, cosmetics, hair dye, soaps, toothpaste-powder, and multiple other items. This part of the story is not under discussion in this article. Kishori Mohan was a popular creative writer. His detective novel "Sochitro Advut Hatyakando" was a sensational thriller once upon a time and was published again in modern times.
In 1917, his father Peary Mohan (P.M. Bagchi) passed away. Kishori and his wife Nandarani had six sons and three daughters. Sons were Dhirendra Nath, Panchanan, Tarak Nath, Kalachand, Kali Shankar and Gauri Shankar. Nandarani died in 1919/20 when many of them were kids. Kishori again married Bina Pani Devi of Maitra family of Bally. Binapani had no issue. She took care of all the kids of Kishori Mohan. Unfortunately soon after remarriage, Kishori Mohan died in 1923.
His sons continued with the father's business. Kishori created another company in the name of his eldest son Dhirendra Nath Bagchi. The name was "D.N. Bagchi and Co." dedicated to the same type of business. However, the brand of 'P.M. Bagchi' continued with the business of inks and perfumes till the decade of 1990s. Rising competition from other ink-producing houses was perceived by the company during the ending phase. However, officially the company appears to be still alive although there is not much of known significant products nowadays (?). This deserves mention that Kishori's closest companion in business was his younger brother Amod Krishna. After Kishori's demise Amod was compelled to separate out as informed by Pijush Bagchi. He and his sons formed a different company "Bagchi and Company" at 17 Chhidam Mudir Lane, Calcutta. The advertisement documented here is from monthly magazine "Yubak" of Shantipur, (1333 BS), 1st issue (Courtesy Pijush Bagchi). Amod Bagchi's descendant's important product was "Kali Ink".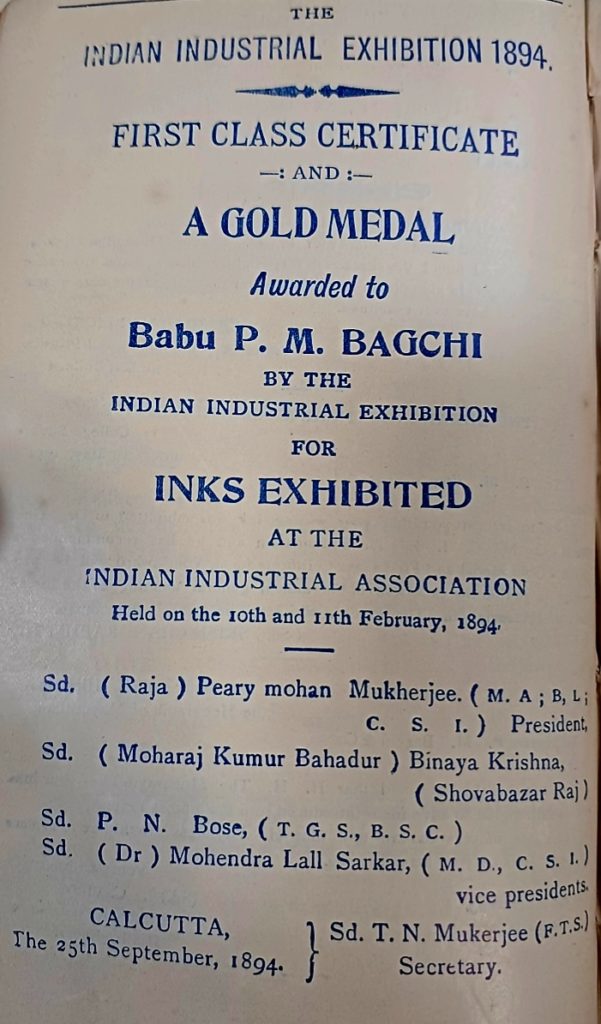 Ink has been domestically produced throughout the world since bygone days in ancient civilizations. Many domestic productions were sold in the market in towns and villages and were used by the people for writing. Just like wheel, fire, fermentation etc. none can say who made it first. But industrial production of branded modern writing ink has by and large a recorded history.
Noteworthy feature is about the existence of another company 'Waldie's Company Limited' founded at Cossipure (Kashipur) of Calcutta region in 1858 by David Waldie and later moved to Konnagar.  It is said that they might have produced dip pen ink (Roy 1919). There is not much-confirming evidence although previously I have seen a long ink (probably) bottle branded Waldie. The present website of the company also has no significant information about ink production in the past. Whatever the fact, David Waldie was a Scottish; the ink made by him (if any) would not have been termed Swadeshi. Evidence of fountain pen ink production (if any), from this company at later stage (rare chance) still awaiting acceptable documentation. However, in Calcutta and many other parts of India "Stephen's ink" was used widely when Kishori initiated his business. Kishori's ink in fact replaced foreign made Stephen's ink used for writing purpose in undivided India.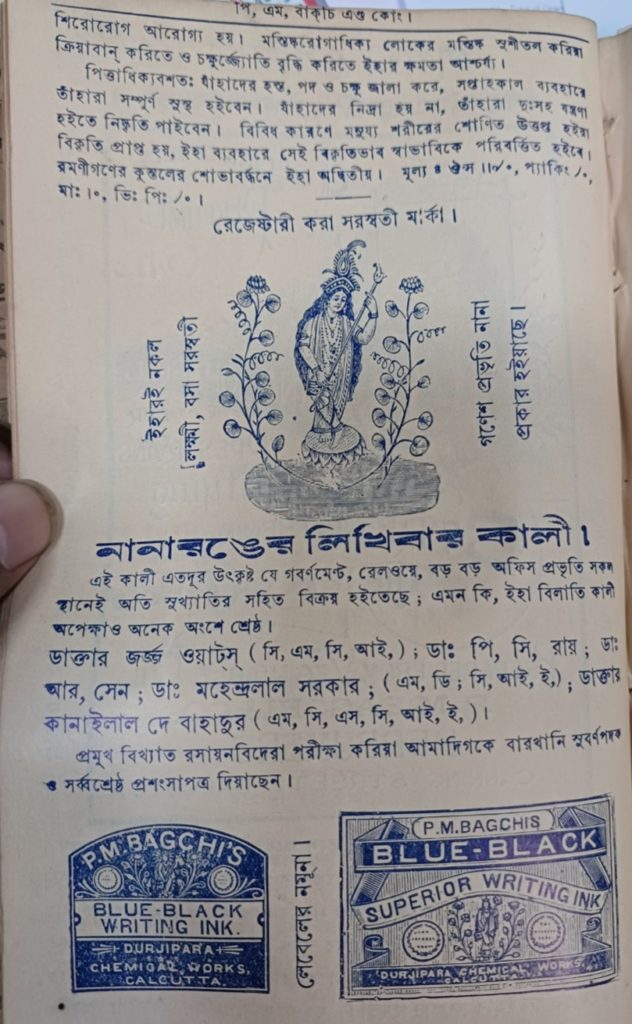 Acknowledgement: Pijush Bagchi- one of the great grandsons of Kishori Mohan Bagchi.
References
Bagchi Pijush (2023). Personal conversation and interactions with the author. Pijush Bagchi is one of the great grandsons of Kishori Mohan and is writing a biography of Kishori Mohan.
Bagchi P.M. (1912-1913 and 1929-1930). Directory Panjika. Produced by Kishori Mohan and his sons.
Roy Sovan (2019/2023). Radhika Nath Saha: Unsung Hero of Indian Fountain Pen. Kabitika. Pages 256. ISBN 978-93-89209-31-0, ISBN 978-93-94830-53-0. ISBN 978-93-94830-59-2 (e-book).
Roy Sovan (2023) Swadeshi Jharna Kalamer Pathikrit Radhikanath Saha (In Bengali). Kochi Pata. Pages 210. ISBN 978-93-91506-32-2.
www. waldies.com has been consulted for David Waldie's related information.