Nandish Shah is a little-known name in the fountain pen community, but read my lips, he is destined for greater glories. He is destined for greater glories – not because he is as dedicated a fountain-pen lover as you and me, but because he has already unveiled India's first commercially made fountain pen crafted exclusively out of copper!
Copper? Why Copper? I ask. And he immediately lapses into a diatribe that is the hallmark of one who is driven by passion alone.
"Why not Copper" he confronts me defiantly? "Copper provides excellent anti-microbial protection, eliminating any virus or bacteria from the surface. Yes, that includes the dreaded Corona virus making our pens – Stex Pens – a hundred percent safe."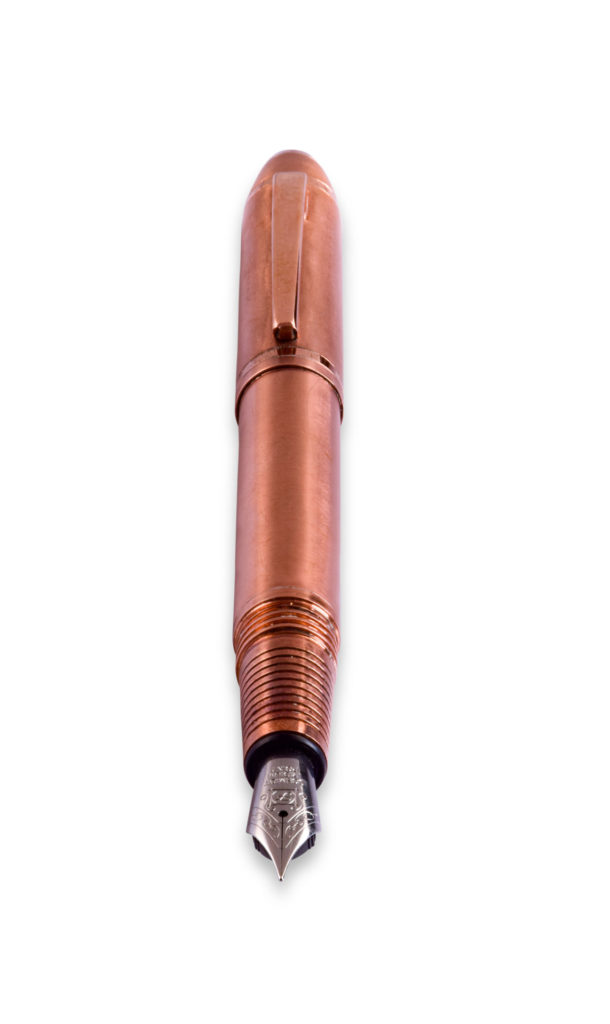 "Besides" continues Nandish Shah, "copper regulates blood pressure, its prolonged use strengthens the bones, improves cardiovascular health, reduces swelling and inflammation. Now, show me another fountain pen that does all that, apart from being visually appealing and being a well-balanced, champion writer!"
Prof Y Pitkar, who had first come across the Copper Pen from Stex at the recently concluded Pune Pen Show was all praises as he had ticked me off, "the pens write well, apart from the obvious novelty value and I think you should talk to the manufacturer, as there seems to be an interesting story out there for you" he had said.
I was quick on the take, though to be honest, was a bit put off when I had first heard the indicative price. Nandish Shah was quick to address my concerns, as he explained the manufacturing process – first the copper is melted and purified to attain a purity level of 99.95 %. Then it is extruded into mother tubes, rods and flats which are redrawn to required dimensions with a 0.001inch accuracy, from which the caps and barrels are cut. The cap button, nib section, cap ring, barrel ring, tail button, adhering to the same exacting accuracy standards, are then turned out by CNC machines, while the mother flats are used to forge the clips. It is only then that the polishing and buffing of the copper body is proceeded to, into which internationally acknowledged Schmidt nib sections and converters are installed.
"We have an extremely high rejection rate of about 75 to 80 percent of the production" says Nandish Shah of Stex, which does add to the cost, but then again, it goes to show our commitment to the customer, to whom we promise to give the best writing experience, always." Fair enough, I felt, especially after picked up the pen and put it on paper. The Schmidt nib floats in all its glory and the balance and weight of the pen is just right. It even has the required threading at the back end of the barrel, allowing the posting of the cap, which provides the additional weight for those of us who like to use their pens posted. And talking about the special features of the STEX D'Magno AMB Fountain Pens, that make them really stand head and shoulders above the rest as a functional masterpiece, one must point out the fact that special square threads that do not hurt the fingers of the users while writing (as opposed to the "normal" V threads with their sharp edges) have been specially derived in-house so as to ensure long, painless use. It is a pleasure writing with the STEX D'Magno AMB Fountain Pen – it writes as good as it looks, if not better.
And there are other compelling reasons that make the pen the immediate heart-warmer that it is. Nandish Shah has more than two decades of experience with copper as a manufacturer of a variety of specialised items and is a fountain pen fanatic to boot. "I decided to make something unique which no one has done in India till date" he claims with the kind of contentment that very few can muster, "we are not only the first, but currently the only manufacturer of writing instruments from 99.95% (min) pure copper.  It has taken us – my partner Jigna and myself almost two and half years to make the perfect first pen, our life's mission, which have just launched in the market and seek the blessings of the community to take it further."
Dimensions of STEX D'Magno AMB Fountain Pens:
Cap diameter: 13.66mm
Barrel Diameter: 12.7mm
Length with cap: 140mm
Length without cap: 125mm
Length with cap posted: 171mm
Weight (without ink): 50 grams
Nib: Schmidt "M" ("F", "B" also available on request)
Convertor: Schmidt K5
For More Information Contact: www.stexcu.com