Bibek Debroy is an economist and was educated in Ramakrishna Mission School, Narendrapur; Presidency College, Kolkata; Delhi School of Economics and Trinity College, Cambridge. Presently, he is Chairman, Economic Advisory Council to the Prime Minister (EAC-PM) and President, Indian Statistical Institute (ISI).  He has worked in Presidency College, Kolkata (1979-83), Gokhale Institute of Politics and Economics, Pune (1983-87); Indian Institute of Foreign Trade, Delhi (1987-93); as the Director of a Ministry of Finance/UNDP project on legal reforms (1993-98); Department of Economic Affairs (1994-95); National Council of Applied Economic Research (1995-96); Rajiv Gandhi Institute for Contemporary Studies (1997-2005); PHD Chamber of Commerce and Industry (2005-06); Centre for Policy Research (2007-2015); Member, NITI Aayog, Government of India (Jan.2015 – Jun.2019). He has authored/edited several books, papers and popular articles and has also been a Consulting/ Contributing Editor with several newspapers.
Inked happiness: When did you first get enamoured with the fountain pens? Can you please share any fountain pen related anecdote from your life, especially from the time when you were a student and fountain pens were a necessity?
Bibek Debroy: When I was a student, till the Master's degree, and studied in India, I used a fountain pen.  I no longer remember the brand names.  But I remember what they looked like.  My favourite pen was one that looked like a Click Aristocrat.  (The brand name was actually different.)  Back then, the quality of ball point pens in India wasn't that good.  When I went abroad, I discovered better quality ball point pens and the inevitable switch took place, at least temporarily.  I have always had the odd fountain pen – Cross, Waterman, Waldmann.  But my interest in "Indian" fountain pens started a few years ago.
Inked happiness:  What fountain pens do you normally use for daily writing? What is your most preferred "daily carry"? Why does it occupy the pride of place in your heart and your shirt pocket?
Bibek Debroy:      I will interpret this as an "Indian" pen.  The ones I regularly use are Ranga, Kanwrite, Vazir, Click (Aristocrat).  I should explain that while I have several eye-dropper pens, I normally don't like eye-droppers.  Therefore, I don't normally use something like Deccan (Advocate) or Kim (Jumbo).
Inked happiness:  What do you think about the fountain pens currently being made in India? How do you rate our fountain pens in terms of quality and affordability when compared to those made overseas?
Bibek Debroy:      As someone interested in the future of the Indian fountain pen industry, I think there should be Indian brands and Indian companies in different segments; (a) School students, Rs 100 or less; (b) Specialized super nibs, like a Sailor; (c) Competing with the likes of Scrikss, TWSBI, Lamy; (d) Straddling Rs 200 to high value pens, like Platinum or Pilot.  I get superb quality writing with Platinum Preppy and the disposable Pilot Varsity; (e) Competing with Jinhao in the Rs 1000 or less price range, delivering something like Jinhao 159, 450 or 750; (f) Delivering a Montblanc or a Montegrappa.  Let me leave out the nostalgia for eye-droppers and ebonite.  That will never be substantial.  Therefore, we are looking at converters and/or cartridges, perhaps 3/1.  This immediately rules out some Indian brands.  (1) Prices in China are not very transparent.  As a rough indicator, that accounts for 20% advantage in price.  An Indian pen manufacturer should be able to deliver something like a Jinhao 159 at no more than Rs 1000.  Because of low investments in technology and preponderance of MSME, Indian manufacturers are simply not price competitive, not just at the Jinhao level, but also at the Scrikss, TWSBI or Lamy level.  With the exception of Click (perhaps adding Glare), Kanwrite, Ambitious (though this is more of nibs) and the student (Rs 100 or less), I think "Indian" fountain pens are simply too expensive, for the quality.  They may do well at pen workshops and conferences and a few sales abroad (chiefly USA), but that's about it.  A decent Indian pen will cost at least Rs 8000.  There will be no volumes until the price drops to Rs 4000 or thereabouts.  (2) Indian pens must be available through multiple channels – Makoba, William Penn, W.H. Smith, local stationer, the Net.  Typically, they won't be.  I will have to go the firm's website.  Sometimes, the pricing and payment will only be in dollars (Lotus for example).  As an average customer, why will I take that trouble?  I will simply pick something up from Amazon.  Sometimes, I will have to wait for months (Krishna, Constellation88, Fosfor).  Why will I bother?  I think there is a serious marketing and distribution problem.  (3) Going back to the categories I mentioned earlier, for Indian pens, (b), (d) and (f) are impossible, though I have unrealistic hopes that Kanwrite or Ambitious will some day become like (b).  But I think (a) has now been cracked, though that segment is not talked about much.  It is no longer just Bril, Montex and the old Camlin.  Camlin Kokuyo, Reynolds Fludo, Cello, Figo and Octane are quite attractive (for the price) and readily available.  Some day, some Indian company, will get to (c) and (e).
Inked happiness:  As an economist and a policy planner, what do you think are the shortcomings of the fountain pen industry in India? What steps should the industry take, instead of looking towards the Government, to address these issues?
Bibek Debroy:      I have largely answered this.  Investments in technology, which means getting away from MSME status and looking for foreign collaborations (there is a lesson in Camlin and Cello).  Stop looking for USP in hand-made fountain pens.  Focus on marketing and distribution.  TWSBI is a very good example of what is possible.
Inked happiness:  What according to you should be done to ensure that more and more young people – especially children – take up the fountain pen and write with their own hands, instead becoming completely devise driven?
Bibek Debroy:      Once upon a time, fountain pens were recommended for children because they improved the handwriting.  With gel pens and better ball point pens, the difference with fountain pens has blurred.  There cannot be a convincing case on the basis of better handwriting.  But there can be a convincing case on the basis of environmental costs, saving of plastic.  Except for the South, I don't think fountain pens are generally compulsory in educational institutions, nor will they ever be.  There must be voluntary choice by making the (a) segment attractive.  There is a broader issue that is much more complicated, of the younger generation turning away from writing instruments entirely.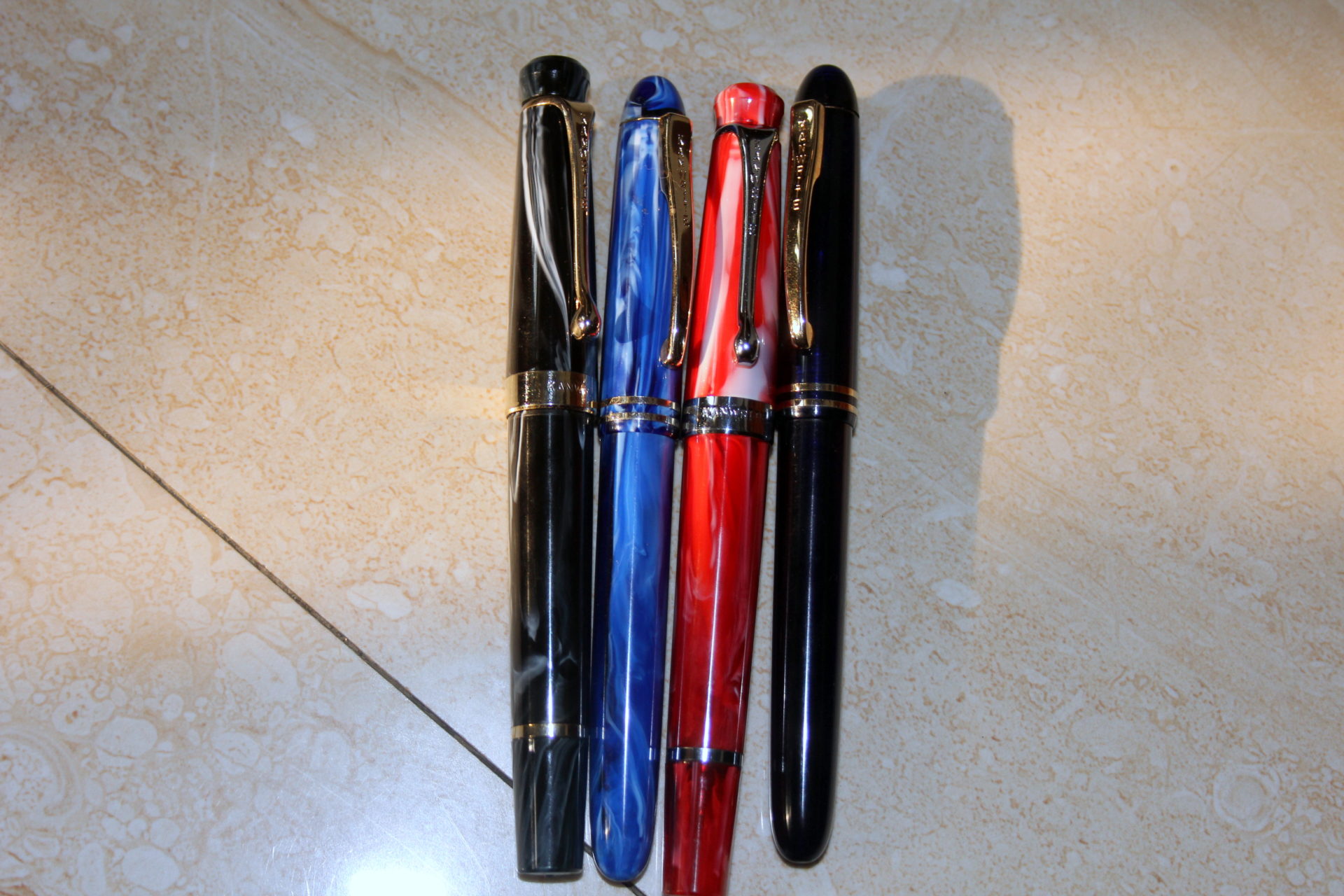 Inked happiness:  What do you think about the current surge in the interest with all things fountain pen? Is it a flash in the pan? A knee-jerk reaction against what many are calling the digital damnation of lives? A "fad" that sees young people getting obsessed with things "retro" only to move on? Or are people really enjoying the pleasure of feeling the dance of the pen on paper?
Bibek Debroy:      I think there is an interest and I won't call it a flash in the pan.  But I think this is quantitatively not that significant.
Inked happiness:  In your long and illustrious career, you have met stalwarts from different disciplines – who among them were fountain pen users?
Bibek Debroy:      A few of my friends and acquaintances do use fountain pens.  However, those names won't necessarily be familiar to the reader.  The only familiar name I can immediately think of is M.J. Akbar.