The Pen Mahotsay, conceived by the Pen Club and organised by Kishaly Events & Advertisement at the ICCR, Kolkata on the 15th, 16th and 17th of April, 2002 has just concluded. It was the first Pen Show of its kind in Kolkata in foreseeable memory and I must begin by giving full credit to the organisers for quenching the thirst of the fountain pen fanatics of this perched land. Thank You.
If the organisers have done a good job, credit must also be given to the participants who came from the far corners of India (and I hope that I have not missed out any name):  Penspecials.com; Rahul Gupta Vintage Pens; Pennwrite; CLICK; Livtek India; Magna Carta; V'Sign and Beena; Acriv Leather; Lotus; Ayush Paper; Stex; Sulekha; Vazir; Kanwrite; Asa, Gama and Ranga; Pen Club; USC International; Sun Marketing; The Paper Pen and Westend Sales Co. Certainly, a big round of applause is due to them.
How did the show go, people have been asking, especially those who couldn't make it, for one reason or the other? Well, for one, all the old familiar faces from the community of pen lovers were there. The footfall of walk-in visitors, though good, considering that this was the first show of its kind, was a bit disappointing if one were to go strictly by Kolkata standards. As for answering the next obvious question, as to how much of the footfall got converted to actual sales, is really a tough call. For one, pen sellers being what they are, are extremely chary of divulging figures. But one thing must be made clear here – brands do not attend shows to pick up sales. They are more interested in the visibility that such shows offer them, followed by the networking opportunities, apart from the prospect of keeping oneself abreast of the latest trends / innovations taking place.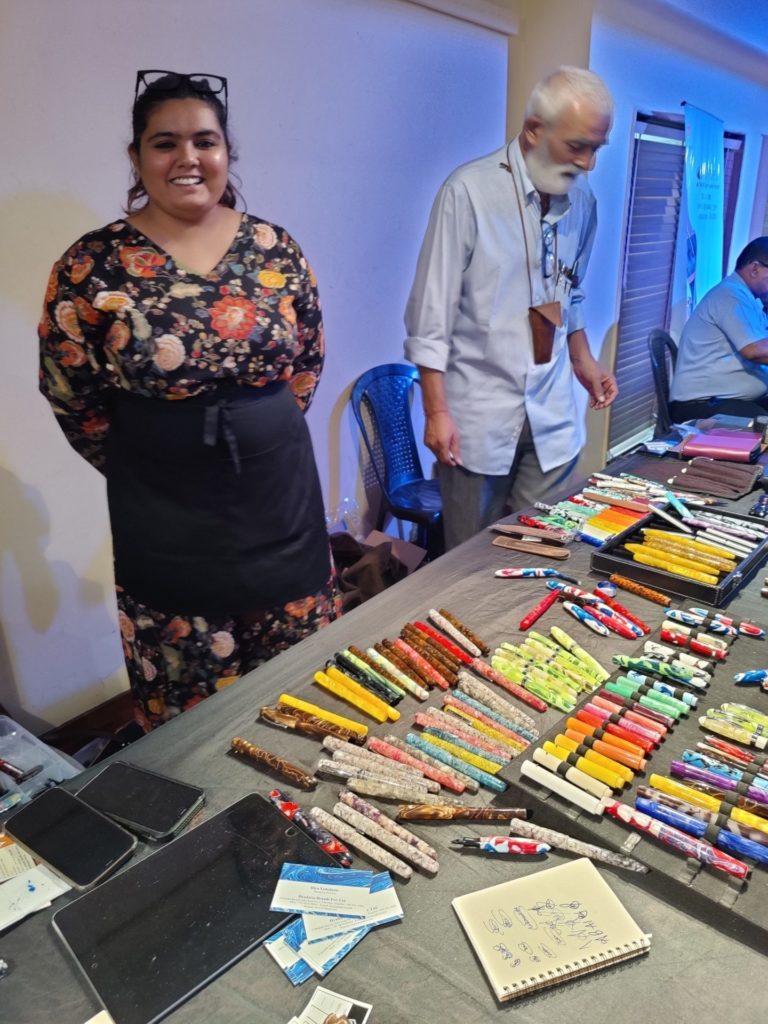 And speaking of innovations the first names that come to mind are those of the father-daughter duo of Ajay and Dia Vadodharia of Acriv. And Acriv was there with a bagful of new products ready to take the breath away. And yes, there were the titanium nibs that had established Dia as the prime mover; the signature leather accessories, not to mention fountain pens that are way too cool for words.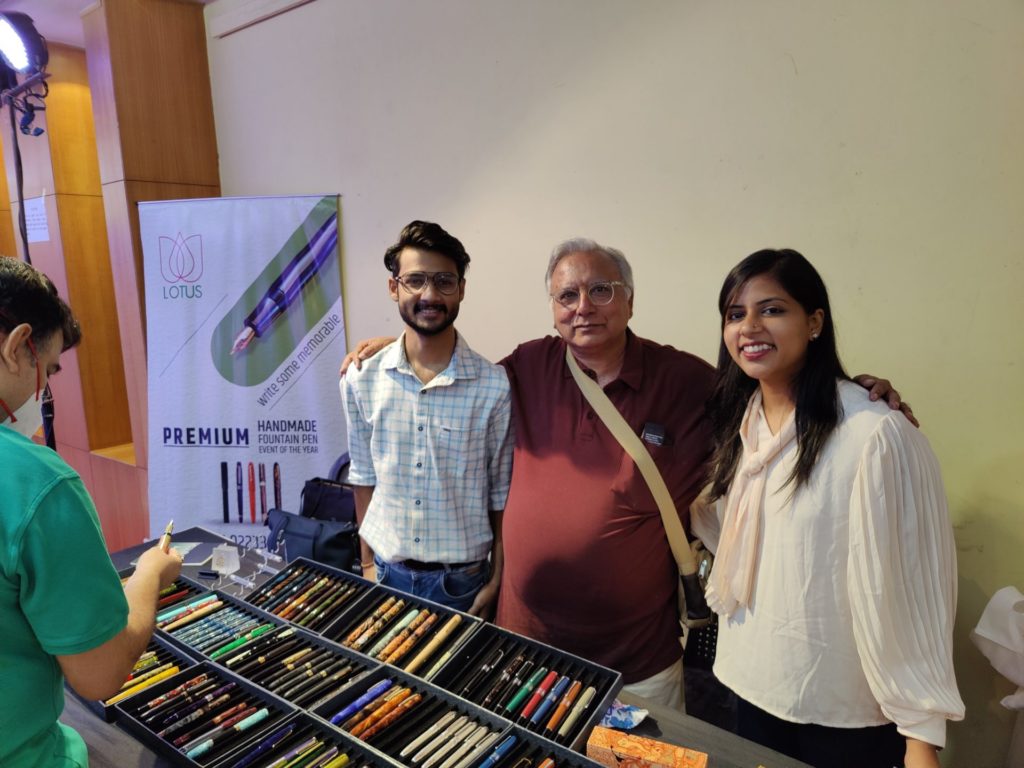 City boy Subbu Anna, had come with not only with the perennial favourites from ASA, but also offerings from Gama and Ranga representing the south of the Vindhya and tradition of hand turned excellence. Magna Carta, Vazir and Lotus, the Holy Trinity of "designer" fountain pens from western India were there in force with their latest offerings and suffice to say, I couldn't resist my temptation at two of the three counters. I am not sharing pictures the details of the pens that bowled me over as I propose to do full fledged stories on them – they deserve no less. I have never been to any Pen Show ever, and left without buying a pen from Arunji and the Pen Mahotsav was no exception.
As for buying pens at pen shows, I have another habit – call it a superstition if you may – that of buying the first pen from Harsh Gagwani of Click. And yes, I stuck to it, buying a number of Click pens, including the newly launched piston filler with a roller ball nib unit. In terms of sheer novelty value, it is a blast, as for writing pleasure, la-jawaab!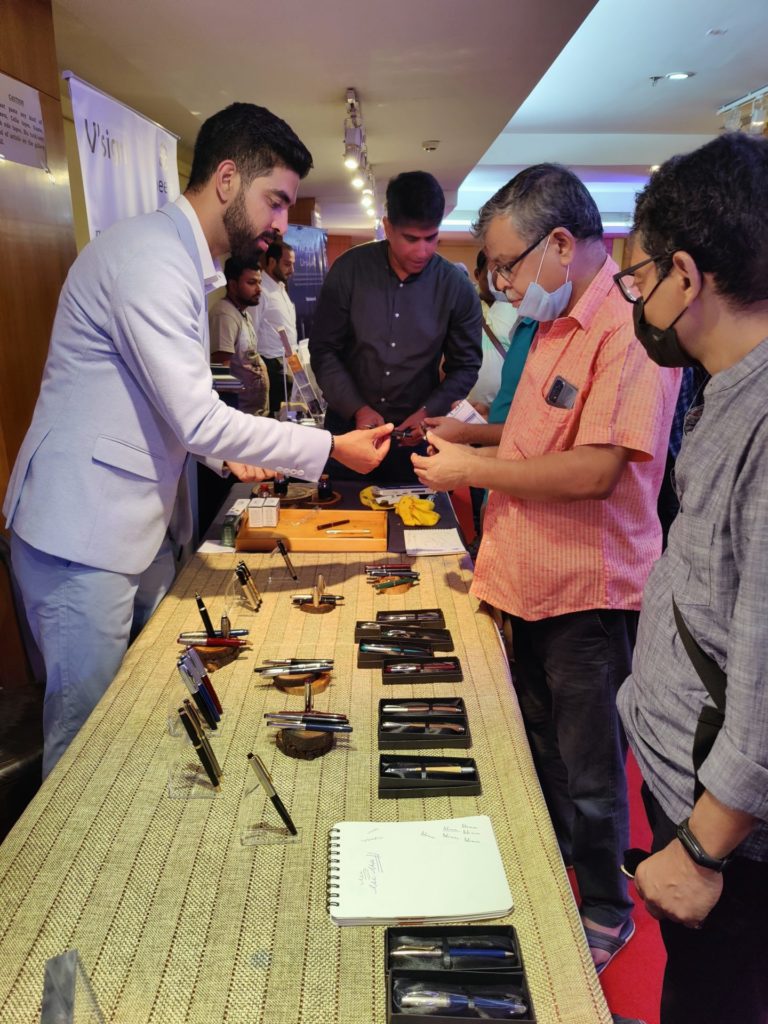 Nikhil Motwani with father Hiro Motwani representing Beena and V'Sign pens was also there with their full range of products and Kolkata pen lovers lapped up the fine writing instruments that are available at unbelievable price points. What do I say about Beena or V'Sign that is not common knowledge among the aficionados? Isn't it enough to say that Nikhil Motwani is the third-generation manufacturer (as is Harsh Gagwani of Click and Kaushik Maitra of Sulekha), which itself is a badge of honour that few other brands can lay claim to?
Sandip Awasthi of Kanwrite another living legend graced the show, which in itself is a huge thing, for the undisputed leader of the nib-feed segment is as reticent as his products are good. He was there with a collection of nibs and to the sheer joy of fountain pen fanatics, explained the nuances to all those who sought to have their doubts clarified.
Nandish Shah of Stex Pens was there, with wife and son helping him manage the counter as his unique copper pens drew the crowd, converting many into what one thinks will be a lifelong love affair with the pens. And speaking of lifetimes, Kaweco, which dates back to 1883 was also there, as always on the right (pun intended), as one entered the show. Bang opposite was Rahul Gupta with his spread of antique and vintage pens, the only one who was catering to a segment that gets my adrenalin pumping. No, I am not telling what all I collected from him as I hope to share their individual stories subsequently.
But the stall that was at the fag end of the exhibition space drew the maximum crowd – Sulekha. On display was an eclectic mix of nostalgia and a breath-taking story of resurgence. And, yes, Sulekha did run out of products, despite a steady stream of replenishments coming from the factory! Price is one thing, like they say, value is a completely different ink game!