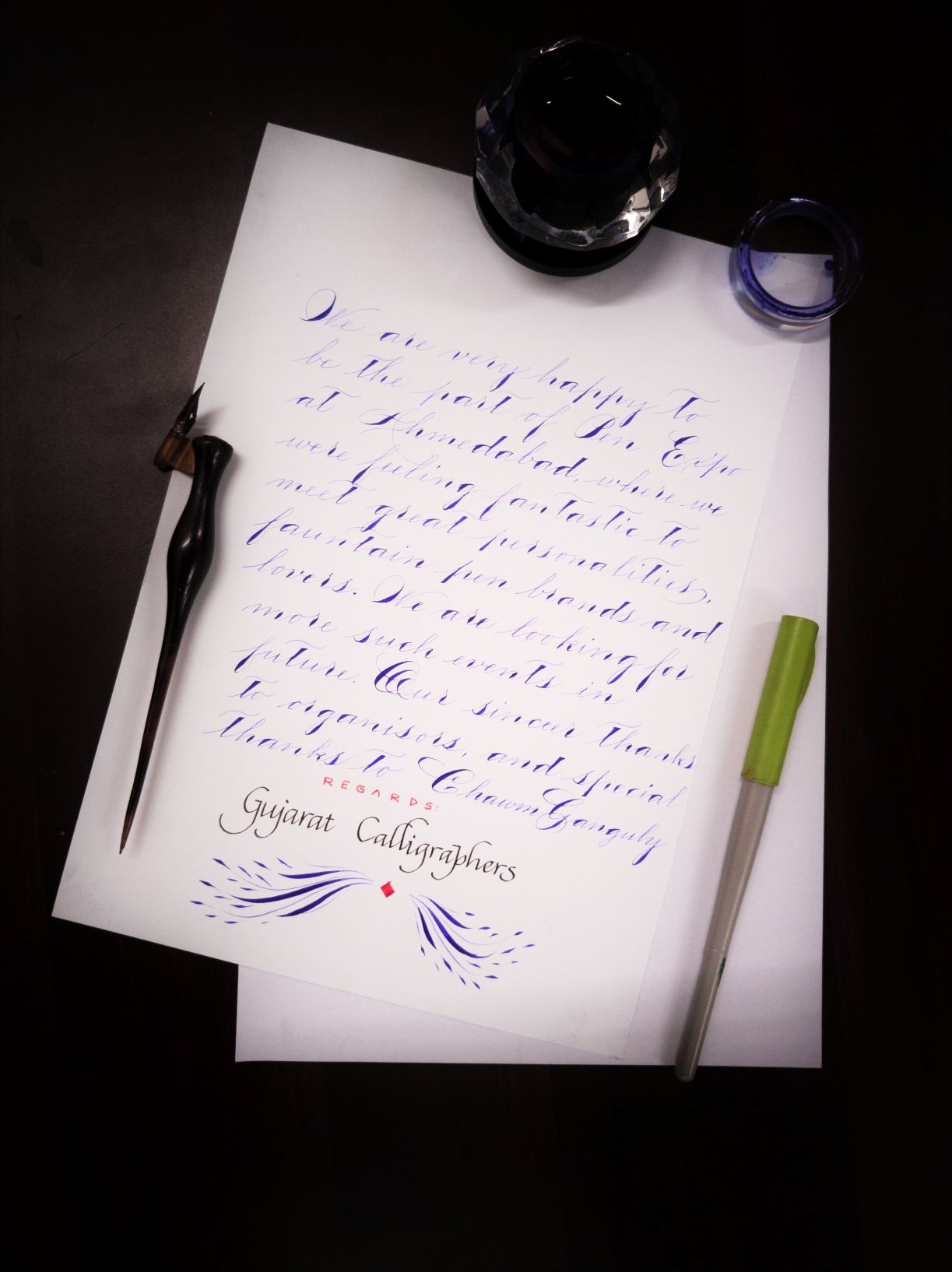 Sunil Pandya – helping keep the tradition of beautiful writing alive in Gujarat.
Shubh Pandya is all of eight years. He studies in Class three in Vishaniketan CBSE School in Ahmedabad. Collects fountain pens and lists Calligraphy among his various interests. And when I met Shubh leading the delegation of Calligraphers to the Global Pen Expo 2020 in Ahmedabad earlier this month, the first thing that crossed my mind is that, there is hope yet! Shubh is the son of our good friend Sunil Pandya who is, almost single handed, not only keeping the tradition of fine writing alive in Ahmedabad, but is actively working to spread and popularise it.
Hand lettering it needs to be clarified right up front, is as distinct from Calligraphy as chalk is from cheese and the Indian obsession of classifying anything written with a flowery script as Calligraphy is nothing sort of sacrilege for the purists. While the dictionary lists Calligraphy merely as "decorative handwriting or handwritten lettering", in its truest purport, it is much more and has a spiritual connotation that transcends way beyond the abilities of the ones wielding the brush pens or the quills. Which is perhaps reason why Calligraphy has always been the sacred domain of the scribes, restricted to the royal courts and the monastic cloisters. Perhaps that is reason why the world being done by Sunil Pandya and the passionate souls like him are even more praiseworthy – forcing us to rise above the restrictions imposed by the definitions to celebrate their art.
It all began when in the early 1990's Sunil Pandya, then in Class Eight, fell in love. And fall in love he did, not like the rest of his friends with a comely lass, but with the handwriting of his Biology teacher. From that day on wards, it has been an all-consuming passion for him, as he has, painstakingly learnt new techniques and practised his passion to perfection.
It is easier said than done. For one, there is no standardised course that teaches Calligraphy (or even hand lettering for that matter) in India. The short duration, "crash courses" that one sees advertisements of in the personal columns of the daily newspapers, are mostly conducted by people whose own skills sets are questionable, people who therefore end up doing more harm than good. Besides, in a vocation like Calligraphy, for mastering which even lifetimes are not enough, a few lazy afternoon classes don't even really count. And like every other unregulated field with no entry barrier, here too, quacks abound. Sad, but true.
As a matter of fact, it is precisely this reason that makes Sunil Pandya stop just short of calling himself a teacher or a master. Yes, he has had students – innumerable ones since he started writing, but still he does not call himself either a Calligraphy teacher or a professional. "It is my passion" he says with an infectious humility, "yes, I do help people what whatever little that I know, for I too, am constantly learning, evolving as an artist. The real pleasure is in the work, of others and of one's own – the money, the fame, or even labels like teacher and master, are of no tangible value to me".
What makes things really difficult for Sunil Pandya and others pursuing the art form is that the calligrapher's tools are near impossible to come by. They can't be bought off the shelf from your friendly neighbourhood stationer and while one can always get them imported, the costs are prohibitive. As is the common refrain in the circuit, you are not worth your cursive if you haven't had your mother or spouse snidely comment that "it's a lot of money wasted, to write one's name in italics!"
In order to overcome the problems for the next generation of hand lettering practitioners Sunil Pandya is now working with a number of craftsmen with a view towards having essential Calligraphy instruments made in India so that the art form may become more within the reach of the masses. "The proliferation of the net has been a real blessing for us" he says, "videos that are uploaded in the public domain has opened up the world of calligraphy before us and we are, literally like sponge, soaking in everything that we can, learning, loving and imbibing".
The number of people who have been drawn towards hand lettering in the near past too has seen a quantum jump and Sunil Pandya has all the reasons to feel contended, "when I started, I was considered as a kind of an anomaly, one who writes names for a hobby – today, not only do people seek me out, but are also coming to me to learn the art of writing: I cannot express in words the satisfaction it gives"!
"In these days of digitally dominated lives, that the young people are veering towards handwriting in itself a big thing" continues Sunil Pandya, his eyes moist with pleasure, "and I have only God to thank for choosing me to spread His will through the writing of my students and myself".
Today, Sunil Pandya moderate groups like @gujaraticalligraphers and @calligust where students from all parts of the world congregate to celebrate calligraphy. They also have regular meetups, workshops, spreads awareness through the social media channels and arranges events which is spearheading an unique resurgence of Calligraphy and related arts, especially among the young, who are becoming aware of the therapeutic, artistic and cathartic benefits of putting pen on paper.