KANWRITE LEGACY is a much-awaited pen from the house of Kanwrite. Legacy series is Kanwrite's first offering in machined pens category. Legacy series has been launched recently in three materials ebonite, acrylic and celluloid in limited colour options. Ice blue in celluloid is the best-looking pen of the lot.
It is a generously sized pen larger in length and girth than its other Kanwrite siblings. The pen is almost cylindrical in shape and cannot be posted, but due to its largish size it is comfortable to hold even in large hands. It is just smaller by 5 mm as compared to Deccan Advocate unposted. There is a small step down from the barrel to the section, the section flares towards the end making it a very comfortable to grip and most suitable for long writing. The pen has conical finials at both the ends.
Kanwrite Legacy is offered with a wide variety of trusted and loved   Kanwrite #6 Nibs in EF, F, M, B, Flex and Ultra Flex variants along with an ebonite feed. The nib unit is the same as in Kanwrite Heritage Pens. An extra unit is also provided with a plastic feed.
Machining quality of this pen is par excellence, fit finish and polish quality are up to the mark. No machining marks are visible anywhere on the pen. Thread machining is the best part of this pen, fit and finish of male and female threads really enhance the appearance, experience and functionality of the instrument. The cap threads are multi start for quicker opening and closing, which also suggests that machining has been done on a CNC Turning machine.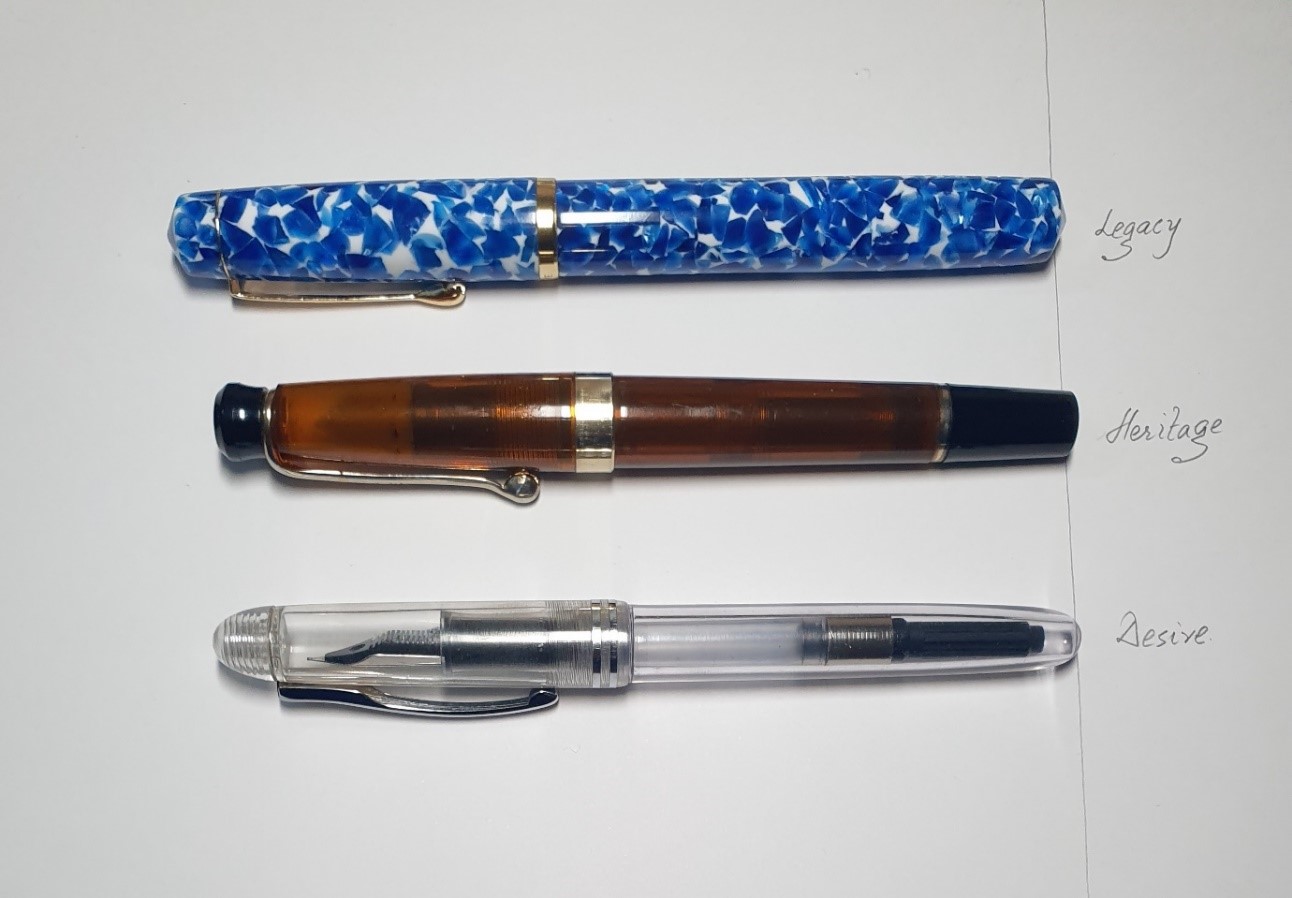 The metallic trim of the Kanwrite Legacy is offered in Chrome and Gold-plated variants along with matching nibs. The clip is very springy and functional. The metal band at the end of the cap is a bit of a let-down because of sharp edges.
The filling mechanism is the most interesting part of this pen. It is a generously sized threaded convertor with proportions of a piston filler. There is a bright possibility that some of the parts of this convertor may have been borrowed from Kanwrite Heritage which is a piston filler. The convertor is very easy to disassemble for cleaning and very easy to operate with a single hand. The pen can also be used as an eyedropper. Cartridges can be used with the standby nib unit.
Kanwrite is one of the very few pen manufacturers who have the capability to manufacture the complete pen in-house. This is the reason they can offer a wide variety of customisations including speciality nibs. The Kanwrite Legacy is delivered in an attractive cardboard box, which is a welcome change from Kanwrite.
In my opinion Legacy is very attractively priced, well made and completely Indian. I sincerely hope that we will see a wider variety of materials and colours in the Legacy series in the near future.
For more information: https://kanpurwriters.com/
Maanjitender Sethi is 56 years old, a mechanical engineer by qualification and a businessman by profession. In his own words, "during my childhood my father used to make me practice calligraphy on a wooden takhti with a reed pen. The takhti's had to be washed and coated with multani mitti every day during our summer vacations. A few years later we graduated to a holder with a G nib. I had never used a ball point pen till my matriculation. The passion for writing with fountain pens was reignited after reading an article on Ratnam Pens in 2018. For the last two years I have only been using Fountain Pens".