Frank Limper is a Federalist in the real sense of the term – one who has set up a distinctive relationship of parity between two levels of Fountain Pen fanaticism, as a collector and a retailer; just like the federalist system does in terms of governance. Here he talks at length, in an exclusive interview with the Inked Happiness, about both. Excerpts:
Inked Happiness: You started as a hobbyist and metamorphosed into a seller. What advice do you have for others, who want to make a similar transition?
Frank Limper: It takes a lot of time, effort and research to become a retailer. In the US, there are a lot of requirements to accomplish this endeavour. If you decide to buy/sell pens- Start small, and grow as your customer base grows! If you sell what you love/like using, you can be successful!
Inked Happiness: You have been in the news here in India, as you have started stocking Click Pens in your establishment – what prompted you to settle on Click? How do you find the Click pens in terms of quality vis-à-vis other pens in the same price bracket? How are Click pens moving from the Federalist Pens and Paper site? What other Indian Brands do you sell?
Frank Limper: I started my relationship with Click with their Renaissance Pen product line. This is an excellent price point for the US Market (under $50). These pens are very good quality for this price point. They are well received, and selling very well. Like many of my unique brands, I was approached by the maker themselves to represent the brand.
I am very proud of my presence in the world of Indian Pens. Click is my latest Indian brand. I was also the first US Dealer for both Magna Carta and Constellations88 Pens. I am also among the first US Dealers for Ayush Paper, and Endless Journals (Tomoe River 68gsm Journals). I have been very successful with products and vendors from India. Endless Works takes their famous "Brooch" Bookmarks, and engraves my store info on them- I give these away as "Bonus" items with an Endless Journal Purchase! Ayush Paper has also been well received, and sales have been very successful!
Inked Happiness: How has the pandemic impacted the stationery business? Are people, forced indoors, using more stationery products, including fountain pens and inks? Do you foresee this trend continuing in the near future?
Frank Limper: One of the factors that have been affected most by the pandemic is the lack of pen shows. I have always spoken as an advocate for pen shows. I believe they are vital, and will continue to be an important part of the hobby. As both a collector, and a dealer- I know the importance of Community. The Pen Community is very strong in the US. Pens are an item that requires customers to "Feel" the product. Buying from an online dealer (Like myself) is convenient, but not always enough to be able to know if this is "Your Pen" or not. I am very happy to go to 10-12 US Pen Shows annually ("Normal" times of course), and I also run a Seasonal Store as well!
Inked Happiness: As a fountain pen aficionado and a collector, what defines you? How long have you been collecting? What are your favourite pens?
Frank Limper: I have been in "The Hobby" for many years. I have been collecting pens most of my life (Father always liked/still likes BP/RB Pens), and I got into FP's about 15 years ago when I was teaching Full-time. I went to many pen shows in the US- met dealers and vendors, and amassed my own collection. I began selling vintage pens on Pen Forums, Ebay, and using a table at my home show (Philly Pen Show). Around 2014, I came up with the idea of becoming a retailer. I had already sold vintage pens for a while, and I had other trade show experience (I also collect other items, and have sold items as a hobbyist since my teenage years).
I use fountain pens daily. I still tutor students from time to time, and I do a lot of writing. Most of my own collection (+/-200 Pens) consists of vintage pens. I like all kinds of pens for a variety of reasons. I like many different brands- modern would include Pelikan, Visconti, Pilot, Lamy, among others. My favourite vintage brands include Wahl-Eversharp, Esterbrook, and Sheaffer- the majority of my vintage items (that I have decided to keep) are from these brands.
Inked Happiness: What golden words do you have, as a veteran collector, for people who are just about starting off? What advice do you have for others, who want to make a similar transition?
Frank Limper: My advice is to collect what you love. Go to pen shows, learn the product, and use them every day! Join a Local Pen Group as well to mingle with like-minded people!
Inked Happiness: What according to you are the advantages of using a fountain pen and ink, even in these days of a digital overwhelm?
Frank Limper: A pen is very personal- from choice of pen, to the choice of the nib. It allows you to continue to practice handwriting, and improve hand/eye coordination. As an educator, I know both of these skills are very important. The ability to communicate by written word continues to be a sound way to improve your mind, grow socially and gain prestige among peers.
Inked Happiness: What needs to be done to ensure that more people take up the fountainpen, as hobbyists and as users? Do you see a revival in the art of writing and the use of fountain pen and inks?
Frank Limper: Taking someone new (friend/family) to a pen club meeting, or a pen show is a great way to keep the hobby active. Being a "penabler" is not difficult for those with a passion for the hobby! There are so many ink and paper choices available now, and people have truly become obsessed with which styles/colours they choose.
Inked Happiness: Obviously, you are open to new brands and collaborations… what are you doing to keep the flame of hope flickering in pen collecting?
Frank Limper: I am very active with my local pen group (Philadelphia Pen Collectors Group), and the Seasonal Store at my local mall is a big hit during the holidays! I am also the host (Hub master) of the Annual Pelikan Pen Hub for my area (as the official Philly Metro Pelikan Pens Dealer).
I have always been open to new products, and the ability to work with independent makers.
I was also Robert Oster Signature Inks first US Dealer ("Frankly" Ink Colours celebrate this Anniversary!). Not all of my collaborations have been as successful, but I am pleased to say that all of my projects with Indian Makers/Designers have been a success!
Inked Happiness: Anything else that you would like to add/communicate to our readers?
Frank Limper: You can also join my Facebook Community Page- @fountainpencommunity
The Fountain Pen Community was an old pen forum that I used to run/Administrator.
The site is accessible (but inactive to keep operating costs low), but this Facebook Forum keeps the spirit and membership alive for the pen community! You can also reach me frank@federalistpensonline.com!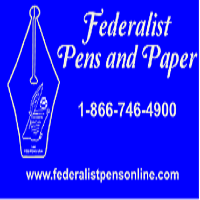 For More information: www.federalistpens.com